UIW Ranked No. 1 Catholic University in Texas
October 27, 2023
New 2024 Rankings Published by Online Website "Niche"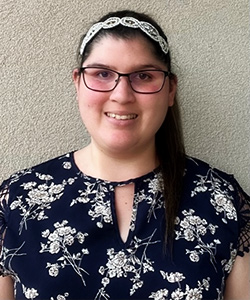 San Antonio – October 26, 2023 – "One of the key things I would tell students considering UIW is… we are the legacy."
As a third-generation student at the University of the Incarnate Word (UIW), Rozlyn Bermea knows all about legacy. Her mother and grandmother are both graduates and Rozlyn is now a graduate student getting her Master of Arts in Education after receiving her undergraduate degree in Interdisciplinary Studies with a double minor in Reading and Special Education at UIW. But Rozlyn says it was not only academics and family tradition that brought her to UIW, it was also the unique chance to grow in faith that the university provides.
"Having grown up in a Catholic family and being very involved in my parish back home, it was important to me that the college or university I attended would have a way for me to stay involved in my faith," says Rozlyn. "When considering and visiting UIW, I found it was a great place for me to not only stay active in my faith, but also grown in my faith through the courses available and the various ministries to get involved in on campus."
All those things considered, it may come as no surprise to Rozlyn and countless others to hear that the University of the Incarnate Word has been ranked the No. 1 Catholic College in the State of Texas by the online publication, Niche in its new 2024 Best Colleges list.
"This ranking is a credit to the hard work of our UIW faculty and staff," says UIW President Dr. Thomas M. Evans. "It is also a testament to the commitment of students like Rozlyn. There are so many just like her who have taken the Mission of this University to heart. They dedicate themselves, not only to their studies, but to using their skills and education to create positive change and serve others. UIW students are the 'Word in the World' and I am forever grateful to them and to all who believe in the transformational promise of Catholic higher education."
Niche states that its Best Colleges rankings are based on rigorous analysis of academic, admissions, financial and student life data from the U.S. Department of Education along with reviews from students and alumni. Colleges were graded in nine different areas with academics and value making up 67.5% of the grade. Professors, Diversity, and Student Life were among the other factors graded. UIW earned "A" grades in Diversity and Campus and "B" grades in Academics, Value, Athletics and Student Life.
"As UIW students, we carry on the legacy of the incredible women of faith, the Sisters of Charity of the Incarnate Word, who founded our university," concludes Rozlyn. "These amazing women have had such a great impact on, not only UIW, but on San Antonio and throughout the world by sharing their light of hope through their ministries. As UIW students, faculty, staff and alumni, it is now our calling to carry on that light that the Sisters have passed down to us. It is through our own vocations, careers and especially by living out the Mission and core values of our university that we can radiate that light to anyone we serve or encounter."
---
MEDIA CONTACT: Michael Valdes, Media and Public Relations Manager, Office of Communications & Brand Marketing, (210) 829-6001, (210) 422-4052 or michael.valdes@uiwtx.edu