UIW Nursing Professor Receives National Recognition
October 12, 2023
Dr. Michael Moon and Co-Authors Honored for Research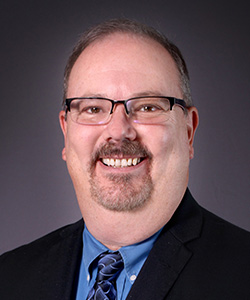 San Antonio – October 12, 2023 – The University of the Incarnate Word (UIW) Ila Faye Miller School of Nursing and Health Professions is pleased to announce that Professor Michael D. Moon PhD, MSN, APRN, CNS-CC, CEN, FAEN, along with his co-authors, has received the Authors of the Year Award from the Journal of Emergency Nursing. The honor is for their original research on the role and training of emergency department charge nurses. The award was announced during the 2023 Emergency Nurses Association Annual Meeting held in San Diego, California in September 2023.
The study Moon and his co-authors researched examined the training and preparation that emergency nurses receive to assume the role of an emergency department charge nurse and how these emergency nurses' function within the emergency department charge nurse role. Survey data was collected from 685 emergency staff nurses and 1,894 emergency charge nurses. This was followed up with focus groups of 22 emergency staff nurses and 27 emergency charge nurses. Findings revealed that there is a significant lack of formal training for emergency charge nurses. Emergency department charge nurses are critical to the safety of both the nursing environment and patient care. They should be adequately trained on nurse patient assignments, communication and situational awareness. Emergency department managers should advocate for this training.
"I am so honored to be a part of such a talented research team that is dedicated to improving the emergency care environment and patient care through nursing research," said Moon.
Moon, a professor, advanced practice registered nurse and certified emergency nurse at the University of the Incarnate Word, has been an active member in the emergency nursing community and the Emergency Nurses Association (ENA) since he began his nursing career in 1987. His collaborative nature has helped him to be involved in conducting emergency nursing research, getting published, shaping national policy, presenting on emergency nursing topics both nationally and internationally and serving in various leadership roles within ENA at the local, state and national levels. He was inducted in the Academy of Emergency Nursing in 2007.
The following citation can be used to access the full publication:
Wolf, L., Perhats, C., Delao, A., Burchill, C.N., Clark, P., Callihan, M., Edwards, C., Frisch. S., Moon, M., & Strout, T. (2022). Role and training of emergency department charge nurses: A mixed methods analysis of processes, needs and expectations. Journal of Emergency Nursing, 48(4) 390-405.
---
MEDIA CONTACT: Michael Valdes, Media and Public Relations Manager, Office of Communications & Brand Marketing, (210) 829-6001, (210) 422-4052 or michael.valdes@uiwtx.edu