UIW Celebrates Global Justice Day
October 13, 2023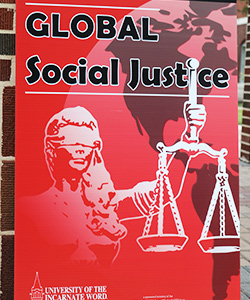 On October 10, UIW's College of Humanities, Arts and Social Sciences (CHASS) hosted Global Justice Day, a celebration that aimed to promote wellness and belonging amongst the University's community.
Students were invited to take a moment to indulge in self-care by participating in an outdoor yoga session, taking a cooking class, watching a film screening, and engaging in table discussions with school organizations. In addition, students were also given the chance to pay it forward by signing up for community service opportunities.
The celebration first kicked off with a few opening words from Dean Dr. Javier Clavere. He shared an uplifting message about community, support, and individual and collective community health.
"The theme of this year's Global Justice Day will be concentrating on dignity, how to promote dignity by improving mental health, well-being, service to others, and belonging," Clavere announced, commencing the day's festivities.
Dr. Emily Clark, professor and chair of English at CHASS, helped to arrange this event for students to enjoy.
Clark explained that the decision to focus on mental health during the inaugural Global Justice Day celebration was reached after she and the rest of the CHASS committee polled their classes to discover what students felt was of highest priority. Students overwhelmingly shared that mental health and belonging were of the utmost importance.
"The purpose of the celebration was to bring students together to talk about and create a sense of belonging on campus and draw attention to International Mental Health Day," Clark shared.
She watched as various students and faculty joined in the celebration as the day progressed. Many attendees could be seen smiling, laughing, and conversing with one another throughout the day. She was pleased to see the turn out the event garnered.
"My favorite part of the event was the lunch where about 20 students and faculty came together to share food and talk about what it means to belong at UIW," she reflected. "Participants shared how they feel safe enough on our campus to just be themselves and hope to foster that environment for others, particularly as they become upper classmen and welcome freshmen."
The success of this year's event has encouraged the CHASS committee to consider their plans for future Global Justice Day events. With multiple prevalent topics that have yet to be covered, the planning committee looks forward to the many directions the event will take in the years to come.
"In the future we would like to explore different themes of global justice and include a speaker and an even wider range of events to celebrate and foster social justice on our campus. Our goal will always be to try to host events that our students want to attend and benefit from."