Those Who Can Do, Teach: UIW Music Lecturer Remains Active Performer
October 13, 2023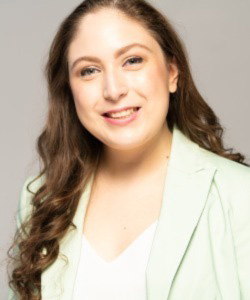 There is a commonly held belief that those who can do, do, and those who can't, teach. However, UIW faculty members know this to be false, perhaps none more so than Dr. Sami Bassig, lecturer of Voice in the UIW Department of Music. In addition to teaching UIW's voice students to perfect their craft by day, Dr. Bassig spends many evenings and weekends on stage, performing in local opera and musical theatre productions.
Dr. Bassig is known in the local fine arts scene for her authentic storytelling and versatility in both musical theatre and opera. She has recently performed the role of Evelyn Nesbit in Ragtime as the opening show in Wonder Theatre's inaugural 2023 season, as well as Little Red Riding Hood in a recent production of Into the Woods. She has previously attended multiple programs in New York City including the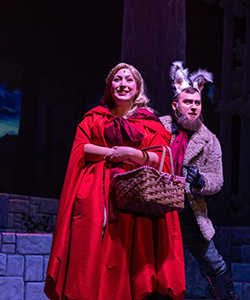 Ryan Scott Oliver and Lindsey Mendez Actor Therapy program, where she made her 54 and Below debut, and Manhattan Opera Studio where she performed in Die Zauberflöte and Le Nozze di Figaro, as well as made her Carnegie Hall debut.
One of the main advantages of having active performers as instructors is that they can provide real-world performance experience and knowledge to their students. Faculty members who are actively performing can offer insights into what it takes to succeed as a performer, including tips on technique, stage presence, and audience engagement. They can also share valuable advice on navigating the music industry and building a successful career.
"I need to be at my best vocal health and stamina in order to be a good model for my students," Bassig explained. "Being in shows throughout the year and continuing to hone my own craft is something that is very important for myself so that I can use this in my own teaching."
Staying active in performance roles also means that Dr. Bassig is still constantly learning about the changing vocal performance and entertainment industry, insight that has proven extremely valuable to students hoping to follow in her footsteps.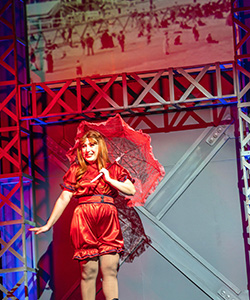 "I'm able to share information with them about what companies are currently looking for and what the audition scene is like for both opera and musical theater," she said. "I also discuss with students what the rehearsal process looks like when you're in a show and I'm able to give them tips on learning roles, how to do character analysis, understudying, practicing and how to learn music effectively."
You can catch Dr. Bassig in upcoming roles such as Judy Garland's role of "Esther Smith" in Meet Me in St. Louis at Wonder Theatre from December 1 – 23.
As for her thoughts on the belief that those who can't do, teach? Dr. Bassig knows the opposite is true.
"I've performed my entire life and even though I'm teaching, I still have a ton of roles that I'd love to perform in my lifetime, so why stop now?"