St. Anthony set to Kickoff Fall 2024 Enrollment with Open House
October 9, 2023
College Preparatory High School recently Ranked No. 2 in San Antonio Among Catholic Institutions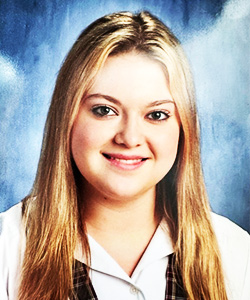 San Antonio – October 9, 2023 – St. Anthony Catholic High School (SACHS) is set to kickoff its 2024-25 enrollment drive with an open house on Thursday, October 26, 2023, from 5 p.m. to 7 p.m. at the historical high school located at 3200 McCullough Avenue. The open house is a chance for prospective students and parents to tour the school, meet the teachers and administrators and find out more about the outstanding education and opportunities available at St. Anthony. This includes the Brainpower Connection which is a collection of K-12 schools who partner with the University of the Incarnate Word (UIW) to create a pathway to a college education.
"Open House is a great way for prospective students and their families to experience our community firsthand," says SACHS Dean of Student Affairs, Sharon Longoria. "Our dedication to a holistic education, rooted in Catholic values, extends far beyond academics. We encourage you to explore what it means to be a St. Anthony Catholic High School Yellow Jacket and a member of the Brainpower Connection. Our teachers, coaches, students and parents are excited to share their stories and invite you to become part of the Yellow Jacket family."
That includes students like Sierra Bower, a 17-year-old SACHS Senior who is not only the Senior Class President, she is the varsity captain of the volleyball team and the bowling team, she is a Young Oblate, in the theatre club, the math club, the Health Professions club and a member of the National Honor Society. Sierra says she always feels supported at St. Anthony and encourages all new students to take advantage of everything SACHS has to offer.
"St. Anthony has given me so many amazing opportunities like dual credit courses, athletics and increasing my faith," says Sierra. "I do all my work here at St. Anthony knowing I have God with me. Participating in dual credit at the University of the Incarnate Word has been one of the best decisions I have made. I would recommend every student who has this opportunity take it because it has prepared me for college next year and I will be entering college as a sophomore. St. Anthony is not just a school, it is a family that will always be a part of my life. To any student, my advice is to find your family and work hard to achieve your goals. Anything is possible when you have a support system and a hardworking attitude. St. Anthony is my support system and it can be yours too."
At St. Anthony Catholic High School, students have the opportunity to take advantage of:
a 100% graduation rate and a 10:1 student to teacher ratio.
a curriculum that recently resulted in students receiving national recognition for their academic achievements.
the opportunity to earn dual credit and attend classes at the University of the Incarnate Word. Currently, SACHS students are earning 291 credit hours at UIW.
the opportunity to take part in 14 various varsity sports or join 15 different clubs such as the Health Professions Club, Peer Ministry, the Cyber Patriots computer club and much more.
SACHS was recently ranked the No. 2 Catholic High School in San Antonio by the national digital publication, Niche.
St. Anthony Catholic High School marked 120 years of service to the South Texas community in 2023. Last year, SACHS students earned more than $7 million in scholarship funds. Those students are now attending institutions as diverse as Notre Dame, California State University, the University of the Incarnate Word and more.
For more information or to sign up to shadow a Yellow Jacket for a day, go to SACHS.org or contact Jessica Garza at jggarza3@uiwtx.edu or call (210) 832-5600.