New Partnership Brings Free Dairy Products to UIW
October 24, 2023
University Steps Up to Battle Food Insecurity with New Dairy Coolers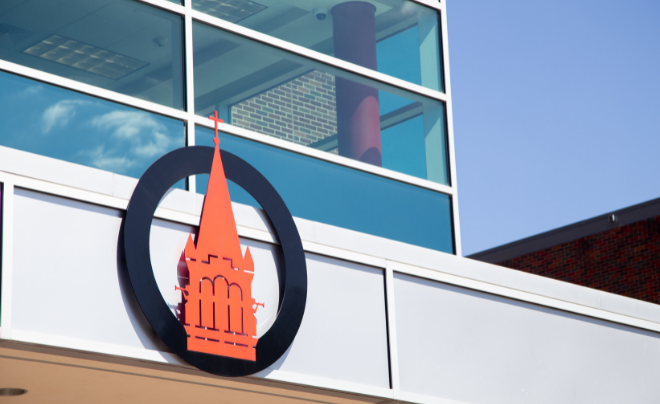 San Antonio – October 24, 2023 – In its continued effort to combat food insecurity in its community, the University of the Incarnate Word (UIW) has partnered with the national organization Dairy MAX to bring dairy coolers to the UIW Broadway campus. The two coolers will be stocked with dairy products such as milk, cheese, yogurt and more which will be available for free to UIW students, staff and community. The coolers were unveiled during an opening ceremony on Thursday, October 26, 2023, at 10 a.m. on the third floor of the Student Engagement Center on the UIW Broadway campus.
"Studies show that food insecurity and mental health are directly correlated to retention and student success," says UIW Medical Director, Dr. Shaylon Rettig. "Our UIW Health Team has made it our priority to provide the best services for mental health and to make sure our students have access to and availability of nutritious foods to fuel their success in the classroom and in life."
Helping those in need has always been central to the UIW Mission and combatting food insecurity in the UIW community took a big step forward when the Cardinals' Cupboard Food Pantry was established in Fall 2018. The food pantry is a partnership between UIW's Student Government Association, Campus Engagement, Mission and Ministry, the Ettling Center for Civic Leadership and Sustainability and St. Vincent De Paul of San Antonio. With the generous support of student and university staff volunteers, just in the past year, the Cardinals' Cupboard has assisted over 1400 members of the campus and local community. It has distributed over 16,000 pounds of food and items to support their needs.
The Ettling Center has committed various resources over the years to ensure the successful implementation of this service to the UIW campus and community which has included a grant that has been supported by the H-E-B Hunger Relief fund with a generous donation of $15,000 in gift cards to assist those most in need.
"We are blessed to have such a generous campus community that understands the importance of providing service or assistance to those most in need," says Dr. Ricardo Gonzalez, director of the Ettling Center for Civic Leadership and Sustainability. "We normally see an increase of shoppers during this time of the year, Thanksgiving and Christmas and, without much notice, our students seem to know and willingly donate canned goods, diapers, socks, pet food and personal toiletries. These items fly off the shelves in a matter of days. The Ettling Center helps conduct over 35 different programs throughout the year and, like most of the services, the Cardinals' Cupboard is one of those programs where we can see the direct impact it provides to our community."
"At UIW, our Mission is educational excellence, cultivating the development of the whole person and values of life-long learning for our students," adds Rettig. "Food secure students are successful students. Addressing food insecurity is one way of helping our students become forever Cardinals."
Founded more than 40 years ago, Dairy MAX is one of the leading regional dairy councils in America representing more than 900 dairy farmers and serving communities in eight states, including Texas. A nonprofit organization, Dairy MAX is part of a nationwide effort to promote American agriculture, supports dairy farming and drive impact for every dairy farmer.
"Dairy foods like milk, cheese and yogurt are some of the most requested, yet least available foods in food pantries," says Michelle Van Pelt with Dairy MAX. "Dairy foods are an important staple for food pantry patrons, providing 13 essential nutrients like high-quality protein, calcium and B vitamins. Diary MAX is committed to helping remove barriers and increase access to dairy foods, placing coolers in food pantries to ensure they have the needed refrigeration space to keep dairy foods in-stock more consistently. We are thrilled to work with the University of the Incarnate Word to ensure equitable access to nutrient-rich dairy foods for students, faculty and staff."
Organizers are hopeful that this latest partnership will reap the kinds of rewards that they have already seen in their efforts to combat food insecurity. Rewards they say they see every day.
"Just the other day, I had a single Dad and his four little children come in needing food for the weekend," recalls Gonzalez. "They were appreciative that the pantry is here for them. Coincidentally, the day before, we just received a donation of children's books. So, not only did they have food to assist them, but they had a smile on their faces and a book in their hand. This is who we are. This is what we are about. This is the best of UIW."
---
MEDIA CONTACT: Michael Valdes, Media and Public Relations Manager, Office of Communications & Brand Marketing, (210) 829-6001, (210) 422-4052 or michael.valdes@uiwtx.edu