UIW Welcomes Nationally Renowned Nurse for Annual Lecture
September 15, 2023
Patricia Yoder-Wise set to deliver the Sr. Charles Marie Frank Lecture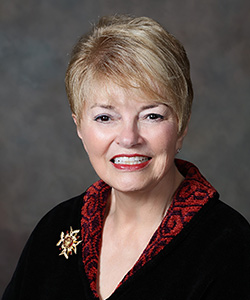 San Antonio – September 15, 2023 – The University of the Incarnate Word (UIW) is honored to welcome Patricia Yoder-Wise RN, EdD, NEA-BC, ANEF, FAONL, FAAN as this year's featured speaker for the Sr. Charles Marie Frank Endowed Lecture. Dr. Yoder-Wise will speak on the topic of "Creating Your Own Inspiration" at the UIW Rosenberg Skyroom on Tuesday, September 19, 2023 at 4 p.m. The event will also feature a poster symposium beginning at 2:30 p.m.
Yoder-Wise has been engaged in nursing leadership for over four decades. In addition to holding formal leadership positions in both hospitals and schools of nursing, she has an extensive history of volunteer roles of leadership, ranging from local to national and international situations. She is past president of the Texas Nurses Association, the American Nurses Credentialing Center, the Association for Leadership Science in Nursing and the National League for Nursing. She served as treasurer of the American Academy of Nursing and first vice president and secretary of the American Nurses Association. She has led accreditation teams to the United Arab Emirates as that country established baccalaureate education and its accreditation standards.
In addition to teaching doctoral students at Texas Tech University Health Sciences Center School of Nursing, where she served as Dean and Professor, and Texas Woman's University, Yoder-Wise advises 1-2 students each year related to their doctoral project. She is one of three co-founders of The Nurses Legacy Institute, and educational organization dedicated to meeting leaders where they are to catapult their leadership journey.
The event's namesake, Sr. Charles Marie Frank, CCVI, was a Nursing trailblazer. The St. Louis-born Sister of Charity of the Incarnate Word earned a BSN degree in the late 1930's and she foresaw a day when the Bachelor of Science degree in nursing, with the RN, would become the standard for professional nursing. Sister Charles Marie was a pioneer in raising nursing in Texas from apprenticeship training to professional education by bringing the basic nursing program into the system of higher education at Incarnate Word College.
"Sr. Charles Marie is well-known, even by those of us who did not personally know her," says Yoder-Wise. "Her persistence toward her vision had a significant meaning to San Antonio, to Texas and to the nation. Incarnate Word is a name associated with excellence. All of us in nursing are grateful for her vision and leadership; and I am honored to be asked to provide a lectureship in her name."