Professor Builds International Bridges Through Music
September 1, 2023
Professor Builds International Bridges Through Music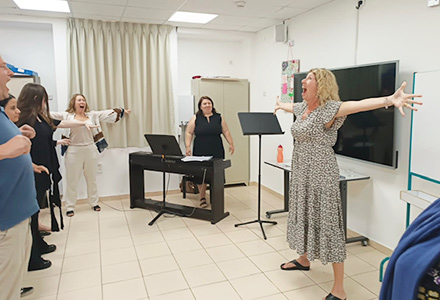 Dr. Orit Eylon, UIW professor of Music, spent the summer traveling abroad to form and strengthen interfaith connections through music. For the last three years, Eylon has volunteered for Partnership2gether, a program that connects Jewish communities from around the world with each other and with other interfaith communities with the goal of opening dialogue and sharing talents and academic information.
Through the Partnership2gether program, San Antonio serves as a partner city to the Western Galilee region of Israel. Through this connection, Eylon has been volunteering as an artist teacher with a conservatory in Matte Asher, a small community (kibbutz) imbedded near the city of Akko (northernmost city in Israel near the Lebanon border). She taught on Zoom for three years, providing voice instruction to several students, and collaborated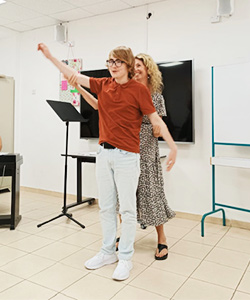 with their local teachers to strengthen bonds between the students, all from various backgrounds and cultures, through their shared passion for music. Her students in the region represent a diverse range of cultural and religious backgrounds, including Christianity, Judaism, Islam and Druze in one of the only municipalities in the region with people of different faiths living, working and educating together.
This June, Eylon traveled to Israel to present a master class, in her second language of Hebrew, to the students of Matte Asher and finally met her virtual students in person, as well as their local teachers.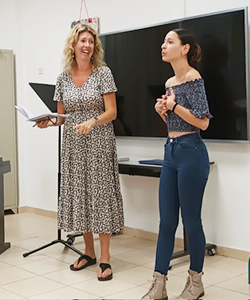 "This experience was so emotional for me, to finally emerge from a global pandemic and travel to meet my students and faculty that I built bonds online during a global pandemic with," Eylon shared. "The first student I worked with in Akko during my in-person master class was a Ukrainian refugee who only spoke English and Ukrainian, and we felt a bond together through him singing a song by the band Queen. It was as if we created a united front of our own language and expression through music and nothing else mattered."
Eylon also enjoyed meeting faculty from Western Galilee College, one of the most diverse universities in the world, and hopes to create bonds between UIW and Western Galilee College on academic projects involving the areas of psychology and music.