A Weekend of Togetherness
September 28, 2023
UIW Family Weekend Events
As the academic year kicked off, students settled into their new routines on campus. For parents and families, the excitement of dropping off their loved ones was met with a touch of longing. That's why, one month into the semester, UIW Parent & Family Engagement hosted the Parent and Family Weekend, an opportunity to bring parents and families back to campus, engage with the community and create cherished memories.
UIW Parent & Family Engagement designed a weekend filled with events that catered to diverse interests.
On Friday, families kicked off the weekend with "Family Night Out at Augie's." The atmosphere was electric as families enjoyed live music, savored brisket nachos, and shared laughter over drinks. It was a relaxed and joyful start to the weekend, setting the tone for what lay ahead.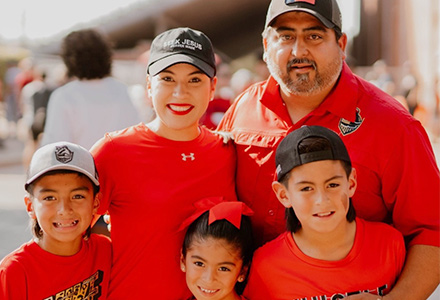 Saturday was a day of discovery with "Family Day at the Nest." Families had the chance to explore our campus and learn about the impressive projects underway. Tours of the AVS Research Lab, Frank Nursing Building, and UIWtv showcased the exciting activities happening right under our students' noses. During the Family Feud game, the competitive spirit ran high, fostering a sense of camaraderie.
Saturday also brought the "PFA Tailgate," where delicious pork sliders fueled our families before everyone gathered to cheer on the Cardinals. It was a day filled with pride, not just for the University but also for the families who form an integral part of our community.
On Sunday, UIW offered an optional Mass at Our Lady's Chapel, a serene and spiritually enriching experience. Families had the opportunity to come together in reflection and prayer. Then the families closed out the weekend with a catered lunch where they heard from a special guest, alumna, and faculty speaker, Dr. Monica Roberts. Her inspiring words left an indelible mark on them, reinforcing the idea that families are not just spectators but active participants in their students' journeys.
Jessica De La Rosa, Director of Admissions and Parent & Family Engagement, shared an unforgettable moment from the weekend, "one parent was so excited to have been able to maneuver one of the drones. Our campus has some impressive activities happening, some that of our families may not know about. Parent and Family Weekend gives us a chance to bring awareness to these projects that their students are involved in."
The Parent and Family Weekend was a resounding success. It achieved its goal of re-engaging families with the campus community, creating lasting memories, and fostering a sense of belonging. UIW extends heartfelt gratitude to all the families who joined the event, making this weekend a memorable chapter in the shared story.