UIW Welcomes Vice Admiral Frank M. Bradley
August 1, 2023
Bradley visits with Summer Camp Participants and Tours UIW
San Antonio – August 1, 2023 – The University of the Incarnate Word (UIW) was proud to host U.S. Navy Vice Admiral Frank M. Bradley, Commander Joint Special Operations Command, and his team on campus on July 26, 2023. Bradley visited with participants in the UIW GEMS (Girls in Engineering, Mathematics, and Science) and miniGEMS Summer Camp and toured the campus, including a visit to the UIW Military and Veteran Center.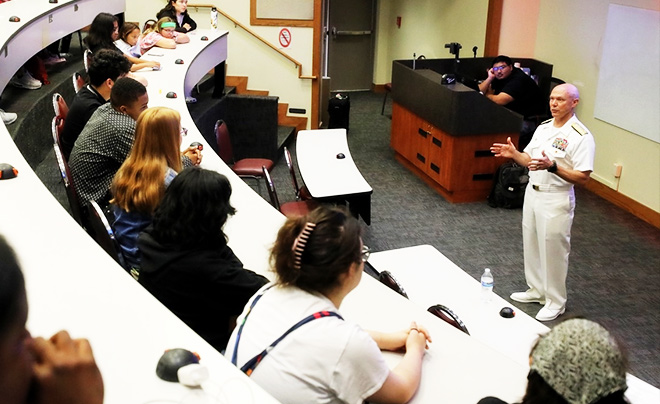 During his visit with the students, Bradley discussed his own experience in moving from his small West Texas hometown of El Dorado to the Naval Academy and pursuing his degree in Physics and his master's degree in Physics from the Naval Post Graduate School. He discussed his life as a Navy SEAL and as a scientist and how science has played an important role both personally and professionally in his life. Bradley also talked about the importance of art and creativity in science and research.
"It was great that our miniGEMS and GEMS students could hear about the importance of a STEM education from Admiral Bradley and how it is very important in his life," says Dr. Michael Frye, professor of Electrical Engineering. "He is a great example of a life-long learner and someone who is always asking hard questions. The students were really impressed that he wanted to get his PhD in Physics once he retired from a very successful Navy career."
Bradley had the opportunity to visit with UIW Provost Dr. Farrell J. Webb and Dr. Carlos Garcia, Dean of the UIW School of Math, Science and Engineering. Bradley also visited the UIW Military and Veteran Center with Jonathan Lovejoy, senior director for Military and Veterans Affairs where he got a first-hand look at how UIW helps veterans and military affiliated students navigate their way through higher education.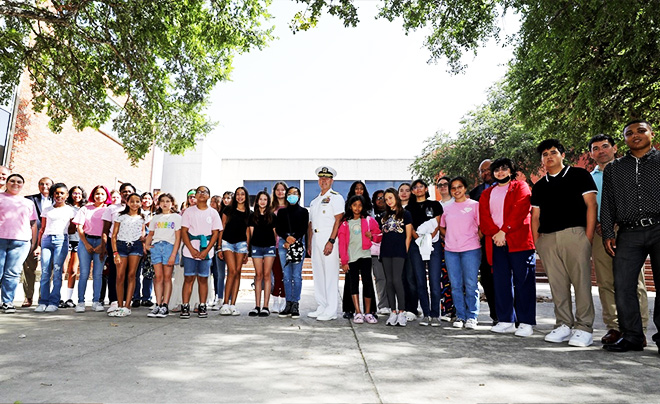 "It was an incredible honor to have Texas native Vice Admiral Bradley on campus to speak to our GEMS program," says Lovejoy. "Vice Admiral Bradley gave an inspirational presentation on his educational journey and the positive impact of education on his Navy career. Dr. Webb and I met with the Admiral and he was impressed with UIW's commitment and service to our military connected students and their families."
Top Right Photo: Vice Admiral Frank Bradley addresses students from the UIW GEMS and miniGEMS summer camp program
Bottom Left Photo: Vice Admiral Frank Bradley with UIW faculty and staff and students in the GEMS and miniGEMS summer camp program