UIW Students Travel to Mexico for Centro Fox Leadership Program
August 4, 2023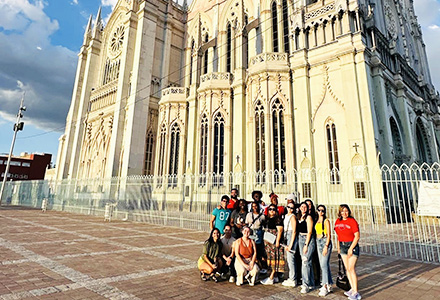 Fifteen students and alumni were nominated to participate in the Ettling Center for Civic Leadership and Sustainability's (ECCLS) UIW Centro Fox Leadership and Mission Program from July 17-21, 2023, in San Cristóbal, Guanajuato, Mexico. This initiative was formed as a collaborative partnership between the University of the Incarnate Word, Centro Fox and Vamos México, to promote leadership skills, enhance understanding of community development and advance social change initiatives. The service mission trip was sponsored by the ECCLS to support students in advancing social change and address the needs of the global community as future leaders.
Centro Fox is a nonprofit organization founded by Former President Vicente Fox located in San Cristóbal, Mexico, whose mission is to develop compassionate leaders through social values by offering leadership training activities and entrepreneurship skills to participants from around the globe. The Vamos México Foundation is a nonprofit social organization founded by First Lady Marta Sahagún Fox that supports various causes at local and national levels that help people living in vulnerable situations via a commitment to social actions.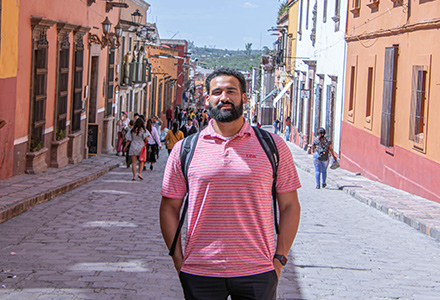 Students led by Teofilo Reyes Jr., a project specialist in global services at UIW's ECCLS took part in leadership conversations with Former President and First Lady Fox as part of the program. Throughout the week, students toured businesses, museums, and organizations in San Cristóbal, León, San Miguel de Allende, and Guanajuato to learn about Mexico's history, culture, people, economy, government and community relations.
"The goal of this trip is to help anybody that is a part of that UIW Cardinal family to be able to understand that they have the capacity to advance social change to meet the needs of our global community," Reyes explained. "To be able to do so, we give our students an opportunity to actually meet global needs in order to be able to fill gaps in social justice issues or things that represent the five tenants of our university, to foster education, truth, faith, service and innovation."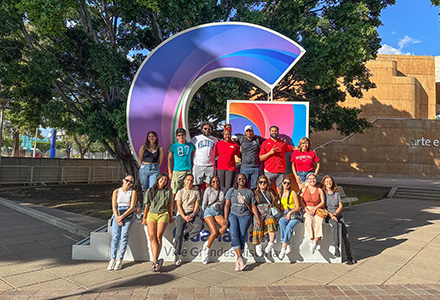 This interdisciplinary approach brought together students from different walks of life, including various age ranges (19-45 years), different nationalities, grad classifications (undergraduate and graduate), and represented various demographics, professional schools, and diverse degree programs across UIW – they came together to learn from each other by sharing life experiences. The goal was to offer a holistic approach to learning from their peers, working side-by-side to discover collaborative solutions while discussing challenges in local communities internationally.
"This leadership program has certainly shaped me into a better person, understanding what true leadership is. I also got the opportunity to enhance my public speaking skills," said Palvroy Witter, an international student pursuing an MBA in the H-E-B School of Business and Administration.
At Centro Fox, students toured a presidential museum, visited the public library and even participated in an activity called President for a Day, an exercise that promotes socially responsible leaders. Students experienced an interactive room replicating a congressional chamber. Fellow peers nominated, debated on, and elected one student to act as president to represent them throughout the program.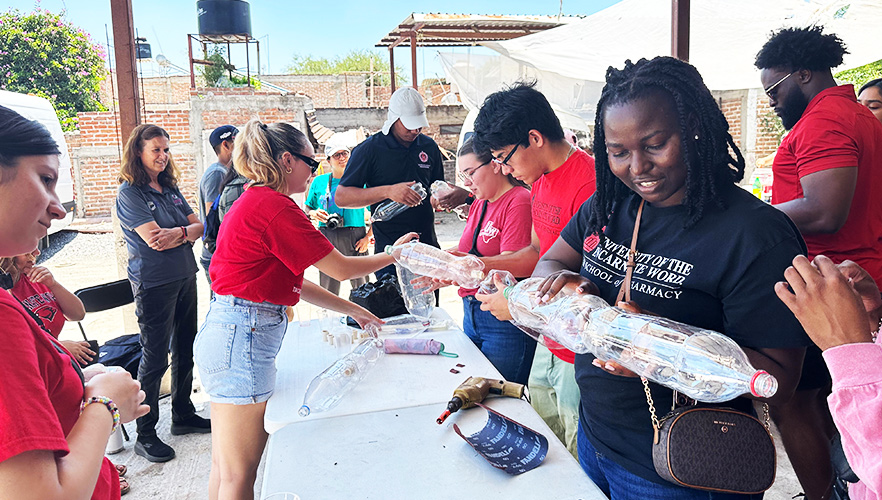 "This trip really made an impact on me wanting to make a social change in my school," said Mark Gracia, a graduate student in the Feik School of Pharmacy. "For the most part, my program deals with independent growth and leader development to own a business. In this trip, I saw a change in myself. I want to be more of a leader in social change for my community."
"The Ettling Center for Civic Leadership supported me through the trip and helped me to realize how the mission of the sisters is carried out through the students, especially when traveling internationally because the three sisters came from France," reflected Camille R. Piper, a Pastoral Ministry graduate student in the College of Humanities, Arts and Social Sciences. "They didn't know or understand where they were heading. I traveled to a country where I did not know the language and some of the customs. Yet, I was made to feel welcome. I had other people around to support me. It made me feel as if I was still walking in their path and continuing their dream because they came not knowing and they impacted the community. I think this should be a part of every student's experience, to go on an international trip. If not possible, a local trip outside of San Antonio to be able to interact with other communities so we can make a wider footprint of the three sisters as we continue the journey."
The 2023-2024 academic year mark the 10th anniversary of the ECCLS's creation at UIW, founded by the beloved Sister Dorothy "Dot" Ettling, Ph.D. To learn more about how to get involved, please email Dr. Ricardo González, Director of the Ettling Center for Civic Leadership and Sustainability at rigonza4@uiwtx.edu.
Students and alumni that participated in this mission service trip include:
Yaleile Alcorta
Bryanna Benitez
Gerald Bowie
Mark Gracia
Vanessa G. Lopez
Camille Piper
Tara Ramirez
Anthony Sanchez
Christian Sanchez
Olivia Towers
Augusta C. Udeani
Michelle Vasquez
Phiona Wanyana
Palvroy Witter
Gabriella Ramirez
Photo Credit: Preserved Perspective Media @preservedpm