Dreeben Announces New Director of Graduate Studies
August 18, 2023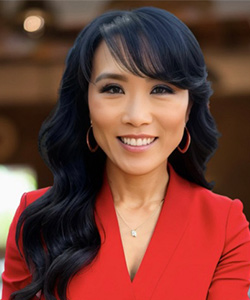 UIW's Dreeben School of Education (DSE) has announced Dr. Ashley S. Love as its next Director of Graduate Studies. Dr. Love is a multi-disciplinary professional with a deep commitment to interdisciplinary learning and a passion for empowering diverse communities. With a teaching journey that spans over two decades in higher education, she is an award-winning professor who holds multiple degrees from Columbia University and a Doctor of Health Sciences degree from Nova Southeastern University, where she pursued a dual concentration in telehealth and education for healthcare professionals. Dr. Love's educational background reflects her unwavering pursuit of excellence, her belief in the transformative power of education and her strong spirit of service.
Drawing upon her extensive training at Columbia University, where she obtained a Doctor of Public Health degree, a Master of Public Health degree, a Master of Science in Human Nutrition, and a bachelor's degree, Dr. Love has developed a comprehensive understanding of the intricate dynamics between public health, healthcare, education, and community well-being. Her educational foundation has equipped her with a broad knowledge base and a multidimensional perspective, enabling her to navigate the complex challenges faced by diverse populations with grace and efficacy.
Dr. Love has also made significant contributions as the former State Epidemiologist and Bureau Chief of Epidemiology at the Delaware Division of Public Health. In these pivotal roles, she played a crucial part in effectively managing the 2009 H1N1 pandemic. Driven by strategic thinking, visionary leadership, and innovative approaches, Dr. Love ensured the protection and promotion of community health during this challenging time. Her tenure as State Epidemiologist and Bureau Chief highlights her experience in making critical decisions under pressure and implementing strategies that yield tangible results.
"I am excited and energized to have Dr. Love as the new Director of the DSE Graduate Studies Department," said Dean Dr. Denise Staudt. "I know she will accomplish great things as she guides the department with her expertise and dedication. I look forward to working with Dr. Love in her new role."
Dr. Love's impact transcends disciplinary boundaries, as evidenced by her dedication to interdisciplinary and interfaith collaboration. Her experiences span diverse settings, including hospitals, clinics, schools, and community organizations, and her remarkable role as an active-duty military spouse for over two decades, during which she resided in Europe, Asia and various U.S. states. This rich tapestry of experiences has endowed her with a comprehensive understanding of the intricate dynamics between academia, public health, healthcare, education, community well-being, and the unique challenges faced by military families. She thrives in environments where diverse perspectives converge to address complex challenges. 
The Dreeben School of Education is delighted to welcome Dr. Ashley S. Love into this new role. She is poised to foster standards of excellence in its graduate programs and to contribute significantly to the broader realms of public health, healthcare, and education.