Cardinals Flock Home to the Nest
August 18, 2023
Move-in days at the University of the Incarnate Word are always filled with excitement and anticipation, and this year's move-in festivities ahead of the Fall 2023 semester were no exception. Students and their families arrived on campus eager to start the new academic year. The campus was buzzing with activity as new and returning Cardinals moved in and got settled into their UIW homes.
The Department of Alumni Relations added to the excitement and hospitality by serving up free and freshly grilled sausage wraps at the annual Grill-n-Greet event. It was a great opportunity for students to meet and connect with alumni, hear their stories, and learn about their experiences on campus as they look ahead to their own journeys about to begin.
In addition to the Grill-n-Greet, students and their families were treated to free sno-cones, which was a much-appreciated relief from the Texas heat. The University also held a work-study fair, where Cardinals were able to learn about employment opportunities on campus.
UIW moms and dads closely followed their Cardinals, helping them to unload their belongings and set up their residence hall rooms. And of course, when it was time to say farewell, the love between them all was palpable as they shared long embraces and words of encouragement.
We heard from some of our newest Cardinals and their families about what they're most looking forward to this year, and why they're proud to officially be part of the UIW family!
Student: Marsil Padron, Nuclear Medicine Science 

"I am excited to move in because I get to build new relationships here and try to find new hobbies that I like. I get to be more involved in my community. I chose UIW because since I was little, I have been coming here because of my brother. He's an alumnus here and I like the campus. I thought it would be a great University to come to.  

Fun Fact: Her brother Martin Pardon Jr. is former president of the UIW Alumni Association, and served on the UIW Board of Trustees!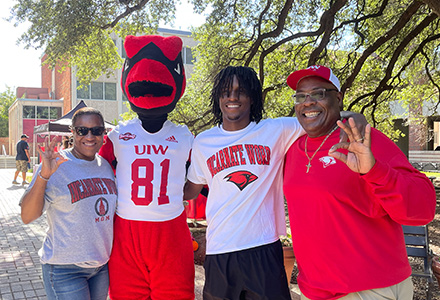 Student: Nicholas Hinds, Nursing  
"I choose UIW because I feel like I fit perfectly here. I like how it's not really a bigger school. It's small and friendly. Everyone here is very nice. I am really excited to move in today and looking forward to it!"  
Father: Gary Hinds  
"I have to tell you, this is an amazing school. This is my second child coming to this school. My second oldest is coming here and he really enjoys it. Nicholas made a great choice in coming to this school."  
Student: Savannah Zuniga, Nursing  

"I chose to come to UIW because I heard it was one of the best nursing schools in San Antonio. I am excited to move in because I can be with my friend who is now my roommate. We went to high school together and attended a medical program."  

Mother: Carol Vicencio  

"I am extremely excited for her! I hope she flies and has a good time. I hope she enjoys everything that is going on here today."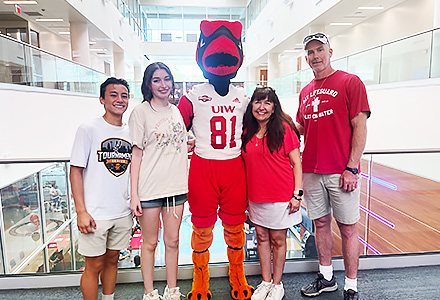 Student: Elizabeth Arnolds  
"I am excited to see the UIW community and meet a lot of new people. I chose UIW because it's a welcoming community. It has a live Catholic spirit, and the education system is well rounded."  
Father: Anthony Arnolds, Father  
"I am excited because it's a small campus, close to home, and everyone here is really friendly."  
Mother: Martha Arnold, Mother  
"I think UIW is a safe, close, and familiar environment for her to spread her wings."  
Student: Jasmine Contreras  

"I came to UIW for sports. Once I came here to visit, I fell in love with it because everyone here is so nice. Everyone asks me where I am from. I'm from California. They tell me, 'It feels like home here.' Everyone we asked about the university said it's really nice. Locals say it's a beautiful school and community. I am excited to be part of it! I am excited to move in because I get to meet my roommate. We are both on the softball team and she is the first friend I am making. Seeing everyone move in, and all the people where I will be going to school in the next chapter of my life, is very exciting."  

Mother: Janie Contreras  

"I am feeling a rollercoaster of emotions and somewhat sad because I am going home without her, but I am extremely excited for the next chapter in her life. I was out here for orientation two weeks ago and fell in love with the staff. Everyone is so nice! Also, the fact that the phone gets picked up when I have a question is amazing and the community feeling is positive already. I absolutely love it."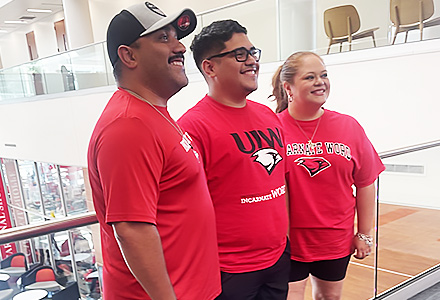 Student: Marquez Diaz  
"I am excited to meet new people in the area and gain new experiences. I am majoring in engineering. I am excited to meet my roommate today."  
Mother: Samantha Diaz  
"I am excited for him to attend UIW so he can continue with his Catholic faith, experience new things and grow as an individual while continuing his loves of engineering."  
Father: Brandon Diaz  
"I am excited for Marquez to experience independence. I want him to have a journey of finding out who he is, who he is meant to be and his role in the world with a Catholic based education."