A Q&A with New Faculty Member Isis Romero
August 18, 2023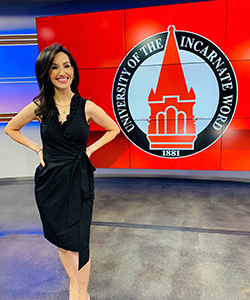 This summer, the UIW community was thrilled to learn that a local news anchor who they've trusted to bring the news into their homes for years was joining the UIW faculty. Isis Romero anchors the news on KENS 5 at 6 and 10 p.m., but now, she'll also be teaching the next generation of journalists as an adjunct faculty member in UIW's Communication Arts department. We spoke with Isis about her new role, what she's most looking forward to, and how it feels to be a Cardinal!
Q: What about UIW made you want to be part of its community as a faculty member?
A: UIW has such a rich history and a reputation for academic excellence!  It's also one of the few San Antonio institutions offering hands-on experience for those wishing to pursue careers in broadcasting. Joining the faculty at UIW seemed like a natural fit for me, and the flexibility of working part-time allows me to continue serving in my role as Evening Anchor for KENS 5. 
Q: You've served the San Antonio community by delivering their news for more than ten years. What key lessons from your experiences do you hope to pass on to your UIW students?
A: I hope to pass on to my students a sense of commitment to the San Antonio community. As a journalist, our viewers are at the center of what we do – and why we do it. Journalists should not be self-serving, and our work should always be focused on informing, enlightening, and educating the communities we serve.
Q: What inspired you to study journalism and pursue this field as a career?
A: Journalism is a fast-paced industry, and I loved the idea of exploring a new story or topic every day. There's no monotony in journalism! Each day brings something completely unique, and I was attracted to being able to meet new people and learn about the community around me.
Q: UIW's Mission is to educate men and women who will become concerned and enlightened citizens within the global community, and to support the search for and communication of truth, innovation, care of the environment, community service and social justice. What role do you think journalism plays in fulfilling this Mission?
A: Journalism plays an important role in society at large. Without journalists, there is less accountability and less awareness of issues that impact our lives. It helps foster transparency, which is critical to our democracy and way of life.
Q: What are you most looking forward to as an official UIW Cardinal?
A: Journalism is needed now more than ever, but the industry as a whole is undergoing significant change. Unfortunately, that means less people are selecting journalism as careers, or are opting out of working in newsrooms to instead work within the realm of communications, like public relations or marketing. I hope to inspire my students to consider a career in journalism and hope to help them on their paths to success.
Q: Is there anything else you'd like to share with the UIW community as we begin a new academic year?
A: I'm excited to join the esteemed faculty at UIW and am looking forward to a great semester! Go Cardinals!