UIWSOM Unveils New Campus Amenities to Help Students Combat Stress
July 6, 2023
Students of the UIW School of Osteopathic Medicine (UIWSOM) have two new spaces to enjoy and utilize to promote their health and wellbeing – a gaming room and fitness center. The sounds of quarterbacks calling plays, and the enthusiastic clicking of controller buttons will now be common sounds in the student lounge on the UIWSOM campus. Last week these new spaces were officially opened by SOM leadership who proudly showcased the school's new amenities.
The new areas have been thoughtfully designed to create a transportive experience for students as they undergo the challenges and stressors of medical school. The gaming room, with its glowing neon signage and plush sofa and chairs, hosts three oversized monitors, three gaming consoles, and plenty of extra seating for SOM learners to square off against their colleagues in a friendly game of football on Madden or a race in Mario Kart. And for those who prefer a more robust form of stress relief, the newly created fitness center across the hall has elements to suit.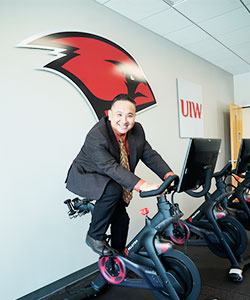 The fitness center has the tools needed for almost any workout plan. There are machines for cardio including Peloton bikes, stair climbers, a treadmill, and an elliptical machine. There are sets of kettlebells, free weights, and a multi-functional trainer for strength training. The center also has mats, resistance bands, and exercise balls for low impact workouts. During the official opening, members of SOM's leadership team discussed the intentional proximity of the fitness center to the patio, noting the intent to bring fitness classes to the SOM campus, and on fair weather days, hold them outside on the patio. The addition of the fitness center and the gaming room are the most recent spaces created to serve a need voiced by SOM students.
The SOM campus, prior to last week, was already equipped with a basketball, volleyball and pickle ball court, a community garden, yoga studio, an interfaith room, and of course a chapel, all created to attend to the students' need for balance in the life and culture of the SOM campus experience. While SOM students are invited to use the Broadway campus facilities, the rigors of a medical school curriculum often keep the students tethered to the SOM campus for the majority of their study. When Dr. John Pham became dean, he took the issues voiced in student surveys to heart and set to work to provide a space that would benefit them the most, from the furniture to the wall colors.
"We chose Building 2 since that is where the students spend the majority of their time outside of classes," he explained. "I wanted to make a space to fit their balanced needs while also feeling like they were still part of UIW."
Dr. Pham's plan to create such an environment included painting accent walls in UIW colors, adding new furniture to the student lounge in school colors, and adding UIW logos to the lounge spaces. When asked why there was such intention on creating an environment of inclusion Dr. Pham reflected, "laughter, camaraderie and supporting one another during the stressful times that come with pursuing medical school are great ways to create a strong encouraging culture here at SOM. Some enjoy fitness as an outlet to unwind, while many in this generation choose gaming as a means to relax, and regardless, it is our responsibility to listen and create these environments for this new generation of learners."
During the gathering to open these two new spaces, both Dr. Pham and Dr. Caroline Goulet, PT, PhD, Associate Provost for Health Professions, spoke on the importance of establishing heathy balances between attending to work needs, and to the needs of oneself.
"We stress the importance of work life balance in order to be a well-rounded future physician," noted Dr. Pham. This sentiment was echoed by Dr. Goulet, when she called for the SOM students, faculty, and staff to use these spaces and "become models" of this balance to those around them.
While the SOM leadership certainly hope the campus community makes use of the spaces to promote a holistically healthy lifestyle, Dr. Pham also ruminated on a larger purpose and goal for the spaces, musing, "I hope that when they graduate, the students look back and know that we took care of them from their first day of class until Commencement, that we fully supported them in their goals of becoming osteopathic physicians."
The study of osteopathy specifically approaches medicine with an appreciation for the whole person, and by the creation of these spaces, the UIW School of Osteopathic Medicine demonstrates that this level of care begins with its community, staff, faculty, and most importantly, its students, or as Dr. Pham addresses them, "the next generation of physicians."