The Tale of Mortis the Tortoise
July 6, 2023
On a warm summer day in June at UIW's Feik School of Pharmacy, a tortoise roamed the grounds, having accidentally wandered a bit too far from home. The two-foot reptile was discovered by UIW facilities management staff member Jerry Garsas who instantly fell head over heels for it. The Office of Communications and Brand Marketing then received a call with an unusual request – Will you post a photo of this tortoise on social media to see if we can find its home?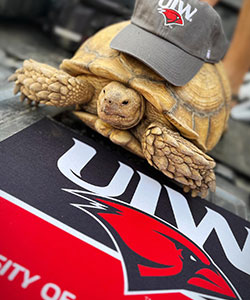 Within minutes of the University's post, which featured the tortoise in a UIW cap, alumni and friends from across the state began commenting, messaging and emailing offering it a loving home. Meanwhile, the University's new tortoise friend was transported to Jerry's backyard, where it enjoyed burrowing in the ground, resting in the shade, and munching on plenty of apple treats.
It wasn't until the San Antonio Express-News shared the tortoise's tale that its photo finally reached its owner Tony and the full story came together.
A long-time resident of Olmos Park, "Mortis the Tortoise" has belonged to Tony since she was small enough to fit in the palm of his hand. She is now 25-years old, 80 pounds and filled with the spirit of adventure, which is how she found herself on campus. As soon as Tony realized her curiosity took her beyond the parameter of his yard, he placed apples on the grass and driveway, in case Mortis found her way back home hungry. Little did he know she was enjoying the same sweet treat on her mini summer getaway miles away.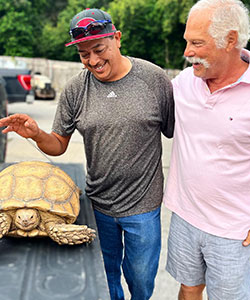 When Jerry got the call that his tortoise friend was actually named Mortis and had a loving home waiting for her, he was admittedly a bit disappointed – he'd planned to adopt Mortis and teach his children how to care for it as well (tortoises can live up to 150 years old!). Still, he was glad to know that the story would have a happy ending for Mortis and Tony. Jerry and Tony later met up on campus to make sure that Mortis – affectionately called Morty the Torty by UIW staff members – got home safely. She was sent off with Tony after receiving some loving shell pats from Jerry and her very own UIW cap to sport when she comes back to visit during the upcoming football season.
As for Jerry? He loved Morty so much, he decided to adopt his own tortoise. This one fits right in the palm of his hand – for now!