July 24, 2023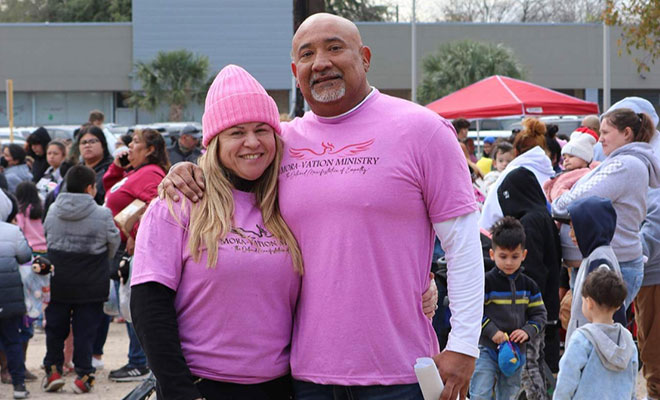 In 2004, Fernando Mora looked out of his cell in the Bexar County Jail and knew that his life needed to change. Facing the judge for the second time in two years for repeat offenses, he was at risk of spending a significant amount of time behind bars.
At this point, Fernando did not realize he was taking the first step on his road to redemption. He was also unaware he was about to receive a helping hand from a surprising place.
It was May 2004 in the very first hours of a new Monday morning. All of San Antonio was wide awake, watching the NBA playoffs and cheering on the Spurs as they took on the Los Angeles Lakers in California. Mora's focus wasn't on the game – it was on his upcoming 8 a.m. courtroom appearance.
"I was set to see the judge at 8 a.m. on Monday to find out my fate," he remembered. "Why is that important? Because of the time difference in California! The game was crazy and there was a delay, so everyone was up until 2 a.m. cheering on the Spurs…including the judge."
Mora arrived for his appearance, only to be met by the bailiff who said to him, "It's your lucky day. The judge is giving you another chance."
"I guess more paperwork was involved in sentencing me to jail, and he was tired from watching the game, so he let me off the hook," Mora said of the judge who altered the course of his life "I couldn't believe it!"
It was this second chance that ultimately changed his life trajectory.
Born and raised on San Antonio's Southside, Mora grew up next to an area called The Circle, nestled between Southcross and Zarzamora St., just off I-35 – an area with a notorious reputation in the city for drugs and crime.
His mother and father came from big families who grew up in this neighborhood. Many of his uncles spent time in and out of prison. Mora saw family members struggle with addiction and jail sentences so often that he grew up thinking it was normal. That was just life.
"Of my eight uncles, five spent time in and out of prison," he shared, "My grandfather died from cirrhosis of the liver, and my father died at 57 from alcoholism. Everyone I knew would drink and take drugs each week. If you didn't do it, you were the odd one out. So even after the judge let me off, I was still up to no good, until one night …"
The night was October 18, 2005. Fernando was at home watching a Spurs game alone. His table was littered with beer cans, cigarettes and drugs. A feeling struck him – the realization that he'd been squandering the second chance he'd been gifted more than a year before. It was a moment that changed his life forever.
"As I'm sitting watching the game, I just started crying," he revealed. "Not just a tear, but floods of tears. I didn't know why I was crying … the Spurs were winning! But I quickly realized it was my inner soul that was crying out for help."
"Right then I took all my stuff off the table – the beer, cigarettes and drugs, and flushed it all down the toilet. I knelt and prayed. I said 'God, you've got to help me out of this. I'm tired. I don't want to live like this anymore.' I haven't touched alcohol, drugs or cigarettes since that day."
Two months later, Mora had another epiphany. He felt a calling to go back to school. It was at the University of the Incarnate Word that Mora found the program and support he needed to completely alter the course of his path and begin living his life in the service of others.
Beginning his higher education journey at 35 years old, Fernando set a goal to earn his bachelor's degree before age 40. He enrolled in classes each spring, summer and fall while working full-time at an orthopedic surgery center.
"It's been an amazing ride so far. I'm so excited to see where this journey takes us next."
In May 2010, Fernando graduated with his BBA from UIW at age 39, fulfilling his goal. At this point, he wasn't sure if he wanted to continue. But he credits his academic advisor at UIW, Olga Barton, for providing him with the advice he continues to share with people today.
When Mora asked Barton how long it would take to complete his master's degree, she was honest – about two years. Having just completed four challenging years of school, he was a bit hesitant to immediately jump back in.
"Fernando, look at it this way," he recalled her guiding him. "Two years are going to come and go whether you do something, or you don't. Don't be that person two years from now thinking, 'if I'd started back then, I'd be done now'."
It was exactly what he needed to hear.
Fernando crossed the stage to collect his MBA from UIW's H-E-B School of Business and Administration in December 2011; just one short month after his 40th birthday.
Not satisfied with simply using his education to better his own life, Mora got to work applying his newfound knowledge and skills to improve the lives of others. In 2013, he founded a non-profit organization called Mora-Vation Ministry. For the last nine years, his non-profit has organized an annual Christmas event to gift toys and bicycles to children on the Southside of San Antonio.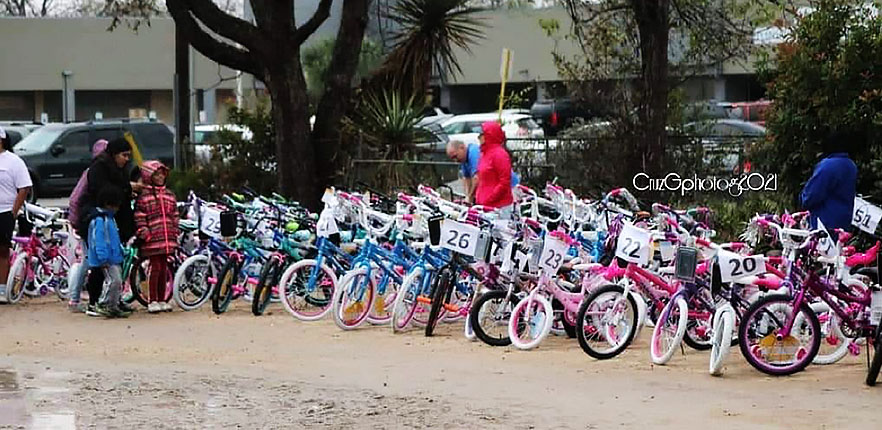 "It's a play on words with my name," he beamed about the name of his organization. "You say it pretty fast and it sounds like Motivation. This year will mark our 10th anniversary and so far, we've gifted 10,000 toys and 1,000 brand-new bicycles to less fortunate children from the same streets on the Southside of San Antonio I grew up on."
Mora didn't stop there. He expanded his non-profit this year to give back to another group in need in his home community. The new division of the non-profit is called Milagritos – Spanish for little miracles.
"We helped the children, and now I want to help the senior citizens in the Southside too," he explained about the purpose of the Milagritos branch. "I've been in medical sales for over 30 years and noticed that many senior citizens in our area go without medical braces; for their back, knee, wrist and ankle."
Mora pointed to two reasons for this unfortunate reality. One, the medical braces are too expensive. Two, many of the senior citizens in need in the area don't have medical insurance. So, Mora got to work.
"I reached out to some business contacts in the medical industry, told them about my plan, and asked if they could help," he said "I thought they might send a few hundred braces at most … they sent 7,000! It's been an amazing ride so far. I'm so excited to see where this journey takes us next."
Today, Mora has been clean and sober for nearly 18 years. A proud two-time graduate of the University of the Incarnate Word, he has gone on to use his BBA and MBA to help improve the quality of life of others. In addition to his non-profit organization, Mora founded two small businesses in the medical sales industry. He looks back on that fateful night when the Spurs played the Lakers nearly 20 years ago with gratitude.
"Everyone has their stories," he reflected. "But for me, it's how you react to your story. I want my story to show perseverance. Because no matter where you're from, no matter your past, if you think about what you genuinely want and go after it with your heart, you can do anything."