Thank you, Dr. Holly Cassells
June 5, 2023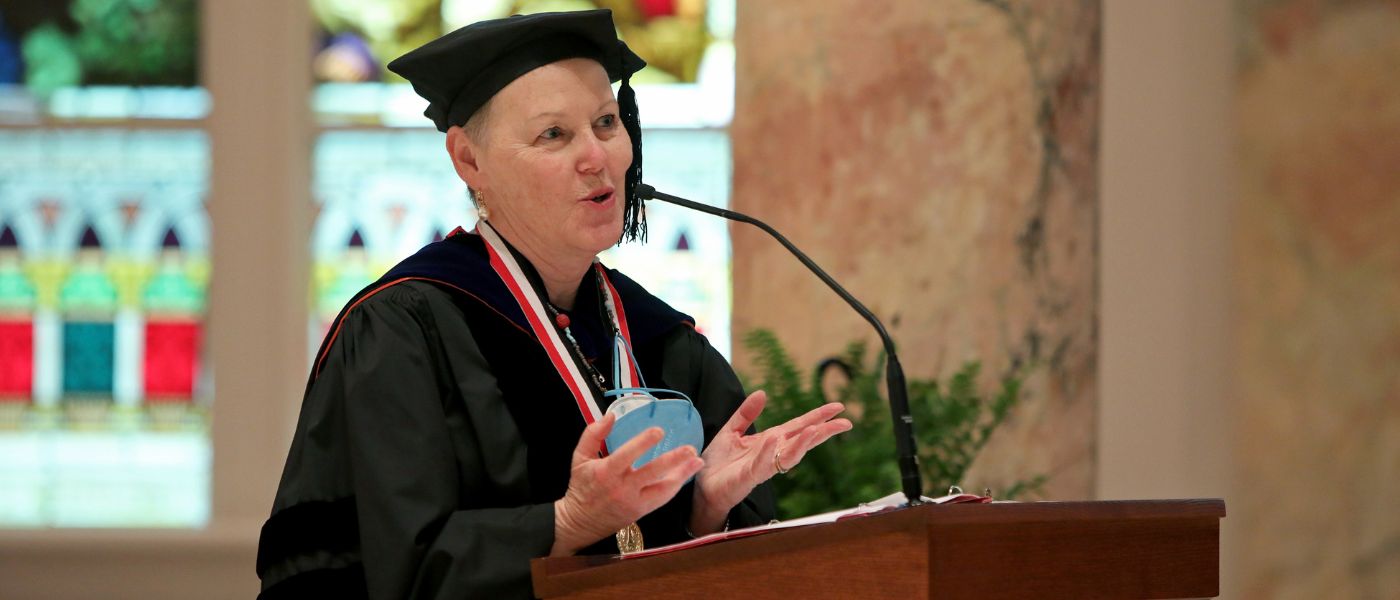 After more than 40 years of service to the University of the Incarnate Word, Dr. Holly Cassells is prepared to call it a career. Cassells, a Registered Nurse who has dedicated her life to education and service in the healthcare industry, announced that she will retire at the end of the Spring 2023 semester. Her journey with the University of the Incarnate Word began in 1982 as an instructor at then-Incarnate Word College where she taught the BSN, MSN and DNP programs. She has chaired the Graduate Nursing Program and, in 2020, was elevated to dean of the Ila Faye Miller School of Nursing and Health Professions. 
As dean, she reaffirmed the commitment to educational excellence and supporting the hard-working faculty and staff of the school. Under Cassells' leadership, the students have continued to be engaged in the community, dedicating compassionate service and delivering the highest quality professional care. 
When Cassells arrived at UIW, she says she did not realize the personal and professional satisfaction she would have in her career. Growing into the teaching profession, and within the ever-evolving field of nursing education, guaranteed that life as a UIW faculty member was seldom dull, sometimes fun, and often challenging. However, the rewards of working with students and developing warm and positive relationships with UIW faculty and staff have been true blessings. As she prepares to retire at the end of the semester, she says she is amazed that nearly her entire professional life has been spent at UIW. Although she attributes this to the support and great students she has enjoyed at UIW, it is really a testament to the care and dedication she put into a life of serving both the Mission of UIW and those entering the front lines of the healthcare industry. 
"The University of the Incarnate Word has been blessed to have Dr. Holly Cassells as a dean, educator, mentor and member of our UIW family for more than 40 years," said Dr. Thomas M. Evans, UIW president. "Under her leadership, the Ila Faye Miller School of Nursing and Health Professions has continued to ready compassionate, highly skilled healthcare professionals who change lives through their care. Our community is deeply grateful for her dedication to our students, our Mission and the spirit of the original call of our founders, the Sisters of Charity of the Incarnate Word, to care for those in need." 
The goal of the Ila Faye Miller School of Nursing and Health Professions is to provide an excellent student-centered education that will promote leadership development among students in each of the health disciplines. The mission of the school is to extend the healing ministry of Jesus Christ, the Incarnate Word, through the educational preparation of health professionals. The school offers outstanding programs in Athletic Training, Community Health Education, Kinesiology, Nuclear Medicine Science, Nursing, Public Health (Minor), Rehabilitative Sciences, and Sport Management. Thank you, Dr. Cassells.