June 5, 2023
By Dr. Javier Clavere, Dean of the College of Humanities, Arts and Social Sciences
The Advent of Humanistic Entrepreneurship – A UIW Story!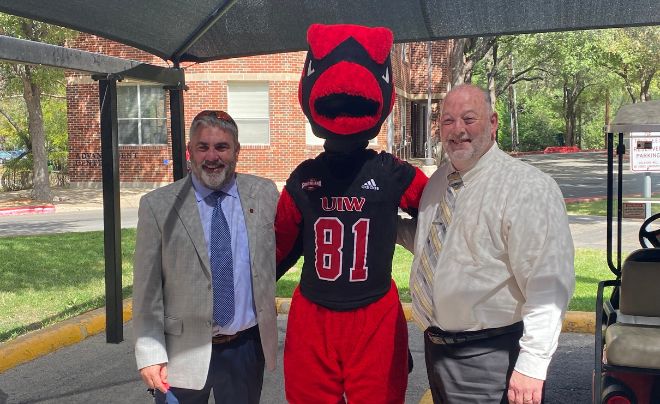 When we think of entrepreneurship, we think of business ventures or processes where a new enterprise is created, bearing all the risk with the goal of making a profit. However, there is another type of entrepreneurship, a concept I articulate as "humanistic entrepreneurship," where a venture or enterprise has the goal of the well-being of humanity rather than profit. Why is this concept so important? In the twenty-first century, we, as a society fail to deliver processes that account for people on the fringes or that include those historically disenfranchised; instead, we utilize processes that create a collateral financial burden to a large population of individuals, excluding them from access and dignity of life. 
The liberal arts model has been and will continue to be the perfect model for forming the whole person. In contrast to vocational educational enterprises that aim at forming skills for careerism, the liberal arts provide leadership and innovative skill sets that allow individuals to pursue their dreams and chosen vocation. It creates a mindset where students can simultaneously thrive as generalists and specialists, provide creative solutions to complex problems, and reason conceptually while implementing solutions pragmatically. 
It is in this mindset that the College of Humanities, Arts and Social Sciences at the University of the Incarnate Word thrives. Mirroring the ideals and examples of our founders, the Sisters of Charity of the Incarnate Word, we continue the tradition of helping others on their life journey through innovation. We are called to be in a community helping each other grow, improve, and flourish in the love of God and our neighbor. 
As a community, we assist in developing skills necessary to create solutions grounded in social justice and instantiate designs that mobilize our sense of ethics and aesthetics, making the lives of others more beautiful and meaningful. We experiment in the classroom to ensure our ideas meet the suitability for a commitment to Catholic social teaching. We cultivate an academic environment where humanistic entrepreneurship flourishes, providing fertile ground for growth, turning every challenge into diverse perspectives, channels of opportunities, and awareness of possibilities. 
It is not only a privilege to be part of this outstanding academic community but also, a great responsibility to live our commitment to always upholding the dignity of others, including those with whom we disagree. In the act of caring for others, we live our call to holiness. 
There is no better place to live this call than the College of Humanities, Arts and Social Sciences, the home for identity, Mission, and core. We are the spirit of UIW!