From the Classroom to the Table
June 14, 2023
UIW's Nutrition Program Promotes Healthy Living at Home and Abroad
Learning how to live a healthy lifestyle is important and having a trained nutritionist can help people achieve that goal. UIW's Bachelor of Science in Nutrition program provides students with the science-backed and holistic expertise that they need to help people become their best selves as nutrition professionals.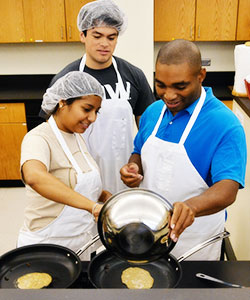 As soon as a student selects UIW's Nutrition program, the necessary education and training to set them up for success in their chosen career path begins. With three program tracks – Food and Nutrition, Nutrition and Dietetics, and Nutrition Science – UIW Nutrition graduates are prepared for success in dietetic internships and graduate programs, or as professionals in various industries.
"UIW is preparing me for a career in nutrition through rigorous education about the relationships between people, food, and lifestyles," shared Carolina Geyer, a senior Nutrition major. "The degree requirements of a nutrition internship challenge me to expand my network in the dietetic nutrition community and learn more of the multiple professional roles in nutrition."
In addition to a rigorous academic curriculum, UIW's Nutrition students have unique opportunities to put what they're learning in the classroom into practice in real life situations. Just this May, two Nutrition students traveled to Guatemala to bring nutritional information and practices to malnourished children, in partnership with Little Angels of Mary, a local non-profit operated by UIW alumni Edwin and Darlene Mendoza. During their time in Guatemala, the students – guided and supported by UIW faculty – provided local mothers with training on preparing healthy meals, information on growing food in personal garden plots, and regular weigh-ins and measurements for the children to track progress.
"I am super grateful that I came on this mission trip and have been so humbled by it thus far," shared Vallery Roberts, a recently graduated Nutrition major. "Working with the mothers and children who are malnourished has been eye-opening. They are wonderful people and are doing what they can to move forward and get better."
Students and faculty are looking ahead to their next opportunity to put UIW's Mission into practice by utilizing their science-backed nutritional expertise. In September 2023, a group will travel to Oaxaca, Mexico with the Quijotes of San Antonio Interprofessional Health Mission to serve impoverished communities. But there are plenty of opportunities for students to put their knowledge and skills to use right at home as well. Nutrition students regularly participate in campus and local community events, like UIW's Health and Wellness Fair.
According to Geyer, all of this was what she was looking for in a Nutrition program.
"I wanted to know how extensive the Nutrition program was, meaning how it was preparing students to move on to a master's program and how it promoted networking with professionals with real-life practical experience in the profession," she explained. "I also wanted to determine how strong the program was compared to other schools when it came to both level of academics and practicing real-life applications. UIW had what I was looking for. It was the best fit, and I'm proud to be a Cardinal."
Learn about the UIW Nutrition program.