A Passion for Students in STEM
June 5, 2023
By Tricia Schwennesen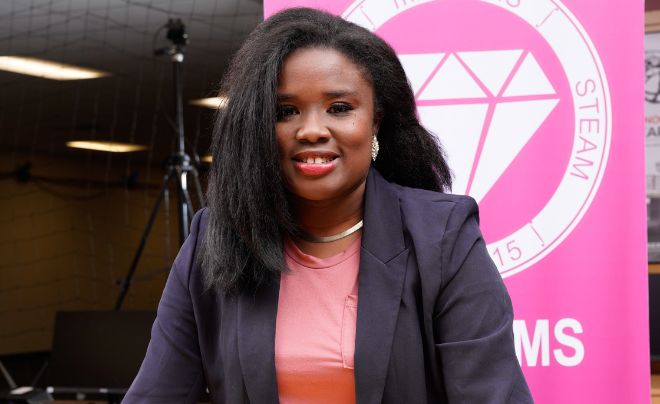 Amanda Roberts has come full circle. She began her studies in Biology at the University of Incarnate Word as an undergraduate and earned her bachelor's degree in Chemistry with a minor in Biology in 2010. In August, more than a decade after she first stepped foot on campus, she joined the UIW faculty as a visiting assistant professor of Chemistry. 
It's a homecoming of sorts. Roberts attended San Antonio's Roosevelt High School and said she chose UIW because it was multicultural and offered smaller classes. 
"When I was in a bigger class I was struggling, but when I moved to a smaller class, I did phenomenally," said Roberts. "That's when I knew I had to have small classes." 
She also said she wanted a university that provided support and resources for first-generation students. 
"I wanted to make sure it was a place where they recognized, respected and valued first-generation students," added Roberts. "I wanted to make sure I was at a program that provided the needed support, a program that said here are the resources that are available for you to become the best version of yourself and for you to discover who you are as a person, your strengths and weaknesses, and what resources you have in order to improve your weaknesses for them to become an asset for your future." 
Above all else, Roberts was looking for the right kind of energy. 
"There was a woman I've known all my life who is an alum, Deborah Ford, and she was always talking about Incarnate Word," shared Roberts. "I talked to one of the ladies in the finance department trying to find funding opportunities. She had excellent energy, and that's when I knew this is where I'm supposed to be. And now I'm back teaching." 
THE COLLEGE EXPERIENCE
Roberts is a self-described neuroscientist by trade and a former clinical trial quality control specialist who focused on clinical data management. She is well-versed in the clinical drug development process and has knowledge of Good Clinical Practice (GCP) and relevant regulatory guidelines. She has also taught math and science to grade school students, undergraduates and graduates. And she is a co-founder of the start-up Building Academic Confidence (BAC), which aims to bridge the educational gap between grade school students in math, science and technology. 
Roberts said her college experience really paved the way for the professional life she leads today. UIW didn't offer large research facilities, but as an undergraduate, she was introduced to and encouraged to participate in independent research. In the summer of 2008, after her sophomore year, Roberts applied for the National Science Foundation Research for Undergraduates program, which provided her the opportunity to spend the summer at the University of Wisconsin LaCrosse. 
"I got to focus on neuroscience because that was my field of interest," she said. "Having that opportunity and seeing that I could go somewhere else where I didn't know anybody and still be successful was huge, and UIW supported me in that." 
The program was a major learning experience for Roberts and gave her the confidence she needed to continue to pursue other research opportunities alongside her education. 
"I knew that not only could I do well at Incarnate Word, but I could do well outside of Incarnate Word," she said. "I also saw areas of knowledge where I needed to improve." 
Roberts said the experience also taught her some valuable lessons about where to find resources and how to apply to other programs, which helped prepare her for filling out post-graduate program applications. She learned how to ask for letters of recommendation, how to write cover letters and a personal statement and how to search for different schools to see what research was being conducted. 
"I learned all of that thanks to the professors encouraging me to apply for that program," said Roberts. "As a black woman, I was nervous that I was jumping into a career that is white male dominated and learning how to survive. But my teachers told me I had the ability to do whatever I wanted to do. That's what Incarnate Word taught me." 
GIVING BACK TO STUDENTS
Roberts said those early lessons were pivotal in getting her where she is today. Now, she has the opportunity to give back to other UIW students.  
If there was one word to describe her teaching style—or even just herself as a person—it would be "positive". That's the mood she brings to her classroom thanks to some advice from one of her graduate school professors at the University of North Texas Health Science Center. 
"He said, 'When you are studying you should be in a great mood. Maintain positive thought processes when you are studying because when you go take a test, your anxiety will be low,'" shared Roberts. "I didn't believe him, but I tried it and boy, does it work." She said that philosophy helped her realize how things are connected. 
Roberts said she also wants her students to realize how important the lab is, and to realize that they can take the skills they are learning in the lab and apply them to outside research projects where they can potentially get paid. 
"I want them to be excited about labs," she said. "Normally, in a lecture, there is so much information thrown at you that it can sometimes be overwhelming. But at the same time, I want them to see that lab is just as important, and how awesome it is."  
Taking advantage of the lab can help students stand out in a competitive arena. Roberts encourages her students to use the University's resources, take advantage of the research opportunities in the summer, and if they can't, then volunteer.  
Students need to do whatever they can so they can go to professional school or graduate school or even into the industry, or academia, she shared. 
"Make sure you stand out," Roberts said. "There are too many opportunities out there." 
The bottom line—be confident. 
"You've got this," Roberts said. "You can be whatever you want to be and go wherever you want to go."