June 1, 2023
Silva Sisters Graduate Together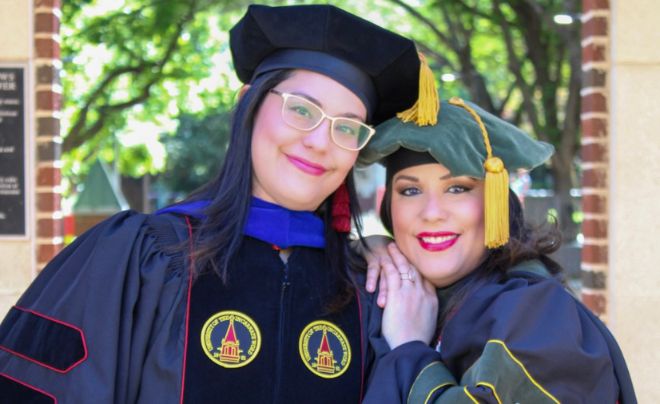 Melissa and Frances Silva have much in common. The sisters share devoted parents, an upbringing they uniquely understand, doctoral degrees in healthcare, and most recently, they became alumnae of the University of the Incarnate Word on the exact same day.
Born just two years apart, Melissa and Frances grew up in a military family. Their parents sacrificed their home in Puerto Rico to build a new life in the United States – their father spent 30 years in the Army before he retired as a Colonel, while their mother served as the family's "core," offering support in every endeavor undertaken by her husband and children.
"Melissa and I have a unique bond only military children understand as we navigated our way through life during my father's military career," explained Frances.
The Silvas reminisced about fond memories of spending their days outside together before the age of social media, playing at local parks and pools. They recalled family road trips and their father's affinity for amusement and water parks, which he shared with his girls. In addition to this love of park attractions, their parents passed along something far more important to Melissa and Frances – the value of an education.
"My parents supported our educational journeys in every way possible that they were able," Melissa shared. "They emphasized being strong and independent women with our careers."
Frances echoed Melissa's statement, adding, "My mother encouraged me to volunteer in the community while my father introduced me to individuals in educational and leadership roles who could provide insight in their fields."
Still, despite their shared upbringing, it was never in the plan to attend the same University, much less to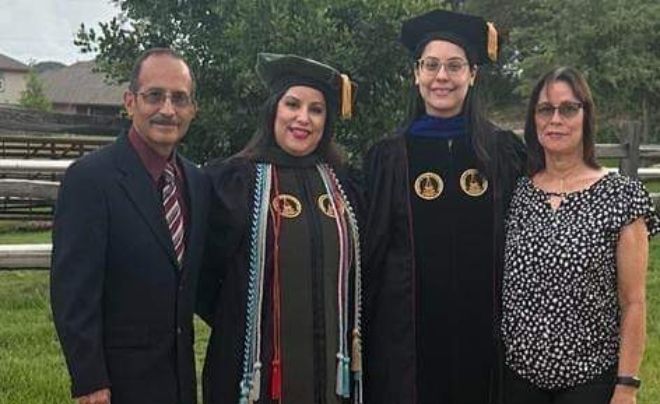 cross the stage at the same ceremony. But that's exactly what they did.
After following in her father's footsteps and serving in the U.S. Army as an optometrist, Frances was accepted to the UIW Rosenberg School of Optometry's Ph.D. program in Vision Science, a program that was the perfect fit for her with the University's veteran services and the school's proximity to home. Melissa was accepted into UIW's Feik School of Pharmacy – she knew UIW was where she wanted to continue her education after meeting with faculty and staff who demonstrated a clear commitment to helping students succeed.
"Throughout the years there have been several people and experiences that have left an impression on me," Melissa said. "However, two of the most impactful people for me have been Mrs. Elizabeth Hernandez (Office of Student Affairs) and Dr. Anita Mosley (Senior Associate Dean of Academic Affairs and Professor). Both admirable women are the embodiment of student advocacy and compassion."
Frances felt that same level of support at UIW. "I wouldn't be here without each and every one of the UIW Rosenberg School of Optometry staff, faculty, interns, students, and Ph.D. colleagues," she said. "Each person positively supported my research and essentially helped me earn my doctorate in this program. It takes a village."
During their time at UIW, that village grew to include new mentors, colleagues and friends. But at its core, their tight-knit familial group proved to be Melissa and Frances's biggest and loudest supporters. Their parents answered every phone call on the hardest days of the journey, offering words of wisdom and motivation. And the entire time, Melissa and Frances knew they had a friend and fan in the other.
"It was great to graduate alongside my 'favorite' (and only) sister, especially since this wasn't planned at all," said Frances. "Melissa is extremely intelligent with unique medical experiences that will enable her to serve as an advocate for her future patients."
"I am incredibly proud of my sister's perseverance and dedication to higher education," shared Melissa about her older sister. "It is truly something unique and admirable. I have always looked up to her since I was younger because she was always extremely dedicated and always completed what she envisioned. She is honestly one of the most accomplished people that I know. It made me feel most proud to have our parents see us graduate together as I am sure their hearts were overflowing with joy."
Their parents' hearts truly were overflowing watching their two daughters graduate as doctors. The walk across the commencement stage began years ago with the sacrifices made by the Silva parents for their daughters. The journey includes every triumph over adversity and the lessons instilled in the sisters. Now, those lessons will live on, both within their family, as Frances shares them with her son, and in all the patients whose lives they will touch.