UIW Welcomes New Dean of the Ila Faye Miller School of Nursing and Health Professions
May 3, 2023
Dr. Danuta M. Wojnar set to take Leadership Role on August 1, 2023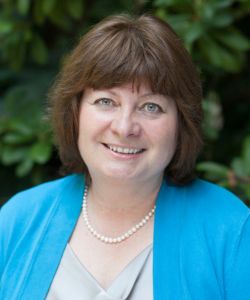 San Antonio – The University of the Incarnate Word is proud to announce that Danuta M. Wojnar, PhD, RN, MN, MED, IBCLC, FAAN will be joining UIW as the next Dean of the Ila Faye Miller School of Nursing and Health Professions. Dr. Wojnar brings a wealth of leadership experience that aligns with the university Mission and values and she will begin her new role on August 1, 2023.
"From the moment I met with Dr. Wojnar, I knew that she would be a great fit for UIW," says Dr. Caroline Goulet, associate provost of Health Professions. "Her experiences as a faculty and administrator, her accomplishments as a scholar, her student focus approach and, more importantly, her genuine warmth and openness will contribute to her success in leading our School of Nursing and Health Professions. She will be a great addition to the Provost's Deans Council."
After graduating with a Master of Arts in Russian Philology with a focus on education from Yagiellonian University, Krakow, Poland, Wojnar started her career as an educator. She went on to earn a Bachelor of Science in Nursing and Master's in Nursing degrees from Dalhousie University in Halifax, Nova Scotia, Canada. In 2005, after graduating with a PhD in Nursing Science from University of Washington in Seattle, she joined Seattle University faculty. Wojnar currently serves as the Associate Dean for Undergraduate Programs, Professor and N. Jean Bushman Endowed Chair in the College of Nursing at Seattle University.
A common thread woven through Wojnar's life and faculty work is a tireless commitment to eliminate inequalities and injustices in health by improving understanding of diverse populations health care needs and expanding access to primary care. While a Maternal-Child nurse educator in Canada, Wojnar co-developed an award-winning Multicultural Health Program that is still in use today. As a Robert Wood Johnson Foundation Executive Nurse Fellow (2012-2015), she participated in the American Board of Internal Medicine and American Academy of Nursing meetings to define the optimal role and scope of practice for RNs in the primary healthcare environment. In 2016, Wojnar was commissioned by the Macy's Foundation to write a State of the Science manuscript on primary care and nursing education and to participate in the Primary Care Summit.
Her most recent service on the national level includes work on the New Nursing program assessments for the Commission on Collegiate Nursing Education accrediting body. As a member of the American Academy of Nursing, Wojnar is also an active member of the Primary Care Expert panel. Wojnar's program of research closely aligns with her values and clinical practice interests and includes support of breastfeeding women through research and policy development; culturally sensitive care to diverse populations, with special focus on lesbian and other nontraditional families after unexpected pregnancy loss; and application of theoretical frameworks to meet the healthcare needs of diverse populations in the United States.
Wojnar said: "Being selected as the next Dean for the Ila Faye Miller School of Nursing and Health Professions at UIW is incredibly exciting. I am thrilled about the University's ambition to enhance the School of Nursing and Health Professions prominence on the regional and national stage while maintaining its religious affiliation and social justice mission and values. I am eager to take on the responsibility to establish, direct and sustain organizational systems and do whatever it takes to be useful and helpful. I enjoy the process of envisioning, creating, and refining and I am excited by the prospect of shaping the future of the School of Nursing and Health Professions. I am eager to capitalize on the School's strengths to identify areas of growth and innovation in teaching, research, and service. I am enthusiastic about getting acquainted with the faculty, administrators, staff, students, and other stakeholders that make up the University of Incarnate Word community to plan and advance the School's growth collaboratively. I will use my life and my professional experiences to create a nurturing, supportive and inclusive environment for all members of the School of Nursing and Health Professions. As importantly, coming to a school with high teaching and research ambitions is a very familiar environment to me, and I plan to lend my prior experience in determining how to best support faculty to successfully develop and sustain programs of research and scholarship. I also find the prospect of building on the school's long tradition of academic excellence in upholding student learning and professional formation important. Lastly, I am eager to engage in collaborative work with the members of the School of Nursing and Health Professions to accomplish the School's strategic plan that is in alignment with the University's Mission and strategic directions."