UIW Names Dr. Alfredo Ortiz Aragón as 2023-24 Moody Professor
May 4, 2023
Other Accolades also awarded during annual Faculty Appreciation Luncheon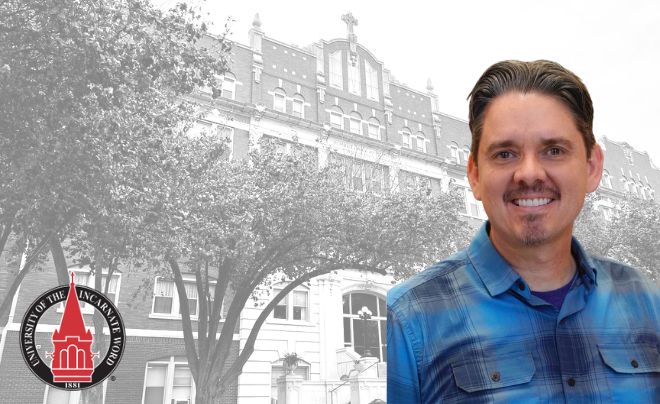 San Antonio – The University of the Incarnate Word (UIW) is proud to announce that Dr. Alfredo Ortiz Aragón has been named the 2023-24 Moody Professor. The award was announced during the annual Faculty Appreciation Luncheon held on April 3, 2023. In addition, Dr. Elda Martinez was also presented as this year's Minnie Stevens Piper Award Nominee among many other honors that were announced that day.
Established in 1971 by the Moody Foundation, the Moody Professor reflects a high level of scholarship, teaching excellence and community service attained by the recipient. This is the highest faculty honor bestowed by UIW. The Commencement address given by the Moody Professor is traditionally considered to be the students' "last class."
Having started at UIW in 2016, Dr. Ortiz Aragón is currently a professor in the Dreeben School of Education where he is the convener of the Adult Education, Social Innovation and Entrepreneurship Ph.D. Concentration. He is also a facilitator in the annual Community-Based Participatory Research Institute at the University of New Mexico's Center for Participatory Research. His Ph.D. is from the Institute of Development Studies at the University of Sussex, UK.
In his teaching, Ortiz Aragón actively works with students to fulfill his mission of leveraging university resources for community social change. In the last two years, he has actively engaged with students in co-designing and co-facilitating his action research courses that are delivered within an innovative residential retreat model. He invites teaching assistants to be full participants in design, facilitation and in providing feedback, directly bringing students behind the scenes for learning course design and teaching action research. In September 2022, Ortiz Aragón was awarded the five-year UIW DSE General McDermott Chair in Leadership, intended to help bring unique perspectives to coursework and help shape the leadership styles of future leaders in our city and state.
"As educators, we are ultimately trying to change something in the world that is outside of the formal walls of UIW, even as we focus on helping students to do the same," says Ortiz. "For this reason, I have spent the last few years trying to take the "classroom" into the community and bring the community into the "classroom" and do so in a way that allows all of us to be teachers, researchers and inquirers who share our expertise from lived experience to address practical problems in the immediate (San Antonio) and broader world. We take action in the world to generate knowledge with communities, use that knowledge to find better ways to work together and write about and teach from that experience. I am extremely grateful to have been recognized by my peers with this faculty-to-faculty award, particularly in this moment where integrating teaching, community engagement and research is more important than ever."
Also celebrated during the luncheon was Dr. Elda Martinez who was named the 2023-24 Piper Award Nominee. Begun in 1958, the Minnie Stevens Piper Professor award is given annually by the State of Texas. Ten awards are made to professors for superior teaching at the college level. Selection is made based on nominations submitted by each college or university in the state.
A native of San Antonio, Martinez serves as the Director of Teacher Education and Professor at the Dreeben School of Education. She oversees the teacher education program and teaches courses in special education, assessment and general education. Martinez led three successful state accreditation reviews conducted by the Texas Education Agency and headed the efforts for the programs for national accreditation review granted by the Association for Advancing Quality in Educator Preparation in 2022. Prior to joining UIW in 2005, she served as an elementary and special education teacher in the San Antonio ISD, supporting elementary and middle school students.
"Being selected as the UIW Piper Professor nominee is a great honor," says Martinez. "At this point in my career, I am able to reflect on 28 years of teaching in educational systems dedicated to serving diverse communities. My personal experience as a first-generation student navigating educational opportunities formed the basis for my life's work. While my personal experience is not unique, I am evidence of a university's position to transform education with a commitment to justice and equity. I see my work entwined with the experiences of my esteemed colleagues and the students we serve, and I am grateful to represent our joint efforts and the UIW community."
Among the other honorees, the 2023 Presidential Teaching Award was awarded to Dr. Trey Guinn from the School of Media and Design. Established by the Faculty Senate in 2004, this annual award acknowledges an individual who exemplifies excellence in teaching that leads to student engagement.
Dr. Eilish Ryan from the College of Humanities, Arts and Social Sciences was awarded the Kathleen Light Outstanding Teaching Award. Dr. Jeannette Wong-Powell, clinical assistant professor at the Rosenberg School of Optometry was honored with the Edward Zlotkowski Faculty Service-Learning Award and the 2023 Robert J. Connelly Leadership Award was presented to Dr. Michael Moon from the Ila Faye Miller School of Nursing and Health Professions.
There were also four recipients of the Provost Legacy Award which is given to faculty who are in their first five years of service at UIW and have demonstrated the degree of dedication to teaching and learning that joins them to the long legacy of teaching excellence that characterizes UIW.
They are:
--Dr. Rebekah Benitez, Feik School of Pharmacy
--Dr. Jeffery Doeringer, Ila Faye Miller School of Nursing and Health Professions
--Dr. Emily Dow, Ila Faye Miller School of Nursing and Health Professions
--Dr. John LoCurto, School of Osteopathic Medicine
Congratulations to all those who were honored and thank you for your service to UIW and its students.