Tree Dedication Honors Departed Sisters
April 13, 2023
Two live oak trees planted near the Village of the Incarnate Word honor the Sisters who passed during the pandemic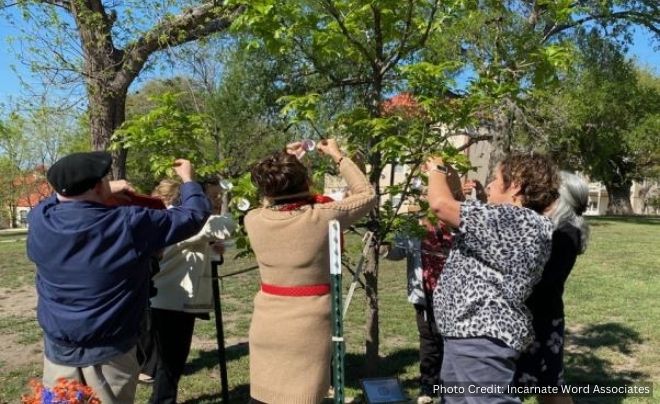 Although the pandemic was hard for everyone, it was particularly difficult for the elderly to be deprived of the opportunity to socialize. For months, those who lived at the Village of the Incarnate Word were not able to have visitors, talk and eat a meal with a friend, or touch or hug anyone. The challenge was especially difficult for those who became sick and could not be visited before their passing. Anne Ettipio, Caritas/ Holy Spirit Associate in San Antonio, recognized the heartbreaking situation and wanted to honor 32 Sisters of Charity of the Incarnate Word from San Antonio, St. Louis and Mexico who passed away during the pandemic.
"The sadness and loneliness we all experienced did not exclude the Village," explained Ettipio in an article shared in the Incarnate Word Associates April newsletter. "For those years that we were isolated, many of our Sisters succumbed to the virus. It broke my heart to hear that there were several Sisters who were not even able to have a funeral Mass because of the lockdown measures."
The dedication was born of an idea Ettipio had after a family she knew moved into a new house with several live oak trees in the yard. The family decided to relocate two of the trees, and Ettipio knew the perfect location. They moved the trees to the Village so the residents could enjoy them.
During the dedication, Tom Duckworth, former UIW payroll manager, recited a poem titled "Trees" by Joyce Kilmer. The 32 departed Sisters were honored by having their names read, and ornaments with the Congregational emblem and individual Sisters' names were hung on the tree. A memorial plaque was also placed in front of the trees.
Attendees received a program with acknowledgements for the Village at Incarnate Word and its maintenance staff for transplanting the trees, Sister Consuela Urritia who served as the liaison with the Village and coordinated the placement of the trees, and Ettipo who worked with Crown Trophy to design the memorial plaque.
"With a living tree as a commemoration of their lives, Associates expressed gratitude and prayer for the Sisters' faithfulness to live the gospel, their example of courage and strength in living the charism and living incarnationally," closed the article in the newsletter. "The Live Oak Tree is a very appropriate symbol of the Sisters who thrived as CCVIs."