Psychology Faculty Members Participate in Two Regional Conferences
April 13, 2023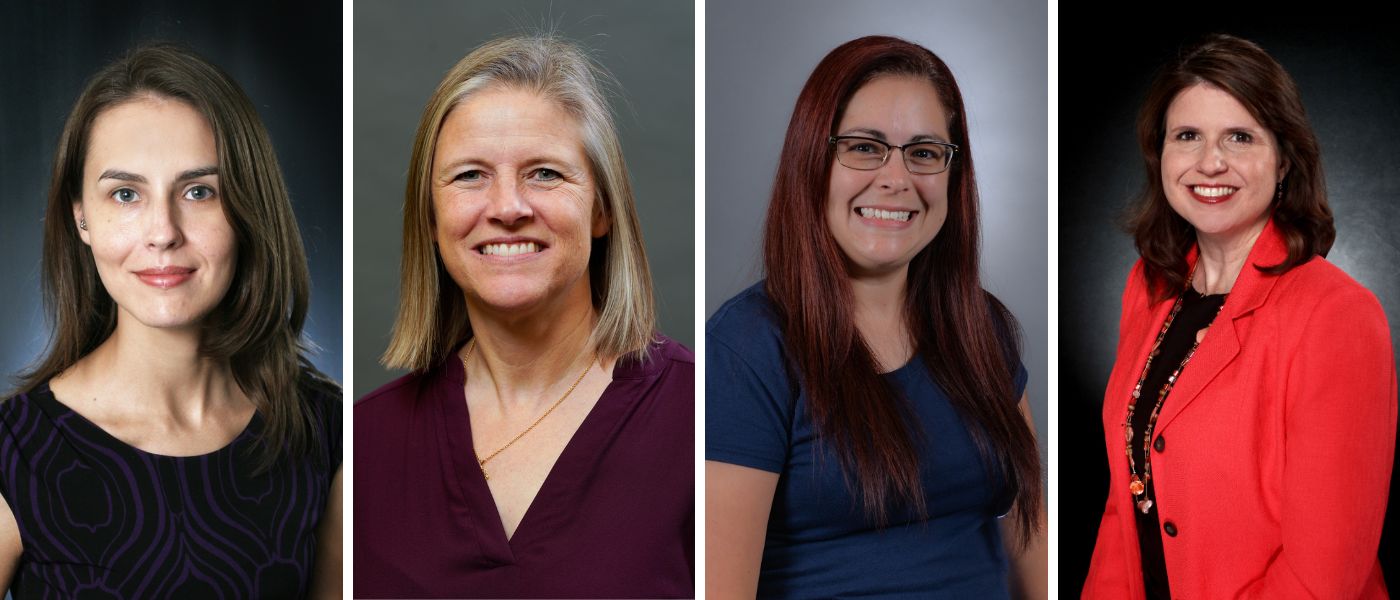 Four faculty members from the UIW Department of Psychology – Professor Dr. Stefanie Boswell, Associate Professor Dr. Lisa Lockhart, Associate Professor Dr. Leslie Martinez and Associate Professor Dr. Teresa Taylor Partridge – recently attended the annual meetings of the Southwestern Psychological Association (SWPA) and Southwest Teachers of Psychology (SWTOP) in Frisco, Texas. SWPA is the multi-state, regional affiliate of the American Psychological Association and SWTOP is the regional affiliate of Society for the Teaching of Psychology. The conferences run concurrently so members, like the four UIW faculty, can attend and present at both.
Overall, Boswell delivered six presentations, conducted two workshops and served as the chair and judge for the Graduate Student Research Competition sessions at both conferences. Four presentations focused on studies of students' attitudes in higher education, but Boswell was particularly excited about two of them.
One presentation, "Press pause: Students' use and perceptions of a flexible deadline policy," covered research she has conducted related to teaching. She noted that this topic is one of her passions.
"Research about teaching is exciting because it can inform how we do our work with students and hopefully help them achieve better learning outcomes," shared Boswell. "It's nice to know that my work may play a small role in helping students at other institutions succeed – I may be able to help out students beyond those that I work with here at UIW."
Boswell also highlighted her presentation titled "Gender bias in students' evaluations of personality qualities associated with expert teaching," a research project she worked on with one of her former students, Angelina "Angie" Martinez. Boswell noted that mentoring students is a two-way street, and that Martinez's input was greatly valued. Boswell said, "Angie's efficiency with research-related tasks pushed us to develop new research questions and new sources of data. Working with Angie pushed me to ask questions that I had not asked before."
Lockhart presented "'Which Hogwarts House?' Online Personality Surveys, Theory, and Psychometrics" at the SWTOP conference. She noted the importance of presenting at conferences.
"It feels great to share how the Mission of UIW shines through our work – and hopefully it will attract future students to our programs as well," said Lockhart. "It's extremely important for us as faculty at UIW to join with our colleagues from around the region to showcase what UIW is all about. We offer a unique perspective on traditional research issues, and it not only energizes us as faculty and students presenting, but it also showcases the University."
Partridge had four presentations alongside UIW Psychology students and former students at the SWPA conference. Partridge's participation varied slightly from her colleagues, as she mentored students and former students who served as the primary authors.
"Students who conduct research gain skills such as organization, communication, critical thinking, analysis and collaboration," noted Partridge. "These skills will help in graduate school and careers. Building our personal brand and the UIW reputation in the field of psychology and taking them to conferences provides better opportunities for our students."
Martinez was part of a symposium at the SWPA conference. Her presentation's title was "Assessing the State, Influence, and Outcomes of Sexual Education in LBGTQ+ Communities." Martinez co-authored her symposium presentation with two UIW students.
The four faculty members enjoyed participating in the conferences and are already looking forward to next year. They hope to take many more students to the 2024 conference as it is scheduled to take place in San Antonio.