Celebrating Edgar Allan Poe
April 11, 2023
UIW students host event as learning tool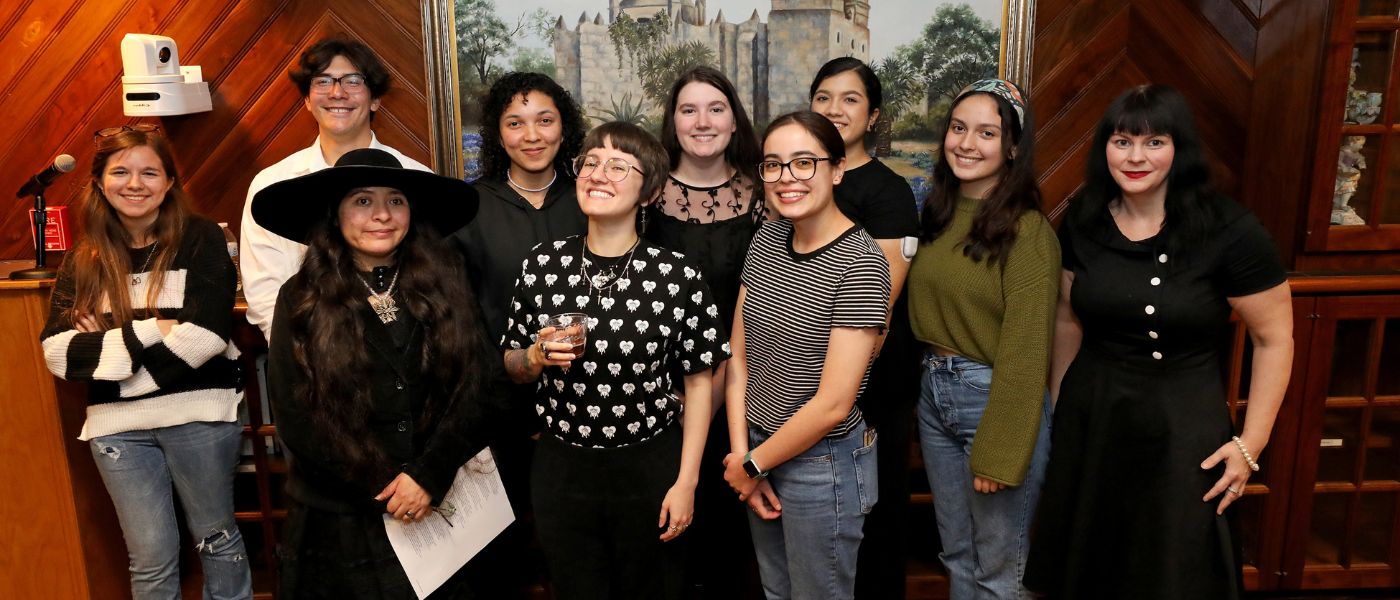 University students can typically expect an educational experience that consists of going to class, listening to lectures and taking tests, but UIW's small class sizes also allow its students to actively participate in helping to determine their method of learning. This was evident Thursday, March 30, in the Scandalous Nineteenth Century class, taught by Associate Professor of English Dr. LuElla D'Amico. The students engaged in readings, art, activities, games and more for the Edgar Allan Poe Celebration.
D'Amico, the mastermind behind the idea for this event, required each student to participate in some way. However, knowing that all students are different and learn in various ways, she allowed them to collaborate and determine how they individually would contribute. This allowed them to lean into their own talents.
"The driving purpose of the celebration was to inspire students to take what we learned about Edgar Allan Poe in class and share it with others so they could be inspired by that same knowledge," shared D'Amico. "How students created their mode of inspiration was entirely up to them."
Andrea Zulaica, a sophomore Psychology major, said that she and her classmates talked about possible methods of sharing, and she ultimately decided to read and give an analysis of one of the poems. She also volunteered as a hostess for the event. This event, she noted, fit into the teaching method of the class.
"Our class goes into a lot of detail, and it isn't just about writing," said Zulaica. "We read and give our own analysis and opinions of things. I like that we get to see what everyone else thinks and how they interpret the stories we read in class, so I was excited to have this event and see people's interpretations."
"The class has bonded during our discussion about Poe's writing – and the difficult topics he addresses – with thoughtfulness and genuine respect for each other," added D'Amico. "It certainly feels like a classroom community in the best sense of that word because of the students' work prior to the event and their joy in the creation of every aspect of it."
The idea for the Scandalous Nineteenth Century class was born when D'Amico noticed many students were enthralled with the Poe readings and discussions during the Early American Literature Survey course during the Fall 2022 semester. " Scandal means causing moral outrage to generally accepted ideas and norms," shared D'Amico. She wants her students to think about what is considered moral and acceptable in a certain time and place, and an author such as Poe, who discusses topics such as death, insanity and illicit romance, was the perfect tie in for the class.
"Because Poe is an author who students have generally read prior to their college experience, often while in middle or high school, revisiting his work helps students consider not only the historical literature we're reading, but also how they reacted to his work when they were younger and how that reaction has transformed in some way now," noted D'Amico. "Plus, Poe's sustaining popularity helps students consider why these topics, and Poe's treatment of them, are still in some ways scandalous."
The Edgar Allan Poe Celebration was not the first time D'Amico has utilized an event as a teaching tool. During the Spring 2022 semester, her Children's and Young Adult Literature class hosted a Little Women Celebration. If these events help students learn better, D'Amico is happy to keep planning and hosting them.
"Learning about classic works that UIW students have encountered – and giving them time to reflect on what makes them classic and resonant still today – is an integral part of my teaching," shared D'Amico. "I want students not only to read books but also to engage them with and consider what draws audiences to those texts time and time again. The celebrations help to create an immersive experience where they can share what they learn with other UIW community members who also connect with these classic texts."