April 20, 2023
As Jaclyn Moreno, Business Administration, '23 prepares to graduate, she takes time to reflect on her first four years at the University she has come to call home.
Dear UIW family,
Four years ago, I chose to attend the University of the Incarnate Word because I was interested in surrounding myself with diverse minds who share a passion for developing as future leaders in our community.
With this goal in mind, I became increasingly dedicated to serving the student body as a Student Ambassador for the Office of Admissions, President of the Pre-Pharmacy Association, Peer Mentor in the Honors Program, and Interim Treasurer for the Business Club. Over the years, these leadership positions have given way to many of my roles as an advocate for underserved minority students at UIW's CVS PharmCamp and servant for vulnerable patient populations at the UIW Feik School of Pharmacy American Pharmacists Association (APhA) Health Fair.
I have also had the honor to contribute to scientific research as an undergraduate research assistant alongside my brother, a UIW alumnus, at the UIW Feik School of Pharmacy. Together, we have presented our work at local and national conferences in Florida, Texas and Illinois, and we are currently finalizing our manuscript for publication in a peer-reviewed journal as the first sibling co-authors in our lab.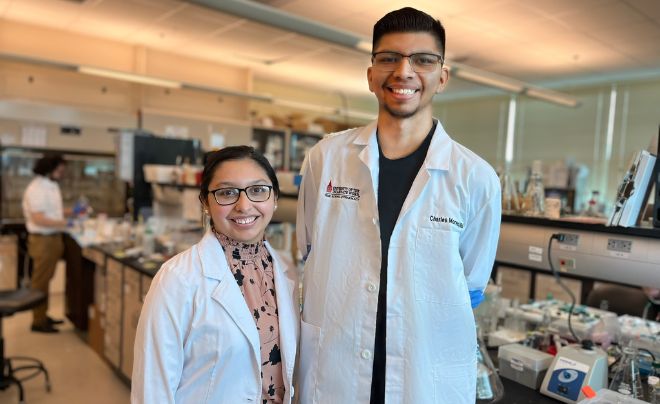 Beyond my organization involvement and research, I have been blessed with the academic opportunity to merge my two passions for management and health professions as a double major studying Business Administration with a concentration in Management and Pre-Pharmacy Studies with a minor in Biology. Most recently, I have continued to merge these interests by becoming dual-enrolled in my MBA studies as an undergraduate senior.
Without a doubt, the support from my faculty, mentors and peers has allowed me to pursue these opportunities as a student leader, community member, researcher and scholar. As I approach my final few weeks of undergraduate study and reflect upon my journey at UIW, I have never been more certain that UIW was the perfect university for me—which is why I am excited to share that I will be continuing my education in the Doctor of Pharmacy program at the UIW Feik School of Pharmacy while I complete my MBA as a dual-degree.
To my faculty, mentors, peers and the entire UIW community: you have molded me into a future healthcare leader grounded in the tenets of faith, innovation, education, truth and service – and I cannot wait to see how I will continue to live out UIW's Mission as I enter the next phase in my journey.
Praised be the Incarnate Word!
Jaclyn Moreno
Business administration, '23