UIWSOM Learners Celebrate Match Day Ceremony
March 24, 2023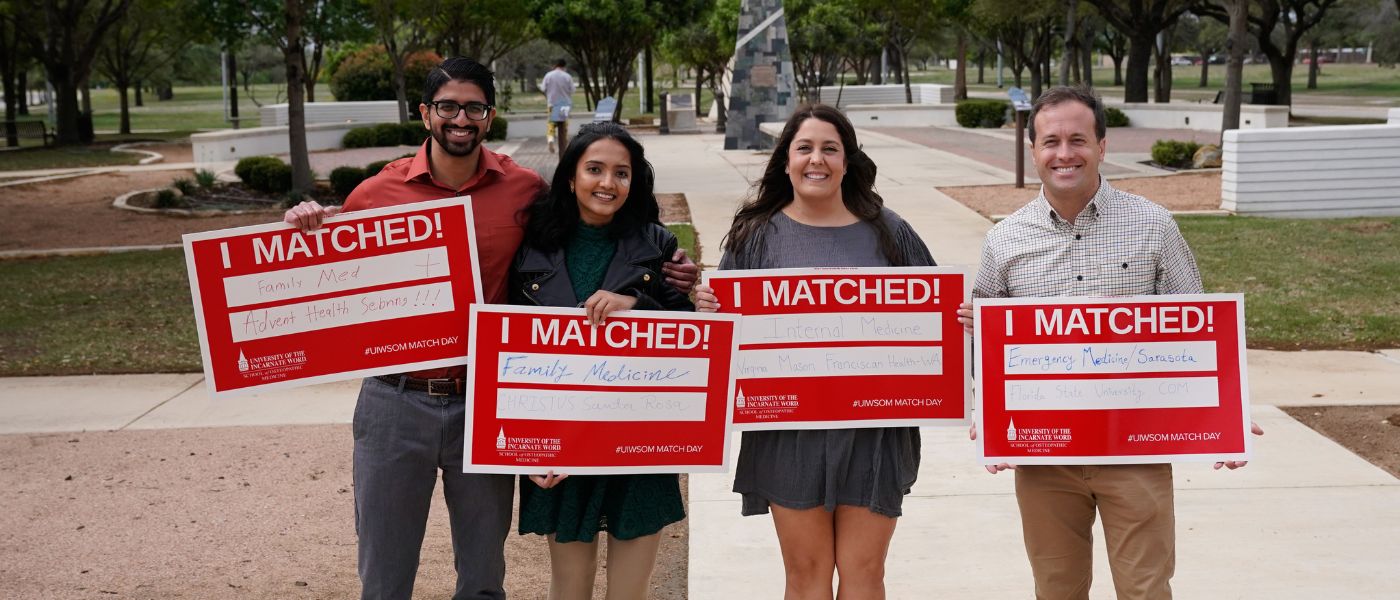 It was a frigid Friday morning, but nothing could cool the excitement of the standing-room-only crowd of soon-to-be doctors, family and friends who gathered on March 17 for National Match Day. The group from the University of the Incarnate Word School of Osteopathic Medicine (UIWSOM) crowded together at the Hangar 9 event space on the Brooks campus to collectively share the good news about where they had "matched." Match Day is held simultaneously at medical schools nationwide as the day when fourth year medical school learners find out where they will spend the next three to seven years in residency depending on their specialty.
One of the excited faces in the crowd was Mark Tobias. Born and raised in San Antonio, the 27-year-old Tobias matched at the University of Texas at Tyler where he will specialize in psychiatry.
"Setting my goal on becoming a physician many years ago has led my dream to oftentimes feel far-fetched or as if it will take an eternity to reach," shared Tobias. "Additionally, the journey toward physician-hood has not been a straight one, as it rarely is, and medical school these past four, tumultuous years has not made anything any easier. Finally being among my peers and opening that letter that says where I will be spending the next part of my journey, this time as a physician, has been surreal to say the least. I am excited, nervous, elated and terrified all at the same time to have made it to this point."
"This is one of the proudest moments for me as an administrator because… they get jobs! That's exciting," marveled Dr. John Pham, dean of the UIWSOM. "We give them the degrees of doctors here, but now I know that they are going to be successful future physicians because now they are going to go out and do what they want to do in their future."
In all, 158 UIWSOM learners are expected to graduate this May. Of that group, 99% found out where they will take the next step in their careers on Match Day. The future doctors matched in everything from internal medicine and family medicine to pediatrics and psychiatry and many more. They matched in 32 different states from as far away as Anchorage, Alaska, to New Hampshire. But 85 of them matched in Texas and 19 will stay right here in San Antonio.
"The impact of your role, now and into the future, will not only benefit all those placed in your care but also serve to inspire others as well as contribute towards lasting advancement in healthcare," Pham told the learners. "We know that you will make outstanding contributions to your chosen specialties, and we cannot wait to see all the amazing things that you will achieve. The world needs more dedicated and compassionate medical professionals like you, and I have no doubt that you will make a meaningful difference in the lives of countless patients."
UIW President Dr. Thomas M. Evans also delivered some opening remarks, during which he praised the graduates for their hard work and success and reminded them of the weight of their future duty.
"All of you here have been called to one of the world's most important, and most deeply needed, professions," Evans said. "God chose you to be healers, to ease pain, to improve quality of life, and placed in your hearts a desire to serve others. You each heard his call, and you said yes."
"One day, dear learners, you will be the answer to someone's prayer," concluded Evans. "Your patients and those who love them will ask God to guide you, to lead you and to choose you to be the vessel for His healing. Through your work and by your hands, He will say yes."
It's a sentiment that was not lost on Tobias, who says he is just thankful to everyone who has helped him on his path.
"Thank you so very much. I could not have reached this point in my life without everyone's help," he reflected. "Each and every one of my friends, family, peers and mentors have left an imprint on me and I will do my best to carry all of their hopes, wishes and knowledge forward with me towards making the world a better place and becoming the best physician I can be."