UIW Provides Unique Opportunity with Physical Therapy Sports Residency
March 30, 2023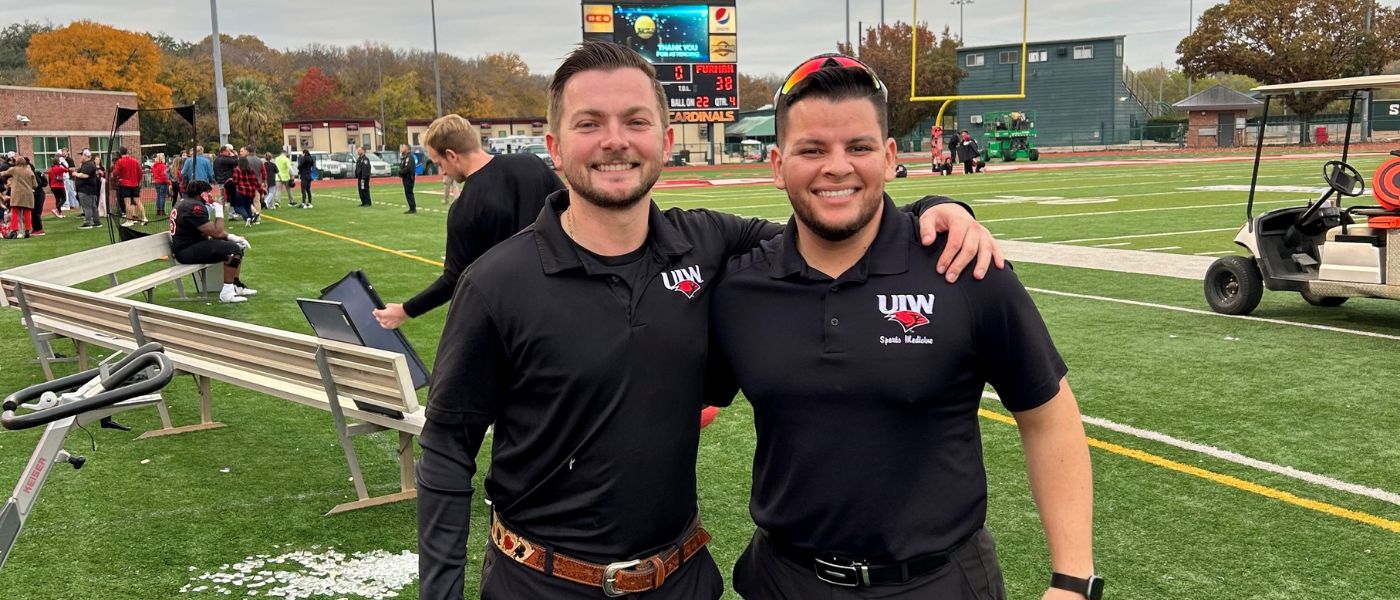 There are few physical therapy residency programs that offer residents the opportunity to work in the world of athletics. There are fewer still that provide a chance to work with Division I student-athletes, but the UIW Physical Therapy Sports Residency offers a small cohort that opportunity.
These candidates, who have already earned Doctor of Physical Therapy, seek to pursue a specialization in sports. The selection process is rigorous, with only two candidates chosen each year.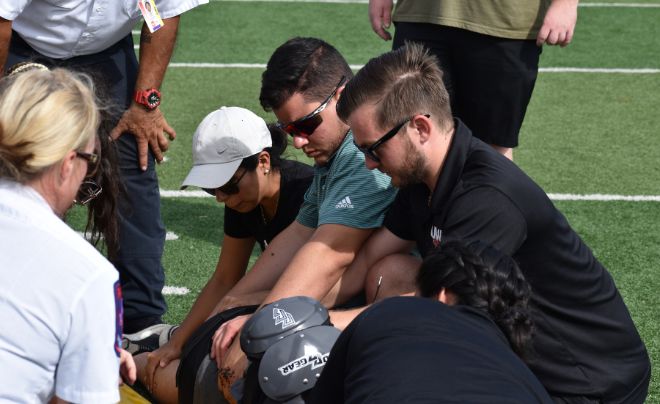 According to Dr. Philip Van Dyke, director of Sports Residency and assistant clinical professor of Physical Therapy, the relatively new program has received applicants from as far away as Maine and Puerto Rico. He shared that "the program looks for candidates who align with the Mission of the University, have a passion to work in collegiate athletics, and who have a desire to learn and grow throughout their time at UIW."
In addition to working with student-athletes and other medical personnel, the Sports Residency program provides a variety of growth experiences such as online learning modules, weekly journal club discussions, mentoring and teaching opportunities. The goal of the program is to "help to develop the residents to be leaders and innovators in the physical therapy profession," noted Van Dyke. After the 12-month program, cohort members qualify to sit for American Board of Physical Therapy Specialists (ABPTS) board exam to become a Board-Certified Sports Clinical Specialist.
The benefits of UIW's Sports Physical Therapy program are multi-directional. The residents bring a unique perspective and skillset that complements the members of the UIW Sports Medicine team. They work closely with athletic trainers and physicians towards one goal: providing excellent care for the student-athletes they serve.
This year's residents, Dr. Sterling Jeffries and Dr. Edgardo Rivera Lopez, have worked with student-athletes on sports teams across the department, including basketball, soccer, football, track and field, and more.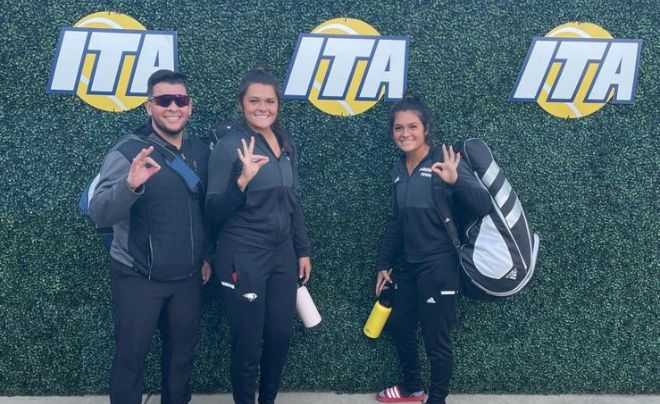 "It has been incredible to see just how committed these athletes are to their sport," shared Jeffries. "I find great joy working closely as a team with these individuals, including the coaches and athletes themselves, to determine the best course of action for an athlete so that they can go out and perform at their highest possible level while minimizing their risk of injury."
"This learning experience has been amazing in all aspects," added Lopez. "I have learned to work on a full Sports Medicine staff as a Physical Therapist, complete the process of rehabilitation of the athlete, and how to be a better human being with every person that comes to us to make them better."
Joining the selective residency cohort at UIW was an obvious choice for both Jeffries and Lopez. UIW's 25 athletic programs and more than 530 student-athletes provide a wide range of opportunities to learn about providing care. Jeffries found it appealing that UIW has unique sports offerings, such as artistic swimming and fencing. He shared "when I first stepped on campus for the interview, I immediately knew I wanted to be a Cardinal."
Lopez was in Texas for a Combined Sections Meeting for the American Physical Therapy Association when a colleague from his home of Puerto Rico shared about the Sports Residency program and gave him a tour at UIW. Throughout the interview process, Lopez said "it felt like home" and now he is "grateful to be here."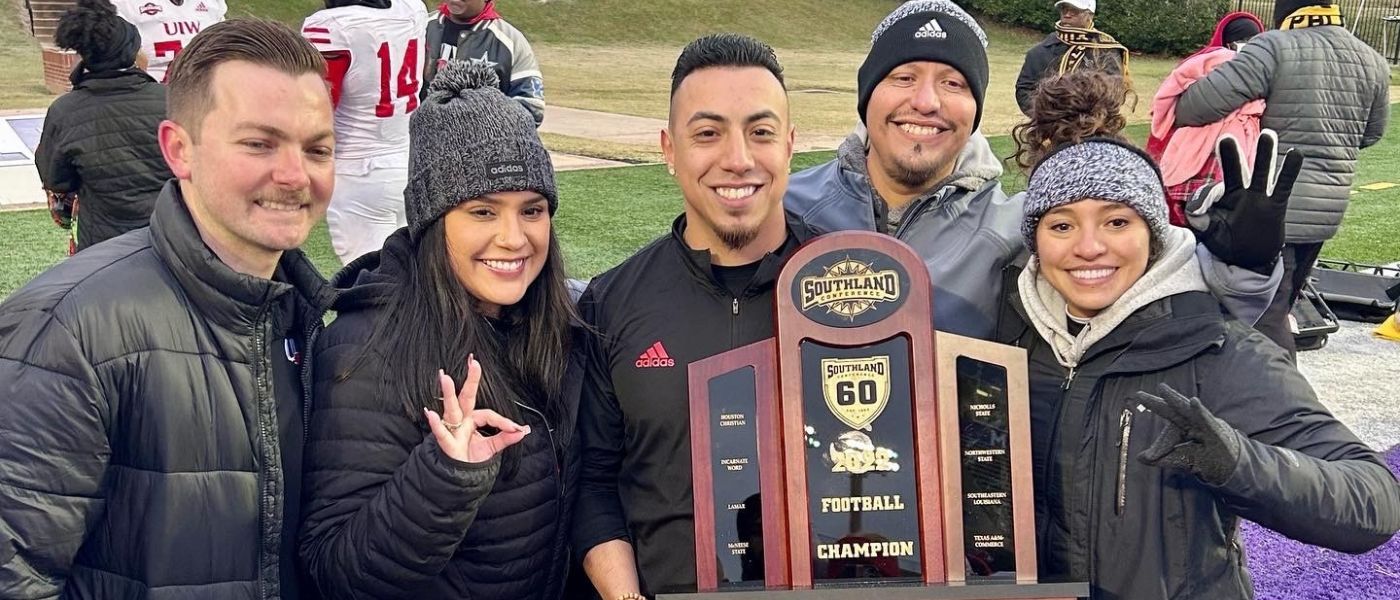 As both continue to work through the program, they already have fond memories of their year working with Cardinals. Some of those memories include working with football during their amazing playoff run, helping with the men's track team during its indoor conference track championship and accompanying a member of the fencing team to the NCAA National Championship at Duke University.
Through it all, the duo agrees that building bonds with the student-athletes while helping them return to the sport they love has been the best part of their experience.
"My favorite memory is going to be the bond that I have formed with my student-athletes and being able to see them compete and succeed after recovering from an injury," said Jeffries.
"I have loved all of the great connections and experiences with every student-athlete I have gotten to work with at UIW," added Lopez. "I'm glad to have had a part in guiding them to get back on the field and perform better."