UIW Invites Participants for 27th Annual César E. Chávez March for Justice
March 23, 2023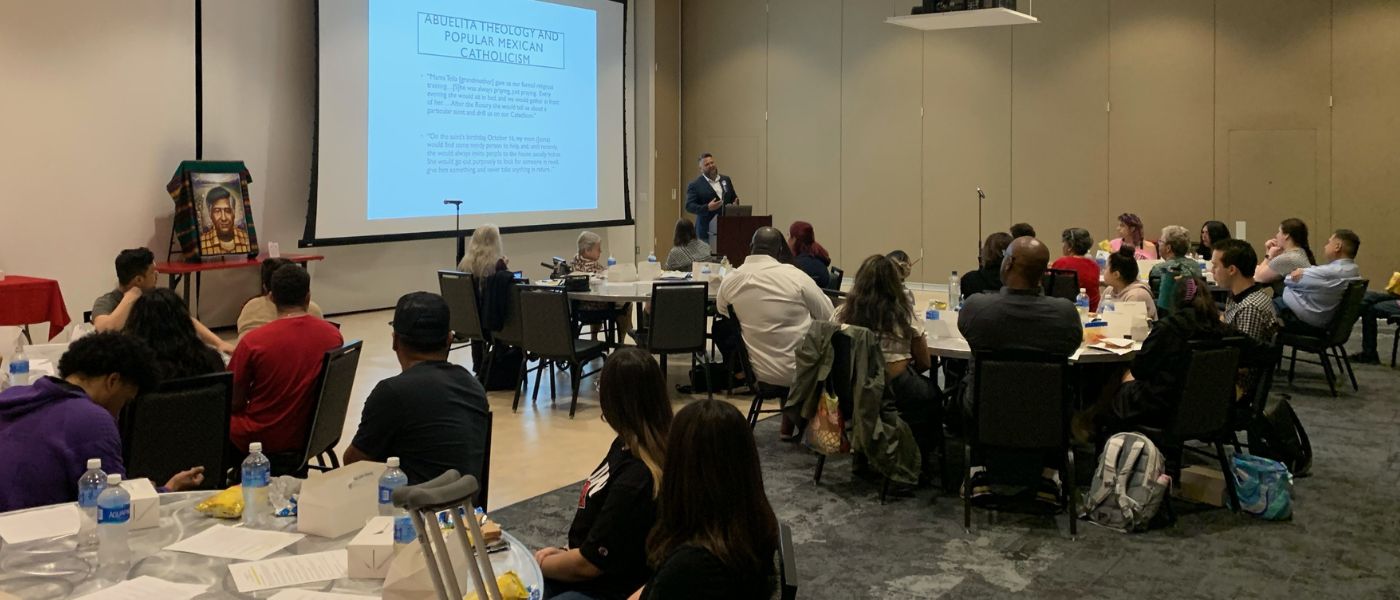 UIW faculty, staff, and students will be participating in the 27th Annual César E. Chávez March for Justice to commemorate and celebrate the birth and legacy of the civil rights and labor activist. The march will traverse from Downtown San Antonio to Hemisfair Plaza between 10 a.m. and 1 p.m. Saturday, March 25. This march is one of many that take place during the month of March throughout the United States to commemorate César E. Chávez.
"It is important for our students and our campus community to remember and celebrate the legacy of activists such as Martin Luther King Jr. and César Chávez," noted Dr. Ricardo Gonzalez, director of the Ettling Center for Civic Leadership and Sustainability. "Their legacies continue through the work, voices and efforts of our students and our community through research, action plans, community involvement, voting, and by participating in events such as this."
César Chávez Day, observed March 31, was initiated as a federal commemorative holiday by former President Barack Obama in 2014. Born to migrant laborers, Chávez's early life experiences shaped his ideology and made him the face of the 1960s labor movement. Through his persistent efforts and non-violent protests, he was able to encourage change to various labor, agricultural and immigrant policies and regulations that exist today. On March 31 of every year, union members and community leaders throughout the country come together to celebrate the life of this American icon and take inspiration from his four decades of selfless service to the workers of the United States. The University of the Incarnate Word has participated in several of the City's past marches since their inception in the mid 1990's but has been more active and engaged over the past two years.
"Like the Sisters of Charity of the Incarnate Word, UIW must continue to be the voice for those that may have lost hope," added Gonzalez. "Many of our UIW community members will be marching to be a voice of change. As we walk, there will be others representing various areas of our community and other educational institutions voicing their concern for changes to issues such as immigration, gun violence, criminal justice reform, equal pay for equal work, women's rights, equal and affordable education, human rights and so many other important policies that impact us all."
In preparation for the march, Dr. Robert Romero, associate professor of Chicana/o and Central American Studies from UCLA's César E. Chávez Department of Chicana and Chicano Studies, recently spoke to members of the UIW community about the theology and Catholic Social Teaching from which many of Chávez's frameworks derived.
"He was for the people," shared Romero. "He, Chávez, also became increasingly involved in his learning and understanding Catholicism by visiting and learning from clergy during his struggle for equality for the labor and agricultural workers." Dr. Romero noted a poignant comment of one of his students at the peak of a recent march for social justice in Los Angeles that aligned with the work and sincere passion of Chávez; "Love is a great community organizer."