Political Science Associate Professor Receives Southwestern Social Science Association Award
March 30, 2023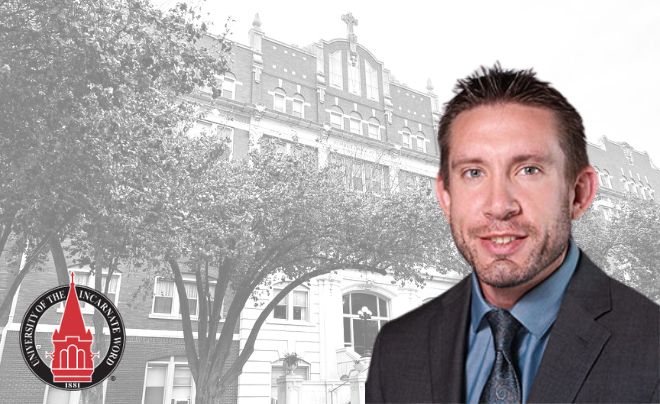 Dr. Brandon Metroka, associate professor of Political Science at UIW, received the 2023 Allan Saxe Best Paper Award for State and Local Politics following his presentation titled "Intergovernmental Relations in the 21st Century: Revisiting Preemption" at the 2022 Southwestern Social Science Association (SSSA) annual meeting. Metroka collaborated with Yashas Mallikarjun, a student at Johns Hopkins University, on the paper.
The presentation explores how, as political polarization increases, state-local conflicts have become "as common and consequential" as federal/state conflicts.
"With these state-local conflicts cropping up very frequently, policy tools that expressly prohibit local jurisdictions from passing legislation on certain issues (preemption actions) have become increasingly popular," the paper abstract states. "Drawing on a variety of primary and secondary sources, we develop an original data set of over 300 observations of instances of preemption over several issue areas such as municipal broadband, paid sick leave, minimum wage, and antidiscrimination ordinances, testing the conventional wisdom that preemption becomes more likely if the state is under GOP control."
Metroka explained that they discovered much with their paper, including a preliminary finding that "partisanship has far more explanatory value for policy outcomes than structural beliefs like federalism or home rule." He goes on to add that "the paper reinforces the importance of paying attention to the dynamics of political conflict beyond the national level, which tend to dominate news cycles."
Metroka shared that he is "not a big fan of awards or self-promotion in general" but he enjoyed working with Mallikarjun on the project. The duo met in 2021 when Mallikarjun was working on a senior project at a local high school in San Antonio. The two began working together before Mallikarjun started his freshman year at Johns Hopkins.
Although the collaboration was unexpected, Metroka was happy with its success and ultimately hopes to bring awareness to the positives of student-faculty research partnerships.
"Small awards and grants like this have a way of encouraging scholars to continue to present and develop scholarship," added Metroka. "For me, it also shows the value of student-faculty collaboration and hopefully motivates us to think about how it might be further encouraged at UIW."