Future Healthcare Heroes of UIW
March 23, 2023
UIW student creates club to raise awareness among healthcare students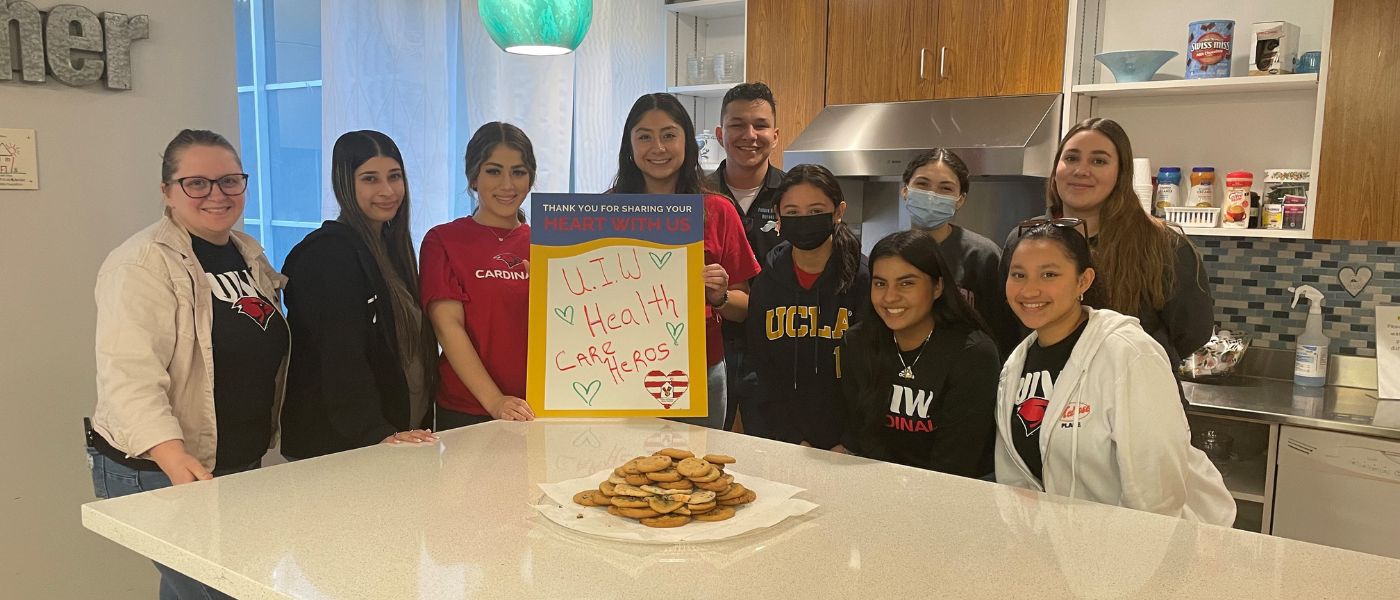 Students in college are often assigned class projects. The hope is that through their work on the project, they will expand their horizons and prepare themselves to move on to new learning experiences.. But when Luis Valdes, a junior pre-medicine track Rehabilitative Sciences major, worked on a project for his Cultural Issues class last spring, he knew that he couldn't stop learning about the topic when the class ended.
For the assignment, students were paired with two mothers who each had children with a neurodivergent syndrome. Throughout the project, the parents shared their stories to help the students understand their journeys. The students then focused on the child's healthcare treatment and the need for improved access to appropriate care, flaws in it, ultimately creating a piece of artwork that reflected what the mothers would consider the perfect healthcare scenario for their children. For Valdes and the two mothers he worked with, that perfect scenario was "full aid support from the government, zero negligence from doctors towards parents, and at the same time, societal acceptance."
While Valdes could not necessarily provide the perfect scenario, he knew he could do something. With his newfound desire to improve the healthcare of children with special needs, he founded an organization called Future Healthcare Heroes of UIW. His goal is to help make other pre-healthcare students aware of these parental concerns so they can learn how to provide the best care possible for their future patients.
The club is not limited to Rehabilitative Science majors. Valdes says it is open to any major that is related to healthcare because he wants "to reach as many students as possible to make them aware of this matter."
"The purpose of the club is to provide assistance for organizations that help individuals with disabilities; at the same time, we reflect on healthcare flaws and come up with ideas on how we can provide better assistance once we become professionals," said Valdes.
Since the club's inception, the group has been very active with volunteer opportunities nearly every Thursday and Friday. They have worked with Any Baby Can, providing childcare to allow parents who have children with a neurodivergence syndrome to take the nonprofit's workshop. The group has also worked with Special Reach, a nonprofit that provides services for children with special needs, and the Ronald McDonald House in the Children's Hospital of San Antonio, where they baked cookies for patients' families. Although the club is still seeking funding, its officers pitched in to buy cookie dough to bake for the families at the Ronald McDonald House. Valdes remembers this event fondly.
"My favorite part from volunteering at the Ronald McDonald House would be how grateful the moms were," he said. "They thanked us a lot. Even though this time around our help was just through baking cookies, most of the time they do not have the time or energy to cook for themselves because they are always with their child. It makes me feel proud that we are able to provide a small snack that helps with the stress."
Valdes shared that the club is not done yet and has several other volunteer outings planned. On March 31, the group will volunteer for the Special Olympics event on the UIW campus. Future Healthcare Heroes of UIW is also collaborating with a baseball league that will host games for children with special needs, attending walks to raise awareness for various health advocacy causes, and continuing to work closely with Any Baby Can and Special Reach.
To learn more about the Future Healthcare Heroes of UIW club or to join them in volunteering, contact Valdes at luvaldes@student.uiwtx.edu.