UIWSOM Learner Co-Authors Article in the Journal of Clinical Medicine
February 17, 2023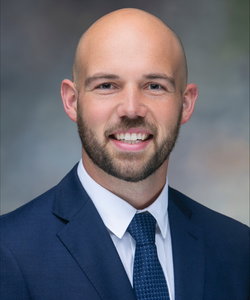 University of the Incarnate Word School of Osteopathic Medicine (UIWSOM) fourth-year learner Tyler Williamson co-authored a research article published in the February edition of the Journal of Clinical Medicine that studies the effects of longer-term chronic pain. The article was titled "Clinical and Quality of Life Benefits for End-Stage Workers' Compensation Chronic Pain Claimants following H-Wave® Device Stimulation: A Retrospective Observational Study with Mean 2-Year Follow-Up."
"Publishing an article in a big-name journal such as Journal of Clinical Medicine is a great accomplishment at any point in your career, but to be able to take what I learned at UIWSOM and be part of building the foundation in research for our young institution makes it worth that much more," shared Williamson. "I have spent the past year performing research in spine surgery with NYU, and to bring back the skills I gained and translate that into something creditable to our school was quite rewarding."
Williamson worked alongside Alan Trinh (student, Indiana University School of Medicine), David Han (associate professor, Management Science and Statistics, University of Texas at San Antonio), Jeffrey E. Hazlewood (M.D., Physical Medicine and Rehabilitation, Lebanon, Tennessee), Stephen M. Norwood (Orthopaedic Surgeon, Austin), and Dr. Ashim Gupta (Chief Science Officer, South Texas Orthopaedic Research Institute, Laredo, Texas).
The study explores chronic pain, defined in the scope of this research "as pain that persists past normal healing times or for at least 3–6 months." Chronic pain is often life-limiting and can affect work and place undue challenges on families and their finances. According to the research, chronic pain is also an expensive condition for both the government and insurers.
Williamson was involved with statistical analysis of the data using bivariate regression – an analysis technique that compares two variables to determine the strength of the relationship between them - and comparison tests. Alongside statistical analysis, Williamson worked with Trinh to write the introduction, discussion, conclusion, and abstract for the manuscript. The duo edited each other's work, included topic-relevant sources, produced tables and figures, and submitted the article to the journal.
"Having this article published is just one great example of what we're capable of at UIWSOM when supplied with connections and resources," added Williamson. "I hope this is just the beginning of sustainable research productivity for our school."
Williamson recently received the Council of Osteopathic Student Government Presidents (COSGP) Student Researcher of the Year Award from the American Association of Colleges of Osteopathic Medicine.