UIW Theatre Presents Eurydice
February 23, 2023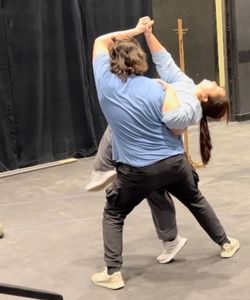 Enter a world of talking stones, two newlyweds and a mysterious man as the UIW Department of Theatre Arts presents Sarah Ruhl's reimagining of the classic myth Eurydice. The show opens at 8 p.m. Friday, Feb. 24, in the Cheever Theatre on the Broadway campus.
Eurydice reconsiders love, loss and sacrifice as the titular main character is sent hurtled into the Underworld after tragedy strikes on her wedding day. Here, she experiences a strange land where she reunites with her dead father while her husband, Orpheus, works to save her from the Land of the Dead. This quest by her new husband presents Eurydice with some challenging questions, such as 'what is home' and 'how do you know where you belong?'
Eurydice is a modern retelling of a classic story in Greek mythology. Ruhl's original play had its world premiere in Wisconsin in 2003 and has continued to delight audiences for 20 years.
"I believe that one of the reasons that this play continues to be produced across the world and undergo adaptations into other mediums is because of its universal themes," shared Liz Fisher, assistant professor of Theatre Arts at UIW. "Even though this play deals with the death of loved ones, the center of this story is love. It reminds us that love endures."
The UIW adaptation looked to both contemporary and classical artists for inspiration. The set is an Overworld and Underworld that celebrates the story and transports the audience to a world it has never visited.
"This production is a wild reimagining of Ruhl's script," added Fisher. "Ruhl's poetic words create a vibrant, fantastical world. Our design team embraced the challenge of bringing that world to life. In addition to our stunning set, costumes, light, and music, we use movement and some old-fashioned stage magic to bring the impossible to life."
"By keeping our production centered on love, our bold interpretation will delight newcomers and give audiences members who already know the story a new perspective on a modern classic."
In addition to opening night, there are four show dates/times:
Saturday, Feb. 25 – 8 p.m.
Sunday, Feb. 26 – 2 p.m.
Thursday, March 2 – 7 p.m.
Friday, March 3 – 8 p.m.
Saturday, March 4 – 8 p.m.
Learn more about the UIW Theatre Arts