UIW Names New VP for Academic Affairs and Provost
February 28, 2023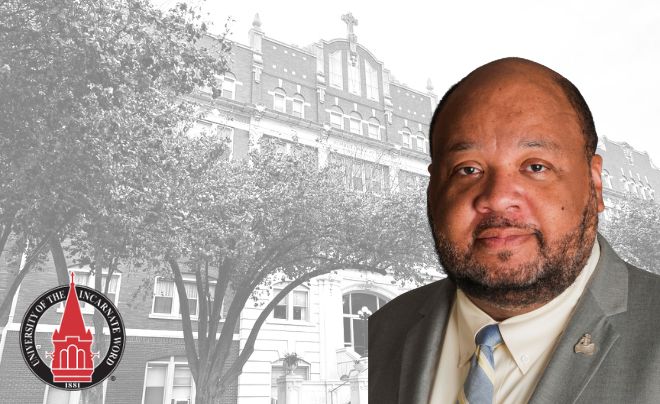 San Antonio – The University of the Incarnate Word is pleased to announce that after a nationwide search Farrell J. Webb, PhD, has been selected as our new vice president for Academic Affairs and provost. He begins his tenure on June 1, 2023.
"Dr. Webb brings with him extensive and diverse experience, and a strong commitment to social justice, the Catholic faith and to the Catholic Intellectual Tradition," says Dr. Thomas M. Evans, UIW president. "We look forward to welcoming Dr. Webb to our community to support our exceptional faculty, create new opportunities and establish pathways that support our Cardinals' journeys to advanced degrees."
Webb comes to UIW from California State University­–Northridge (CSUN) where he serves as provost administrative fellow and professor. CSUN is among the most diverse universities in the country and serves more than 40,000 students across its nine colleges. Prior to his role as provost administrative fellow, Dr. Webb was dean of the College of Health and Human Development that counts more than 7,000 enrolled students across all programs and more than 300 faculty members. As dean, his efforts increased retention and graduation rates, implemented new policies and approaches to support student success, and hired a very diverse faculty. His experience spans more than 40 years and many different capacities. Webb has a long history of building programs, leading organizational change, championing access, diversity, equity, inclusion and belonging (ADEIB), and supporting faculty and staff development.
"I am thrilled to be joining the University of the Incarnate Word at this point in the University's history. I am looking forward to working with faculty, staff, students and alumni, about maximizing our geographic distinctiveness, developing our potential for growth, enhancing our retention and graduation rates, strengthening our international reach, cultivating our relationships with our numerous community partners, reinforcing our commitment to life-long learning, and improving the life-chances of all those who are connected with our University community in keeping with our Mission and values, says Webb.
"One thing that I have learned throughout my life is that one must have multiple viewpoints and perspectives in decision making. I expect to use this approach as Provost as we face, together, the opportunities, challenges, rewards and successes that make our distinct and valuable position in higher education, one that was first envisioned when the Sisters of Charity of the Incarnate Word (CCVI) formed this institution over 140 years ago. I am excited about continuing these values and improving our outcomes as we move forward."