UIW Graphic Design Students Shine at 2023 American Advertising Awards
February 24, 2023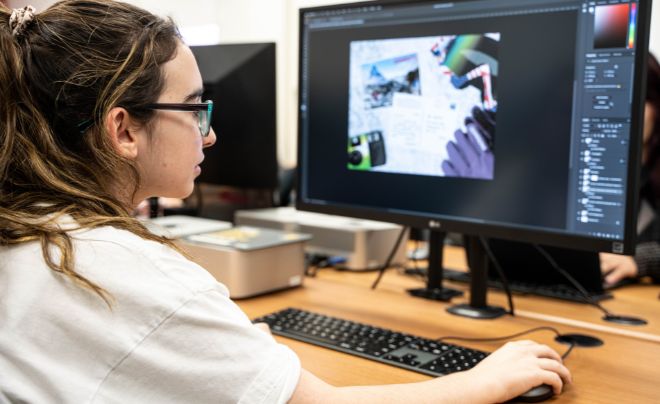 Students in the University of the Incarnate Word's Graphic Design program were recently honored as finalists in the 2023 American Advertising Awards hosted by the American Advertising Federation – San Antonio (AAF-SA) chapter. Per the organization's website, "the mission of the American Advertising Awards competition is to recognize and reward the creative spirit of excellence in the art of advertising."
At a banquet held on Saturday, Feb. 18 at the McNay Art Museum, winners in each category were announced. Gold, Silver, and Bronze Awards were given, with those winning Student Gold & Silver Awards advancing to a district-level competition. Students were judged by experts in the field of advertising, including Michael Hemphill, creator and host of Blue Ridge PBS Show BUZZ, Eva Larraga, a creative and visual designer with experience with international brands, and Kelly Komp, founding partner and creative director at Multiple Inc.
UIW students ultimately took home 32 awards: 3 Gold, 13 Silver, 15 Bronze, and 1 Student Judges Award. Student Rozlynn Olivas (BFA, 2024) was also awarded a $1500.00 AAF-SA Scholarship.
See a full list of UIW student award recipients below.
Spencer Dillree (BFA, 2025)
Bronze Student ADDY - Jurassic Park Book Cover (Publication Design – Cover)
Bronze Student ADDY - Sushishima Sushi Logo (Logo Design)
Isabelle Swihart (BFA, 2025)
Silver Student ADDY - Where the Wild Things Are Cover (Publication Design – Cover)
Korina Burciaga (BFA, 2024)
Bronze Student ADDY - Lokanta's Collateral (Stationery Package – Single or Multiple pieces)
Bronze Student ADDY - Lokanta Logo (Logo Design)
Regina De Alba (BFA, 2024)
Bronze Student ADDY - Water Sign Water Co. Labels (Product or Service Sales Promotion – Packaging)
Bronze Student ADDY - S pirit Bear Rock Collateral (Stationery Package – Single or Multiple pieces)
Isabel Morales (BFA, 2024)
Bronze Student ADDY - Three Fates Spirits and Ouzo (Product or Service Sales Promotion – Packaging)
Rozlynn Olivas (BFA, 2024)
Gold Student ADDY - Macbeth Absinthe (Product or Service Sales Promotion – Packaging)
Bronze Student ADDY - Lemongrass Logo (Logo Design)
Bronze Student ADDY - Lemongrass Collateral (Stationery Package – Single or Multiple pieces)
Bronze Student ADDY - Ashen Spa Collateral (Stationery Package – Single or Multiple pieces)
AAF-SA Scholarship - Awarded $1500.00
Quinn Picard (BFA, 2024)
Silver Student ADDY - Black Waters (Still Photography – Color, Single)
Bronze Student ADDY - Departure (Still Photography – Color, Single)
Patricia Sarinana (BFA, 2024)
Gold Student ADDY - Jazz Texas Salsa Night (Poster – Single)
Silver Student ADDY - Spirit Bear Rock National Park (Stationery Package - Single or Multiple pieces)
Silver Student ADDY - Hope (Still Photography – Campaign)
Silver Student ADDY - The Heart of Worship (Still Photography – Color, Single)
Bronze Student ADDY - A Conversation with God (Still Photography – Color, Single)
Ana Paula Gutierrez Miranda (BFA, 2023)
Silver Student ADDY - Good for Hü (Integrated Brand Identity Campaign – Campaign)
Bronze Student ADDY - Chobani (Video and Sound – Animation or Special Effects)
Ruby Filoteo (BFA, 2023)
Silver Student ADDY - Fund Your Future (App (Mobile or Web-Based))
Silver Student ADDY - Tuck 'N' Roll (Video and Sound – Animation or Special Effects)
Silver Student ADDY - Delaney Tieso (Still Photography – Color, Single)
Francisco Lugo (BFA, 2023)
Bronze Student ADDY - St. Basil's Cathedral Illustration (Illustration – Single)
Nour Shamala (BFA, 2023)
Judges Choice Award - La Sagrada Familia Brand Book (Publication Design – Book Design)
Gold Student ADDY - La Sagrada Familia Brand Book (Publication Design – Book Design)
Silver Student ADDY - Athletes Mental Health Brand Book (Publication Design – Book Design)
Silver Student ADDY - Hey'a Logo (Logo Design)
Bronze Student ADDY - Hey'a Campaign (Integrated Brand Identity Campaign – Campaign)
Fiona Swisher (BFA, 2023)
Silver Student ADDY - Good for Hü (Integrated Brand Identity Campaign – Campaign)
Heather Olivarri (BFA, 2022)
Silver Student ADDY VIVID Art Fest (Collateral Material – Special Event Materials)
See the full list of winners here (pdf)