UIW Athletics to Hold Black History and Equality and Inclusion Basketball Games
February 3, 2023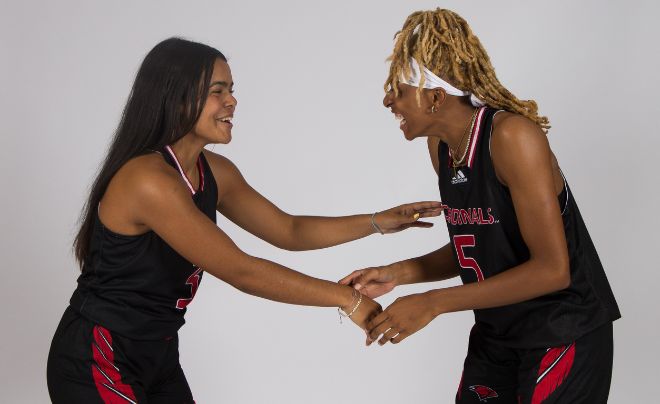 During the UIW men's and women's basketball games against Lamar University on Thursday, Feb. 9, fans may notice something special about the coaches' and student-athletes' attire; they'll all be dressed in black, a symbol of the Black Out for Black History and the Equality and Inclusion initiatives, two campaigns that go hand-in-hand for UIW Athletics during the celebration of Black History Month.
Athletics Marketing Coordinator Arrion Ellis says the two efforts coincide because part of celebrating Black history is recognizing the vast strides that have been made towards equality, and honoring those who paved the way. He shared that the University prioritizes the celebration of various cultures, and the upcoming game is a "nice way to celebrate Black History Month with our fans and community."
The first 200 fans in attendance will receive a Black Out for Black History T-shirt; in addition to wearing all black, the coaches will also wear an equal sign lapel pin to symbolize equality, while the student-athletes will don the symbol on gear as well.
While the Black Out for Black History initiative is unique to UIW, the Equity and Inclusion Game is a national campaign throughout college basketball. In 2022, more than 150 programs participated in the event to highlight the importance of equality. 
"The Equality and Inclusion Game is a partnership with the Rising Coaches DEI Alliance, which is a nonprofit organization and social justice group made up of minority coaches," said Senior Associate Athletic Director for Administration Kenyon Spears. "Each institution that participates in this game can highlight a different area, whether that's racial equality, LGBTQ+ rights, etc."
UIW Athletics, in keeping with the school's Mission of welcoming "to its community persons of diverse backgrounds," holds events to promote equality year-round. In the fall, UIW Athletics celebrated the 50th anniversary of Title IX by recognizing its female student-athletes. There will also be events during the spring for softball and baseball, shared Spears, who is also responsible for leading UIW Athletics' diversity and inclusion efforts. Since assuming this role in 2020, Spears has met with UIW's various teams to ensure each has a voice in the diversity and inclusion efforts.
"These efforts are important to our student-athletes because at the end of the day, we're here for them," said Spears. "We want to show them that they mean something to us each and every day. We want to make sure they know that their voices are being heard. But I also think it's bigger than just the UIW student-athletes. I think it's about teams, communities, states, cities and towns all coming together to hopefully listen to each other and understand each other so we can have a better society."