Two SOM Learners Earn Awards
February 3, 2023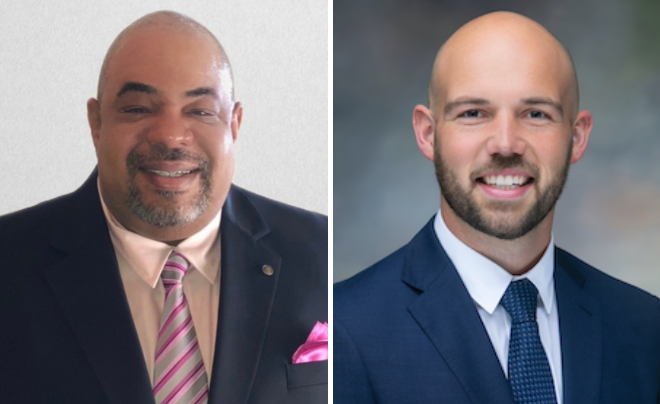 Two learners from the University of the Incarnate Word School of Osteopathic Medicine (UIWSOM) are recent recipients of special awards recognizing their hard work and accomplishments. Tyler K. Williamson received the Council of Osteopathic Student Government Presidents (COSGP) Student Researcher of the Year Award from the American Association of Colleges of Osteopathic Medicine. Daryl O. Traylor, PhD, MPH, earned the United States Public Health Service Physician Professional Advisory Committee 2023 Excellence Public Health Award. Both learners are from the UIWSOM class of 2023.
Williamson has built his research skills throughout his medical career, exploring his interests in orthopedic surgery and multimodal regimens to treat chronic pain and impaired function. Those passions led him to spend a year of research in orthopedic and neurological surgery in the spine division at NYU Langone Medical Center. He credits the "selfless efforts" of the UIWSOM faculty and fellow students, who taught him the foundations of how to investigate with integrity.
"Thank you to everyone involved with this award. It has truly been an honor representing UIWSOM and creating a name for us within research," shared Williamson in a post on the UIWSOM Facebook page. "Like my predecessors, I have already taken what I learned elsewhere and passed that down by bringing research opportunities back to UIWSOM for each student interested in pursuing orthopedic surgery. It is with this motivation that I hope to further integrate research into future osteopathic students' education and help each of them discover their reason for delving into the field I've come to love."
Traylor is a first-year learner at UIWSOM who has several research interests. His research interests include addressing barriers to primary care provided HIV PrEP prescriptions for African Americans residing in the Southern United States; stress and resilience in communities of color during COVID-19; medical student health and wellness during the COVID pandemic; and effective pipeline programs that target African American males who are interested in careers in healthcare, medicine and STEM fields.
Following medical school, Traylor would like to enter a combined family medicine/emergency medicine residency. He hopes to return to Arizona to work with underserved communities in Phoenix.