Language as a Pathway to Understanding: Embracing Black English
February 3, 2023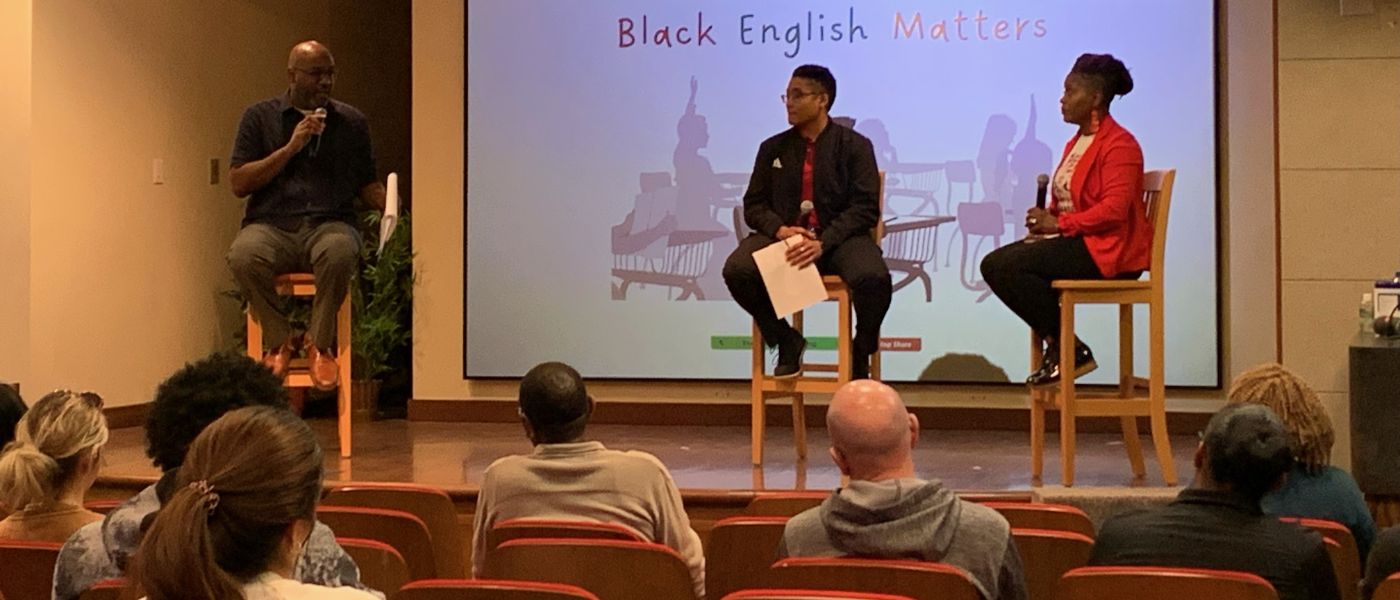 "The language of our ancestors."
That's what UIW Medical Director Dr. Shaylon Rettig said when asked how he personally defines Black English. According to Associate Professor Dr. Doshie Piper, Black English is "the way in which Black descendants of slaves communicate … constantly changing, always evolving, and ever present." And to Women's Basketball Assistant Coach Amber Cunningham, the language provides a feeling of familiarity, something she says, "I know when I hear … in the cadence, tone, rhythm, voice, word usage and sentence structure."
Also known as African American Vernacular English (AAVE), the UIW community explored the language's history and use, as well as anti-literacy laws that disproportionately target communities of color, at a recent panel discussion called Black English Matters, hosted by Unified in Wellness. Rettig, Piper and Cunningham all served as voices on the panel at the event held Monday, Jan. 23.
"The panel did such a wonderful job of helping us understand the historical evolution and importance of Black English," shared Dr. Arturo Chávez, Vice President for Mission and Ministry and Diversity, Equity and Inclusion. "They provided several real-world examples of how language is the primary vehicle for expressing one's intelligence, culture, and identity. When cultural expression is suppressed or shamed, there are serious consequences for minority children and youths in our rigid academic systems."
While most linguists agree that Black English's origins are rooted in the time of slavery, those consequences imposed on people who use the language today unfortunately remain present. Rettig explains that other racial and cultural groups often fail to realize or acknowledge the language's historical context, leading to a lack of sensitivity and empathy for those who use it.
"[Black and African American people who use Black English] are judged to have bad grammar or not be intelligent, and that is not the case" he explained. "That mindset also ignores the fact that the language may have a different meaning or interpretation when spoken, and that can lead to challenges in an educational system where standardized testing is used for merit determination."
Cunningham explored the repercussions on the individual, pointing out that because of a bias against Black English, members of the communities who speak it may struggle with, "learned helplessness, negative biases, a lack of access, negative effects on identity and self-worth, disrespect, and a lack of belonging."
Attendees at the event were challenged by the panelists to look critically at their own biases and do the work to confront and change those biases. Piper believes that this work can begin with even small acts of kindness, by thinking about the impact of our words before we speak and choosing to lead with love rather than judgment.
"All too often, we see people correcting other people when they are speaking," she shared. "I am guilty of it myself … Our concern, specifically those of us who are a part of UIW, should be making God's mission and the CCVI Sisters' mission of service real in the world. We cannot serve others when our concern is the way they talk; not what they're saying, but how they are saying it."
One of the ways Cunningham suggests working to make language standards more inclusive is by making an active decision to become educated on the history of Black English.
"Black English has routinely been villainized, but this language originated out of a need to survive about 400 hundred years ago during slavery," she explained. "It then evolved to the Black English and various regional dialects we know of today. There are so many resources available to learn, from YouTube to scholarly articles and everything in-between."
It's exactly this kind of education that can unite people of various races, cultures, and backgrounds. Chávez shared that in his Latina/o Theology course following the event, Hispanic/Latino students found common ground with the panelists and their Black classmates.
"Many of them could relate with the Black English dynamics because of our own experiences of code-switching between English and Spanish and what we playfully call 'Spanglish'," he explained. "They shared their own stories in class of being in a liminal space where they don't speak English or Spanish well enough to meet expectations. However, they also shared stories about growing in appreciation and pride for their cultural identity and creative communication skills."
As for what the panelists hope students took away from the honest discussion, Dr. Piper had this to say.
"I wanted students to know, 'I get it, and I get you, no matter how you communicate … with Black English, Mexican English, or an accent, it is important that you feel heard and understood.'"