CHRISTUS Mobile Mammograms Vehicle Heads to UIW During Women's History Month
February 24, 2023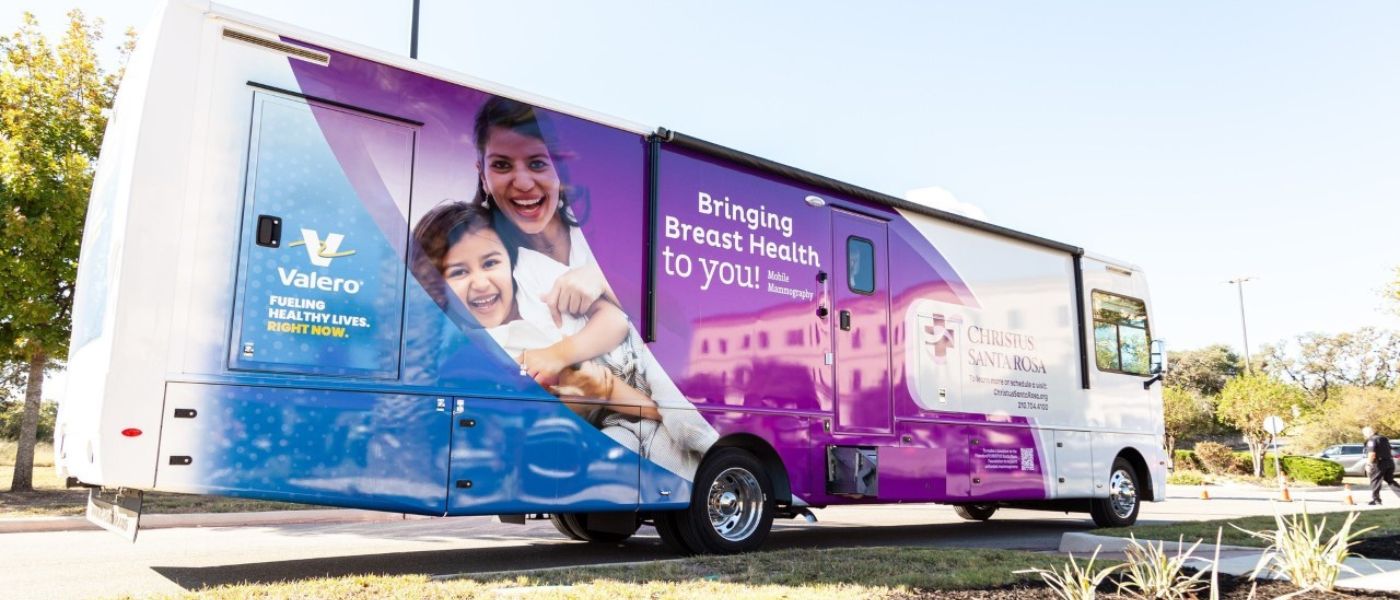 CHRISTUS Santa Rosa Health System – a sponsored ministry of the Sisters of Charity of the Incarnate Word – is bringing its digital 3D mobile mammograms vehicle to Founders Hall on the UIW Broadway campus from 9 a.m.-1 pm. Tuesday, March 7. The screenings are open to the public. The event coincides with the first week of Women's History Month, serving as a powerful reminder that access to women's healthcare is a vital necessity and ongoing priority for the University's founding congregation.
"Women's healthcare is important, and that includes mammograms to screen for breast cancer," said Vanessa Rendon-Cazarez, DNP, APRN, FNP-C, a family nurse practitioner with UIW Health Services. "A mammogram is a woman's best chance of identifying breast cancer early, before it spreads to other parts of the body.
"Women between the ages of 40 and 75 should be screened every year, as this is the only imaging that has been shown to decrease breast cancer-related deaths."
To have a mammogram with the CHRISTUS, Santa Rosa Health System 3D mobile vehicle, attendees must:
Be 40 years of age or older (insurance permitting)

Under 40 years of age must have a physician's order for screening

Have not had a mammogram within the past 365 days
Last mammogram must have been negative
Have NO NEW symptoms, such as lumps, pain, skin changes or nipple discharge (see a physician right away if you have changes; call CHRISTUS, Santa Rosa if you do not have a physician)
Have not had breast cancer in the last three years
Not be pregnant or breastfeeding (a screening mammogram cannot be done until 90 days after breastfeeding has been stopped)
Be prepared for your visit
Bring the name, address and phone number of your physician
If you have had a mammogram in the past, locate your films and bring them to your appointment; if you are unable to do so, bring the location name and phone number of where you received the previous mammogram
Bring a valid photo ID
Bring your insurance card (CHRISTUS Santa Rosa accepts Medicare, Medicaid and most private insurances)*
DO NOT wear deodorant, perfume, powders or lotions
DO wear a two-piece outfit
A physician's order is not needed for patients who have seen their physician within a year prior to their mammogram appointment.
"Mammograms are non-invasive and can be scheduled without a doctor's order. When breast cancer is found early, it is 99% curable," added Rendon-Cazarez. "It only takes about 20 minutes of your time, so schedule your mammogram today!"
To schedule an appointment, call (210) 704-4100.
For those without insurance or a doctor, call (210) 703-8100 for details to learn how to get a mammogram through the generosity of community funding.