February 23, 2023
Alumna Shantel Wilkins shares wisdom with UIW Business students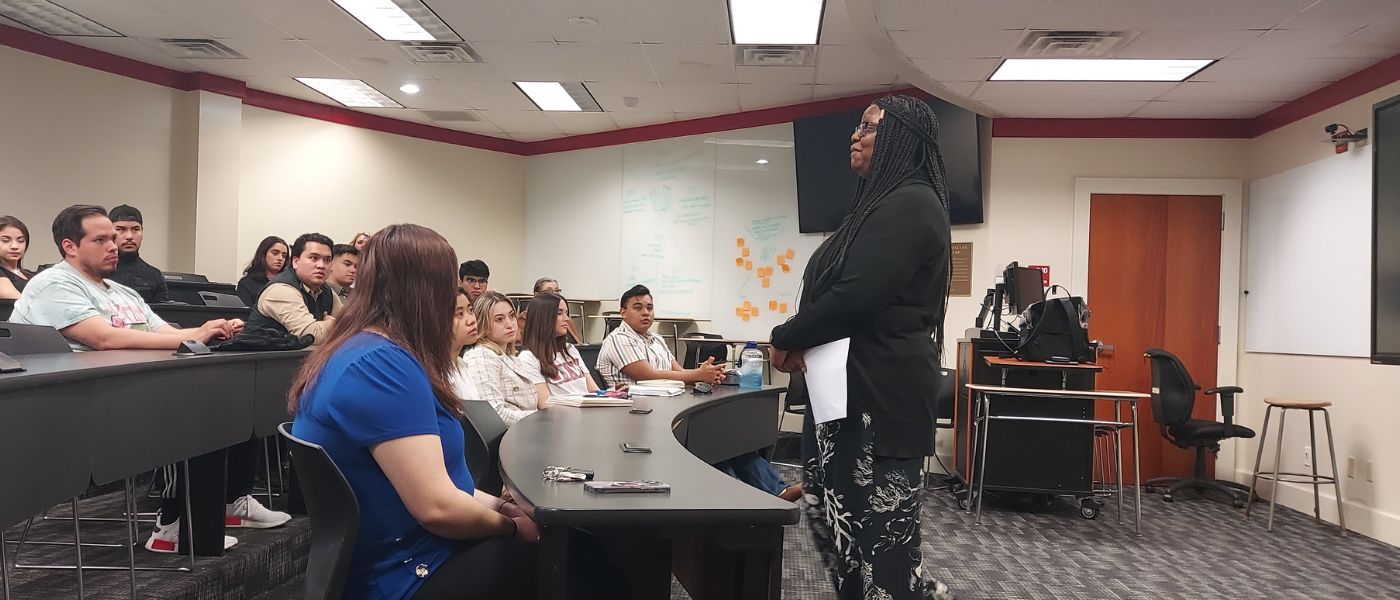 "Be bold." That's the advice Shantel Wilkins, '98, shared with a class of UIW Business students Wednesday, Feb. 23 during her lecture called, Pivot and Reset.
"Be fearless," Wilkins continued. "Don't be afraid of change. Find your path and your voice."
Wilkins, the chief of staff at the Donors of Color Network, shared the challenges she faced growing up with a teen single mother. The Austin native played basketball growing up and loved the sport but was told she would never earn a scholarship to play. Wilkins proved them wrong with the guidance of her middle school basketball coach, earning scholarships from multiple universities, including UIW. Ultimately, she loved the small, family-like atmosphere and close proximity to home that Incarnate Word offered. While at UIW earning a Bachelor of Arts in Communication Arts and playing on the women's basketball team she continued to grow and prepare for life after college.
"UIW taught me to enhance my time management skills and strengthen those, especially being in a college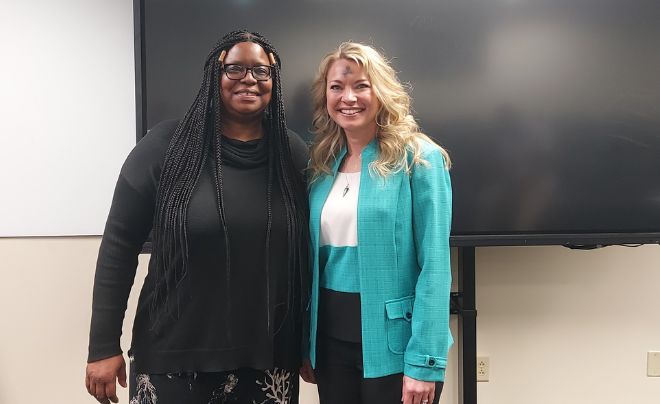 environment and not in the same city as family," she shared. "It also taught me a culture of giving back. Then, being a student-athlete, it was nice to have a team. It was like a built-in family. That was also a great experience that helped grow the type of nurturing and leadership skills that I continue to use today."
Wilkins also discussed her career, offering inspiration to the students who are just starting their own career paths. She started as a volunteer intern and ultimately worked her way up to senior level positions in some of the most recognized organizations. Along her journey, she has spent time working for The Boeing Company and was a senior vice president at Bank of America. She also worked with the FBI to help secure U.S. infrastructure at both the local and national levels. With each job change, she shared, she knew she needed to "pivot and reset" as she continued honing her skills and seeking what she "wanted to do when she grew up."
For years, Wilkins' passion has been to change the narrative of how society views and labels "low income" or "poor" people and communities of color, noting that often, these areas are actually underestimated, undervalued and under resourced people and communities primarily due to systemic racism. Her drive to do so has always been fueled by two sources of motivation; she wanted to be a good role model for her two younger brothers, and she did not want to be a statistic. Wilkins wanted to be an agent of change. In her current role, she gets to do just that. The Donors of Color Network is "a home for donors committed to building the collective power of people of color to drive systems change and advance racial equity."
She encouraged the students to question how they, too, can be agents of change, by asking themselves, "how can my voice help change the narrative?" As she discussed her winding career path, Wilkins reminded the students they "don't have to do one thing in life," but can constantly learn new things and apply their unique skills to different passion projects.
Throughout the hour-long session, students were encouraged to share any challenges they have faced in their own lives. The interactive conversation allowed them time to talk about their lives, ask questions, and realize that life's challenges do not have to hold them back from achieving their goals and creating positive change in the world.
"It is impactful when our business students are given the opportunity to connect with our alumni and hear their stories," shared Dr. Teresa Harrison, associate professor of Management and co-director of the Beckendorf Family Center of Innovation and Global Entrepreneurship. "Students learn that not only can they be successful in the face of adversity through determination and hard work, but also the importance of being a compassionate leader and a resource for others."
"I really enjoyed hearing Ms. Wilkins speak," added Hector Olivares, a Business Administration major preparing to graduate in December. "I loved how she talked about making a pivot and how she chose things she enjoyed, then came to a point where she realized that wasn't for her anymore. She also said that it's ok to say no so you can improve yourself and grow overall. What she said today is something that I'm going keep with me every day."
Learn more about the UIW H-E-B School of Business and Administration