Black History Month Celebrations Continue at the Nest
February 24, 2023
Black History Month celebrations and observations continued at UIW this week, with several events and learning opportunities. From the inspiring and moving to the exciting and fun, take a look at some of our favorite Black History Month observations at the Nest this week below!
Conversation Pieces: A Spoken Word Workshop with Jess Mahogany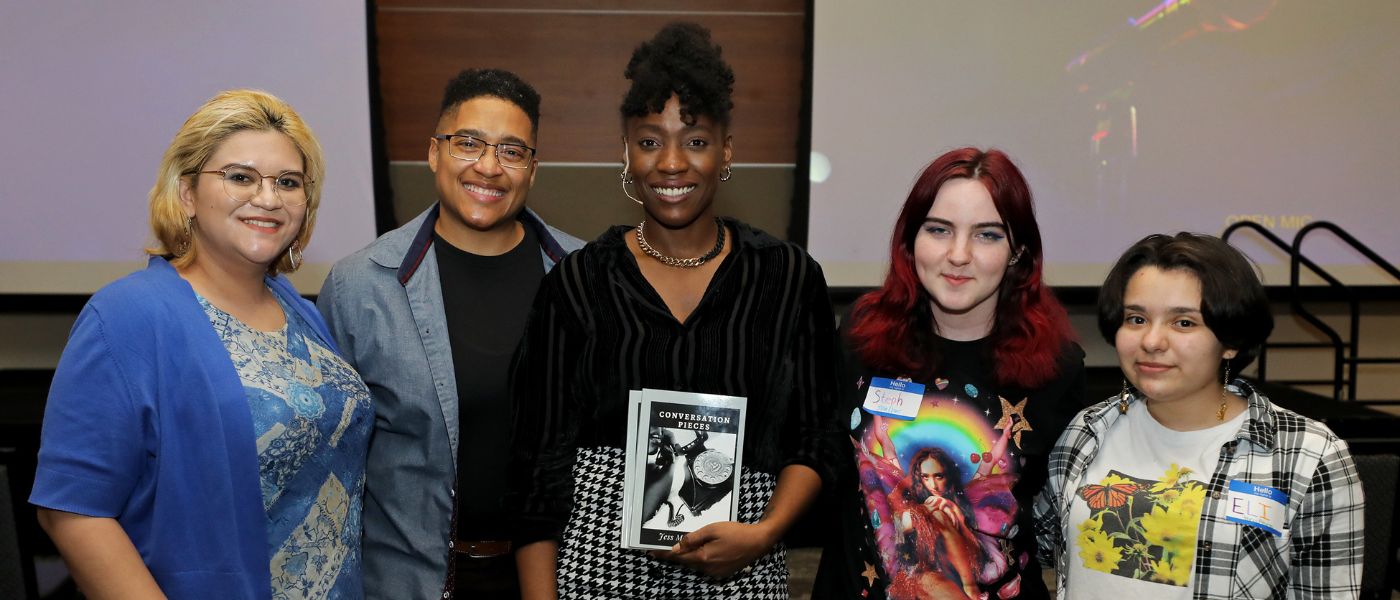 On Tuesday, Feb. 21, healing speaker, actress and poet Jess Mahogany conducted A Spoken Word workshop at UIW, bringing magnificent and eye-opening real-life struggles to life with her words, and showing others how they can do the same.
Mahogany performed several of her powerful pieces for attendees. One such poem was entitled, "The poem that never ends…" The work expressed what so many feel every time there is news of yet another racially motivated criminal act. The poem recites the never-ending list of names of those taken too soon, beginning with Emmet Till, and continues into names with present day context - Briana Taylor, George Floyd, Ahmaud Arbery, etc. Her poem demands that people not allow themselves to become numb or to reduce the Black experience to victimization; rather, her poem calls listeners to the "audacity of hope" and ongoing activism. She especially challenges individuals who are not Black to advocate for systemic change with a powerful call to action: "Yes, racism is our burden but it's your responsibility."
"The attendees were spellbound," shared Associate Vice President of Mission and Ministry and Diversity, Equity, and Inclusion Dr. Arturo Chávez. "We laughed, we cried, we connected even in our diversity to the common, human, longing to be seen and to be heard."
After the performance, students and other community members were invited to the stage to share their own poems and stories in a healing open mic session. Klaire Bentley, a UIW Education and Mathematics student and member of the track and field team, bravely shared the following poem:
Still, I Rise in Good Trouble
During the days where I think about how I just can't go on…
I remember the 14 words tatted down my back, "Stand up straight and realize who you are, that you tower over your circumstances."
Circumstances will only last a little while, but as the poet GloRilla eloquently stated, "but that's why I love tomorrow."
Tomorrow hasn't brought me any trouble, so I will continue to fight the good fight and get in that good trouble, while I continue to be my ancestors' wildest dreams.
Other students shared the impact that the event had on them; they commented on what they learned and how the spoken word pieces inspired them to lead with empathy, seeking to understand the lived experiences of others.
UIW English student Zoe Falk said, "The poetry workshop transformed me spiritually and mentally, as I was able to witness the work of a powerful woman whose poetry signified hope and activism."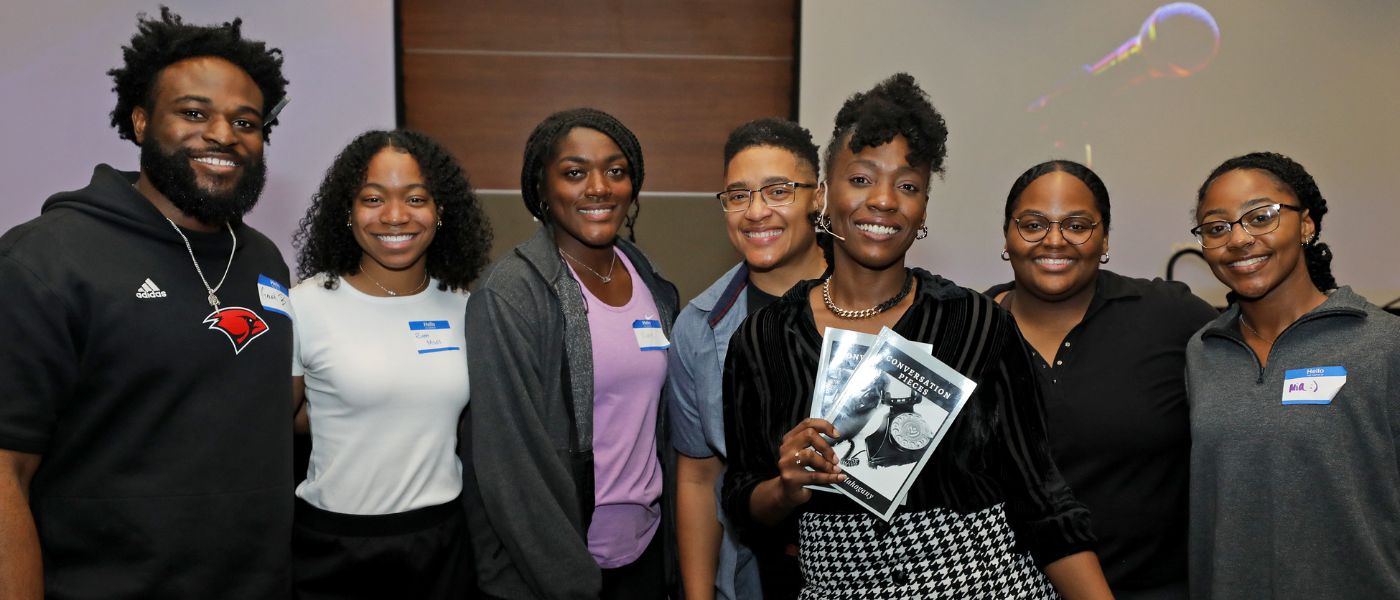 African and Caribbean Fashion Show
On Wednesday, Feb. 22, the stage was set for a fashion show celebrating African and Caribbean culture. The event was hosted by UIW International Student and Scholar Services and UIW Atlas, a program that aims to "foster and promote a compelling student experience that supports the creation of an inclusive environment for learning, appreciation, celebration, and of both domestic and international cultures."
The fashion show, sponsored in part by T-Mobile, featured local fashion designers and their original garments, many of which utilized colorful patterns that evoked traditional African cultural dress. The event also welcomed local vendors who showcased traditional garments, jewelry, shoes and more.
Farhad's Film Series Celebrates Black History Month
Farhad's Film Series, presented by UIW Libraries, is a documentary/educational film screening program hosted six times a year. The films are selected by the library's audiovisual librarian, Farhad Moshiri, from the vast collection of UIW J.E. & L.E. Mabee Library's audiovisual collection of more than 50,000 films. The selection criteria are based on current issues and subjects that encourage discussion and debate to promote knowledge and understanding of the most important issues in today's American society and the world in general.
This month, in honor of Black History Month, community members can watch the PBS mini-series, Making Black America: Through the Grapevine .
According to PBS, the series "chronicles the vast social networks and organizations created by and for Black people beyond the reach of the "White gaze." The series recounts the establishment of the Prince Hall Masons in 1775 through the formation of all-Black towns and business districts, Historically Black Colleges and Universities, destinations for leisure and the social media phenomenon of Black Twitter." The films feature "noted scholars, politicians, cultural leaders and old friends to discuss this world behind the color line and what it looks like today. MAKING BLACK AMERICA takes viewers into an extraordinary world that showcased Black people's ability to collectively prosper, defy white supremacy and define Blackness in ways that transformed America itself."