All UIW Students, Alumni Invited to Participate in Virtual Career Fair
February 9, 2023
Open to all UIW undergraduate, graduate and doctoral students, as well as alumni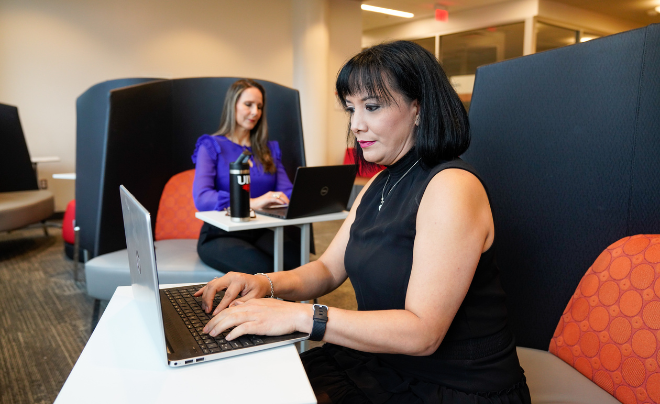 University of the Incarnate Word students and alumni are invited to participate in the third annual Hispanic Serving Institution Virtual Career Expo from 11 a.m.-4 p.m. Wednesday, Feb. 22. The career fair – which is open to all UIW undergraduate, graduate and doctoral students, as well as all alumni – is being facilitated by the HSI Career Collaborative and promises to be the biggest expo in its three-year history.
"In 2021, we had 143 employers participate and over 1,500 students," shared Director of Career Services Jessica Wilson. "In 2022, there were 169 employers with over 2,500 students registered. Currently, we are at 270 employers signed up and we anticipate having close to 3,000 students. This is a great opportunity to connect with some really impressive companies."
This year's career fair features national and international companies from a wide range of industries. Companies such as Amazon, HubSpot, John Deere, Kroger, Meta, Silicone Valley Bank, Warner Media and Yahoo are participating. All employers are hiring for full-time, part-time and internship positions.
The HSI Career Collaborative brings together 14 HSIs from across the country. Its goal is to build recruiting partnerships and connect job seekers with the top employers in the nation. Wilson joins leaders from UTSA, UC Merced, and the private sector on the executive committee. Each career center has individuals dedicated to different functions, including student and alumni professional development, employer engagement, sponsorships, event coordination, employer support and marketing.
The HSI Career Collaborative is a joint effort led by 14 HSIs in the country: California State University-Bakersfield; California State University-Dominguez Hills; California State University-Fresno; California State University-San Bernardino; California State University-Stanislaus; Florida International University; Texas A&M International University; Texas A&M University-San Antonio; The University of Texas Rio Grande Valley; The University of Texas at San Antonio; University of California-Merced; University of Illinois at Chicago; University of the Incarnate Word; and Lehman College.
Students and alumni seeking to participate in the HSI Virtual Career Expo must register. Register now via Handshake to secure a spot in a one-on-one or group session with employers that meet career goals. Space to meet with each potential employer is limited and on a first-come, first-served basis.