Founding Congregation Supports UIW GEMS Program
January 13, 2023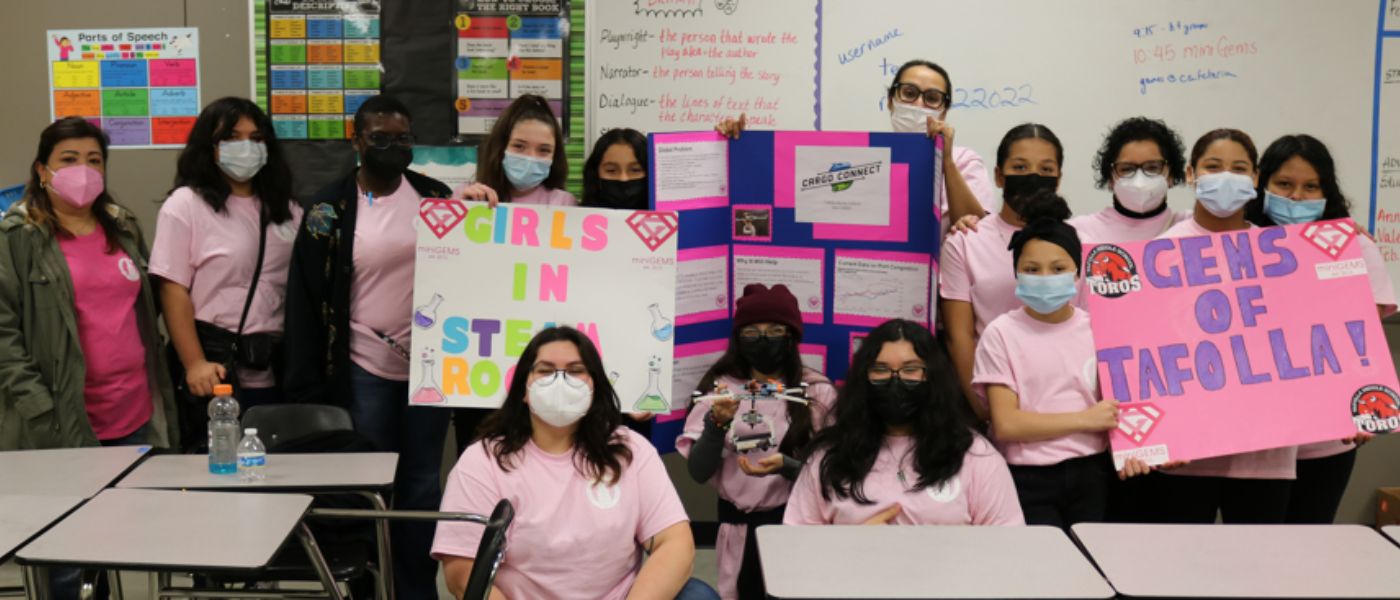 In 1881, three women founded a school in San Antonio that provided an opportunity for young women in the area to get an education. These founders, the Congregation of the Sisters of Charity of the Incarnate Word (CCVI), created a legacy and have continued to impact the community and the world for more than 150 years.
Recently, the Congregation awarded the UIW Girls in Engineering, Mathematics and Science (GEMS) program a $5,000 grant through the "Sisters Supporting Women for a Better World" initiative, an educational ministry of the CCVI. UIW's proposal, "GEMS Steam and Robotic Summer Camps and After-School Clubs," was submitted by Stephanie Weiss-Lopez, project manager and coordinator of GEMS and Autonomous Vehicle Systems Labs, and Dr. Michael Frye, founder and principle investigator of the AVS Labs and GEMS, and professor of Engineering.
"GEMS is beyond grateful for another year of support from the Sisters of Charity of the Incarnate Word through the Sisters Supporting Women for a Better World 2022 grant," said Weiss-Lopez. "This opportunity allows GEMS to provide resources not only to the students, but to schools to have robotics clubs and compete in a world-renowned competition with a similar mission as UIW. The teachers are so grateful for GEMS being a resource to them, and the funding received is given right back to the community that surrounds UIW."
At UIW, GEMS programs offer free all-female STEAM (Science, Technology, Engineering, Art, and Mathematics) summer camps and after-school robotics clubs that focus on educating girls about STEM (Science, Technology, Engineering, and Mathematics) fields. GEMS has two main programs: miniGEMS (fifth through eighth grade) and megaGEMS (rising ninth through 12th grade). Students from the UIW Brainpower Connection schools and additional San Antonio area schools attend these programs at the University.
"GEMS is proud of creating confidence and empowerment in the female students to pursue their intellectual curiosity and achieve their goals academically and in their chosen path," shared Weiss-Lopez. "GEMS strives to maintain a presence among the girls, providing opportunities year after year. GEMS staff beam as we see the students find their confidence."
This is the second year the CCVI grant has supported UIW Gems STEAM and Robotic Summer Camps and after-school clubs. This year, the funding will assist in providing transportation for miniGEMS members to participate in a competition in February, and it will help supply food during after-school meetings, Saturday practices and competitions.
"Providing food and transportation prevents obstacles, allowing participation without hindrance to students and parents alike," commented Weiss-Lopez. "This allows the students to focus on the programming for the robotics modules, the design of their robot, the innovative project, and participating through gracious professionalism."
Inspired by the three founding Sisters and the work they began more than 150 years ago, UIW employees encourage the young women who participate in the GEMS programs.
"Each GEMS staff member will say that being part of GEMS is a passion project that we are all fortunate to be part of each day," added Weiss-Lopez. "The students of GEMS give back to the staff more than they know. I personally look forward to the success each GEMS student will achieve over the years."