Faith in Action: UIW Walks for Social Justice at Annual MLK March
January 20, 2023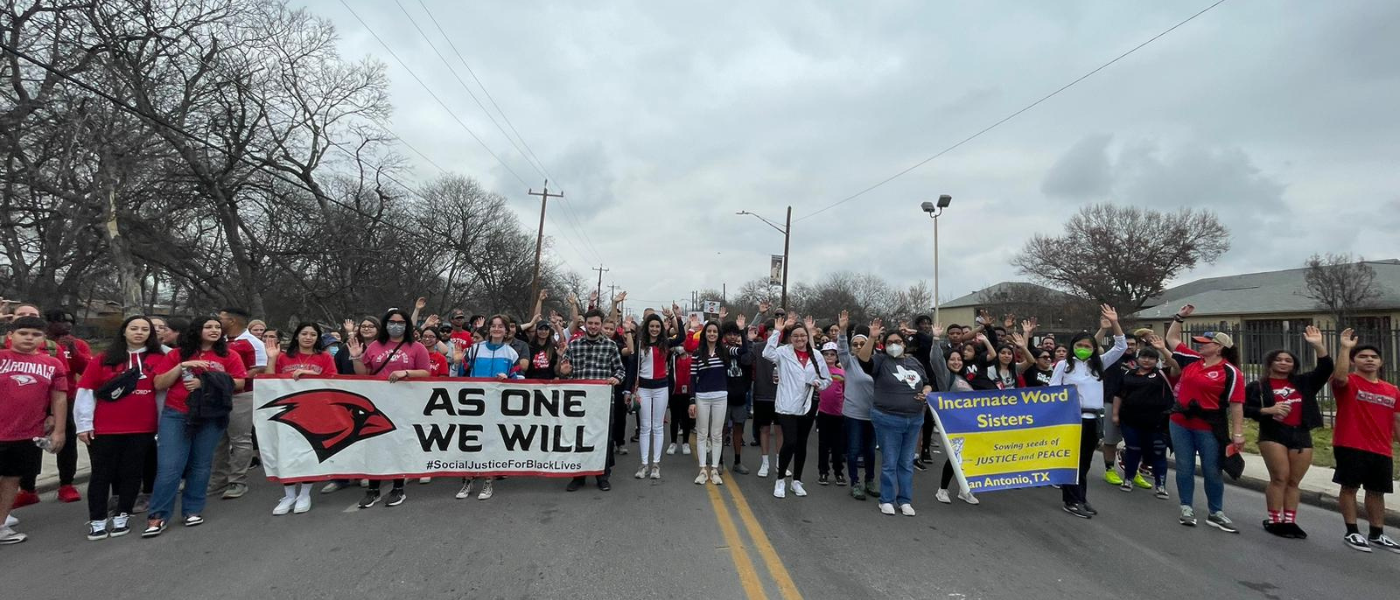 UIW Associate Vice President for Mission and Ministry and Diversity, Equity and Inclusion (DEI) Dr. Arturo Chávez, began his early childhood education at a time when schools were still segregated. Shamed and punished for speaking Spanish in the classroom as he was growing up, he admits the journey to reclaiming pride in his heritage was sometimes challenging as he reflects on the societal progress made since that time.
"I'm not that old, but at 61, I was born at a time when it was legal to separate [children of color] from Anglo children, which is how I started school," remembered Chávez. His words are a reminder that far from a long-forgotten moment in history, injustices against communities of color, like segregation, happened in this lifetime.
Decades later, Chávez walked alongside students, faculty and staff of diverse backgrounds, races and nationalities at the largest Dr. Martin Luther King Jr. March in the country. To him, the event was a visible symbol of both the positive change made over his 61 years, and the work left to do in the pursuit of social justice, a crucial element of UIW's Mission and, Chávez notes, the Catholic faith.
"I think we really need to critically read the story of Jesus to see that Jesus was a man who was concerned with people today," he shared. "When Jesus announced His mission in Galilee, he said, 'the Spirit of the Lord is upon me … He has sent me to bring good news to the poor, to liberate those who are oppressed.'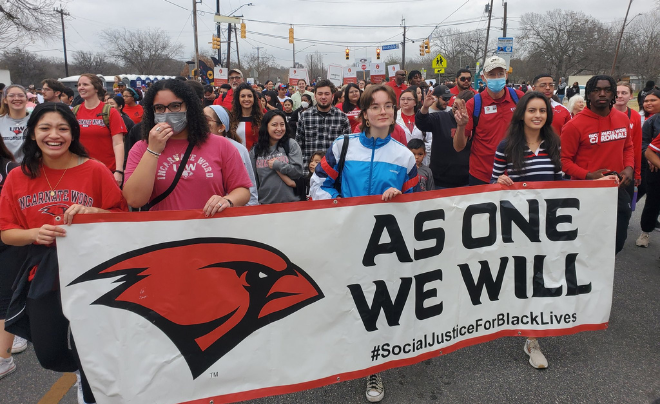 And so, His mission was very clear."
This faith in the Word of God informs Chávez's work at UIW. He strives to provide opportunities for students and staff to bring unconscious prejudices to the surface where they can be challenged, look beyond what divides them, and focus on what unites them.
Watching UIW's students engage in these efforts solidifies Chávez's hope for the future. In the weeks leading up to the MLK March, he witnessed student social justice organization, As One We Will, set up booths on campus to recruit students to participate in the event. UIW's group at the march was the University's largest yet. Students who had never met were walking hand in hand by the end of the route, bonded by a shared desire to bring about positive societal change. To Chávez, these students represent MLK's dream in action today.
"I've seen these students go from anger to doing something," he explained with pride in UIW's students, particularly those who make up As One We Will. "I credit them for the turnout we had at the march."
Candan Martin, a student-athlete and Cybersecurity major was one student recruited to participate in the MLK March by As One We Will. Unsure of what to expect from the event at first, Martin left feeling enriched, inspired and grateful for the UIW community's commitment to social justice.
"It provides us a safe space to explore certain topics and movements," he shared of the University's DEI efforts. "By providing us the opportunity to go to the March as a large group, bringing us there, bringing us back, providing food for us … that makes it a lot easier for students to get more involved."
"In a world where violence is everywhere and affects everyone, this march lit a light in me," added Alix Roge, a UIW exchange student from France. "It made me conscious that there is hope and that so many people are striving to spread peace."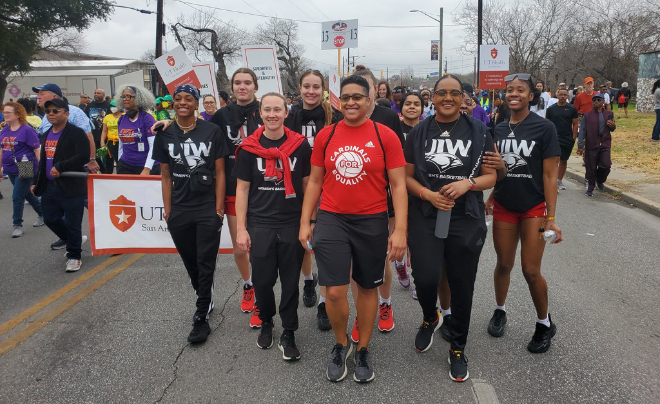 Martin and Roge aren't alone. Dozens of students who attended shared that the event inspired them to do more to support Martin Luther King Jr.'s dream and UIW's Mission.
"It was great to see our shared efforts come together and see a lot of other groups marching together," said student and As One We Will member Julianie Gonzalez Delerme. "It reinforced that social justice work is what I want to dedicate my life to."
In a perhaps lesser-known section of Martin Luther King Jr.'s "I Have a Dream" speech, he reminds listeners that the need for change is here today.
"We have also come to this hallowed spot to remind America of the fierce urgency of now," he said. "… Now is the time to make justice a reality for all of God's children."
As relevant then as it is today, the urgency of responding now is a challenge being met by UIW's students.
"I see MLK's dream in the students," expressed Chávez. "I see it in their commitment to do something to integrate this belief in justice into their life of faith and into their education."
Chávez, the students and the greater UIW community need only look to the University's founders, the Sisters of Charity of the Incarnate Word, when searching for motivation to continue this hard, but necessary work. In a long line of Incarnate Word students, faculty, staff, alumni and community members leading all the way back to those founding Sisters, the legacy of "faith in action" is tangibly demonstrable in every person furthering the Mission.