Thank you for seventeen years of service
December 2, 2022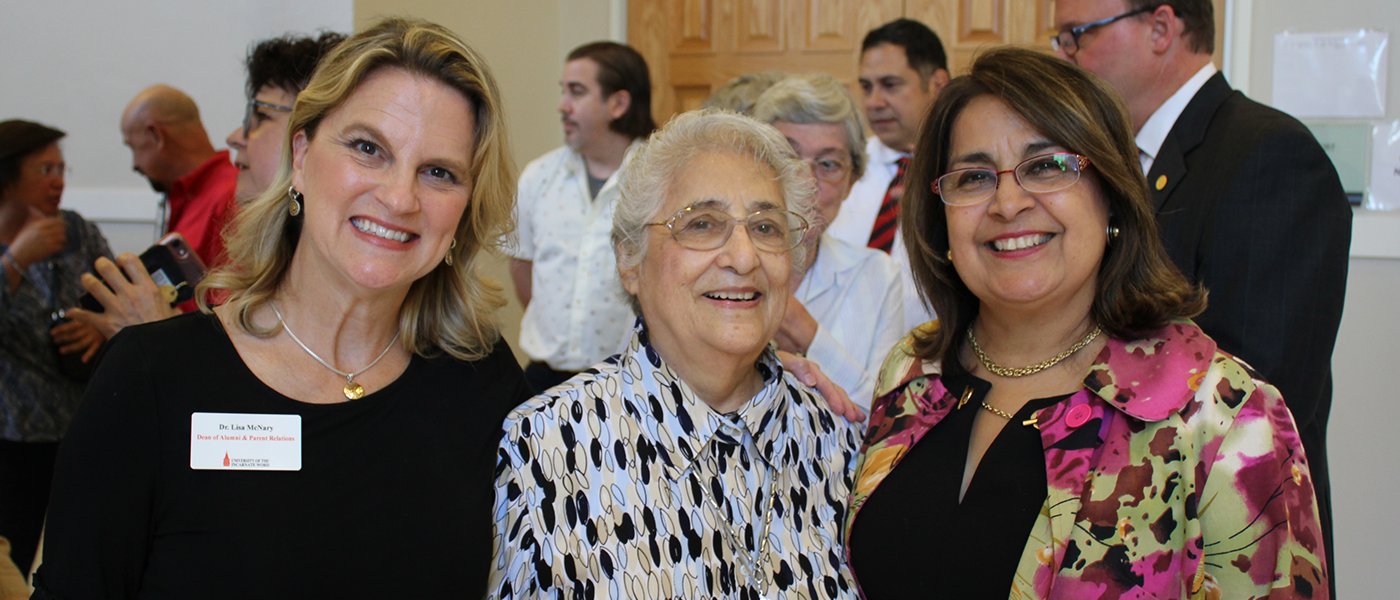 On Thursday, Dec. 8, Dean of Alumni Relations Dr. Lisa McNary (pictured above on far left) will conclude more than 17 years of service to the students and alumni of UIW. The two-time alumna assumed her role in 2005, and since then, has worked tirelessly to connect alumni to the Mission of the University.
"Dr. McNary has been inspirational to me since my graduation in 2010," shared Dr. Christopher Alvarado, PharmD, president of the UIW Alumni Association Board. "Together, we have inducted 12 classes of pharmacy students into the UIW Alumni Network (besides the COVID-19 years). She has been more than the Dean of Alumni Relations; she has been a close friend and fellow UIW Cardinal."
McNary's connection to the Incarnate Word Mission spans 40 years. After graduating from Incarnate Word High School in 1986, she went on to earn a Bachelor of Arts degree in Communications from then Incarnate Word College in 1991 and a Master of Arts in Gerontology in 1995. She furthered her education at Regent University, earning a Doctorate of Strategic Leadership with a concentration in Foresight.
As Dean, McNary's primary responsibilities for UIW included guiding the Department of Alumni Relations in establishing and strengthening connections between the University and its alumni, as well as developing alumni leadership. She also started the first UIW Parent Association and Parent Advisory Board. McNary is only the second person to hold the position of Director and then Dean of Alumni Relations. The first was longtime UIW employee Dick McCracken.
"Although it was her job, I have never seen a UIW employee with as much school spirit as Lisa," added Alvarado. "She has been influential on why Stephanie and I give back to UIW. We are going to miss her very much but know that she will still be connected to UIW."
Thank you, Dr. McNary, for your many years of service to UIW!