UIW Holds Annual Holiday Tree Lighting for Student Body
November 18, 2022
By UIW Student Abigail Velez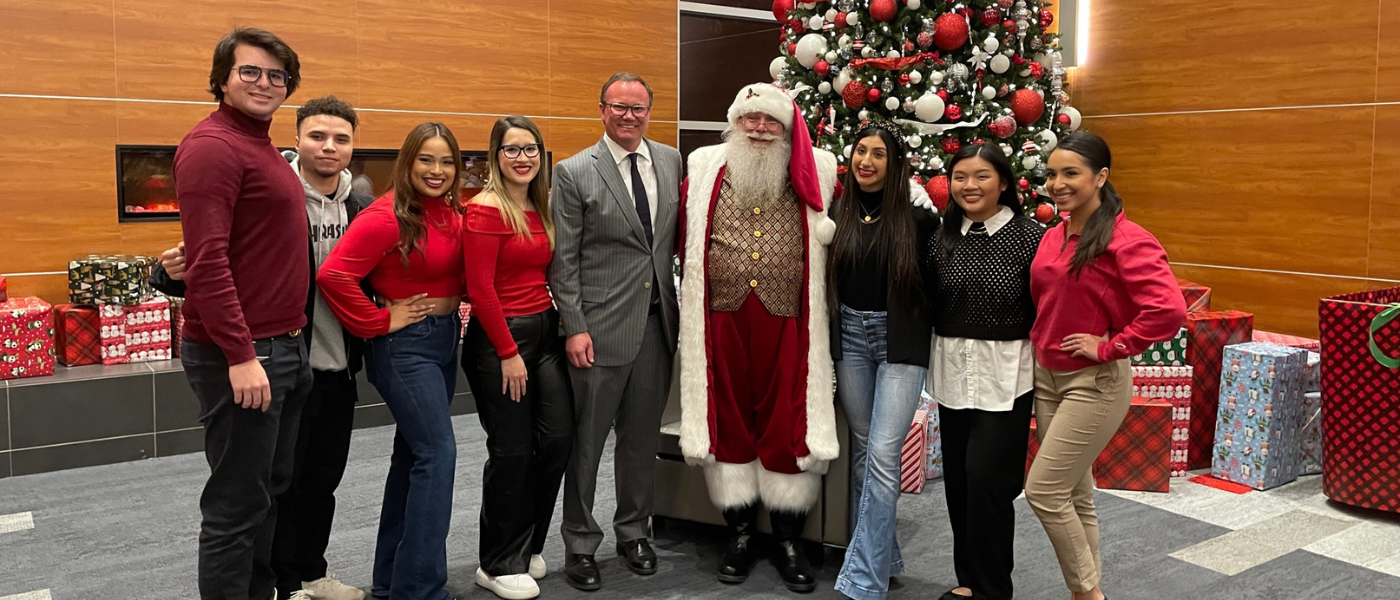 The 2nd annual Holiday Tree Lighting hosted by the Student Government Association (SGA) and the Campus Activities Board (CAB) took place on Nov. 16 in the SEC Ballroom. As the SGA Chief of Staff, not only is this one of my favorite University events of the year, but being able to plan the event was even more fulfilling.
Months prior to our event, SGA and CAB were holding meetings and listening to student input to make this event spectacular for our student body. The hardest decision we had to make was whether we wanted a Grinch-themed Christmas, or if we wanted to keep it a traditional White Christmas! After listening to student feedback, we collectively decided to keep our White Christmas theme and it was a hit!
My favorite tradition in this event is, of course, the tree lighting. Our tree, which is about 30 feet high and beautifully decorated with ornaments, tinsel and greenery, is lit by President Thomas M. Evans, PhD, and student body representatives.
"This is our tree ... this tree represents the camaraderie in the student body at UIW," said President Evans during his remarks. "This is the time to be thankful for our family, friends, and education."
Following his remarks, President Evans invited all SGA and CAB representatives to join him on stage, and everyone counted down to light the tree! SGA Treasurer Beni Resendiz handed over a button to Dr. Evans, which controlled the on/off switch to the tree, and when the countdown was over, the button was pushed and the tree was lit! Everyone cheered and took photos of our student-body tree. It was such a rewarding feeling to watch the faces of my peers light up with joy.
After the tree lighting, the doors opened to the SEC Ballroom where all the activities took place. Students waiting in line were greeted with a hot chocolate station where they could customize their own drink and decorate it with marshmallows, sprinkles and more! Once inside the ballroom, students had a variety of activities to choose from. They could build their own Christmas ornament, choose their favorite pan dulce, dress up as an elf or deer, take photos at our Christmas backdrop, or pick up a T-shirt souvenir from the event! The first thing I did when I entered the ballroom was pick up a pink pan dulce; those are my favorite and it paired so well with my hot chocolate.
This event is one of my favorites because it reminds me of home, and I get to enjoy it with the family I have created at UIW. Christmas is the time to be with your loved ones and at UIW, you always have a loved one nearby, whether it be a classmate, friend, teammate or just a friendly face. The Tree Lighting at UIW gives students a sense of celebration and warmth accompanied by great keepsakes and memories that they will, hopefully, never forget!