SACHS Hosts Inaugural Yellow Jacket Tee-Off Tournament
November 4, 2022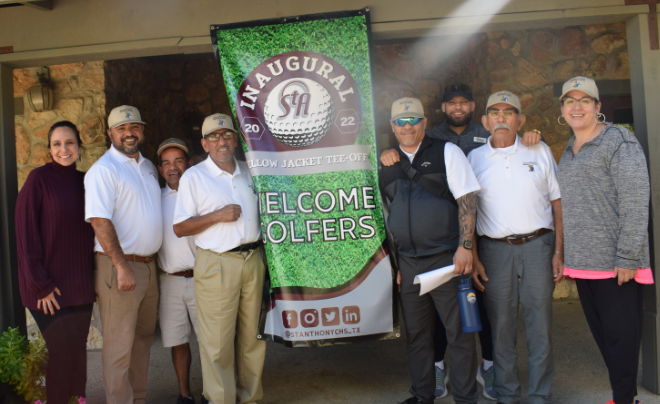 St. Anthony Catholic High School (SACHS) hosted its inaugural Yellow Jacket Tee-Off Golf Tournament on Friday, Oct. 28, at the Canyon Springs Gold Club. The event had over 75 participants and volunteers in attendance and successfully raised over $8,000 through generous donations, hole sponsorships, and other charitable contributions. The purpose of this annual fundraiser is to support the general athletic fund which assists with student uniforms and travel funds, among other necessities for our student athletes. The current goal is to get new lights at Lane Field, the oldest active playing field in San Antonio.
"Our goal for this first year was to bring everyone together – parents, students and alumni –while also creating a stronger relationship with corporate sponsors," said Ethan Gonzales, director of Advancement for SACHS. "For the future of this tournament, I would love to see a stronger alumni presence. We are over 100 years old. We are a close, tight-knit community, so I want to rebuild our alumni association."
Sponsors included Dell Technologies, Nature's Creation, RTH Automation, True Blue Surfaces Bellez Artisan Stone surfaces, Good Shepard/Knights of Columbus and families: the Viagran Family, Cathy and Kevin Lyman (class of '08 and '13), Chris Ross (class of '96), Sandy Keys (class of '08 and '13), and Matt Strong class of '10, '11 and '13).
SACHS is owned and operated by UIW and is part of the UIW Brainpower Connection. The Brainpower Connection is a circle of support, influence, and collegiality established in connection with seven different institutions, their faculties and students, to share their brainpower. A shared vision, shared faculties, and shared facilities help break down the walls that traditionally separate elementary schools, high schools, and universities.