November 30, 2022
By Cari Gold
UIW Oceanography class explores Corpus Christi Bay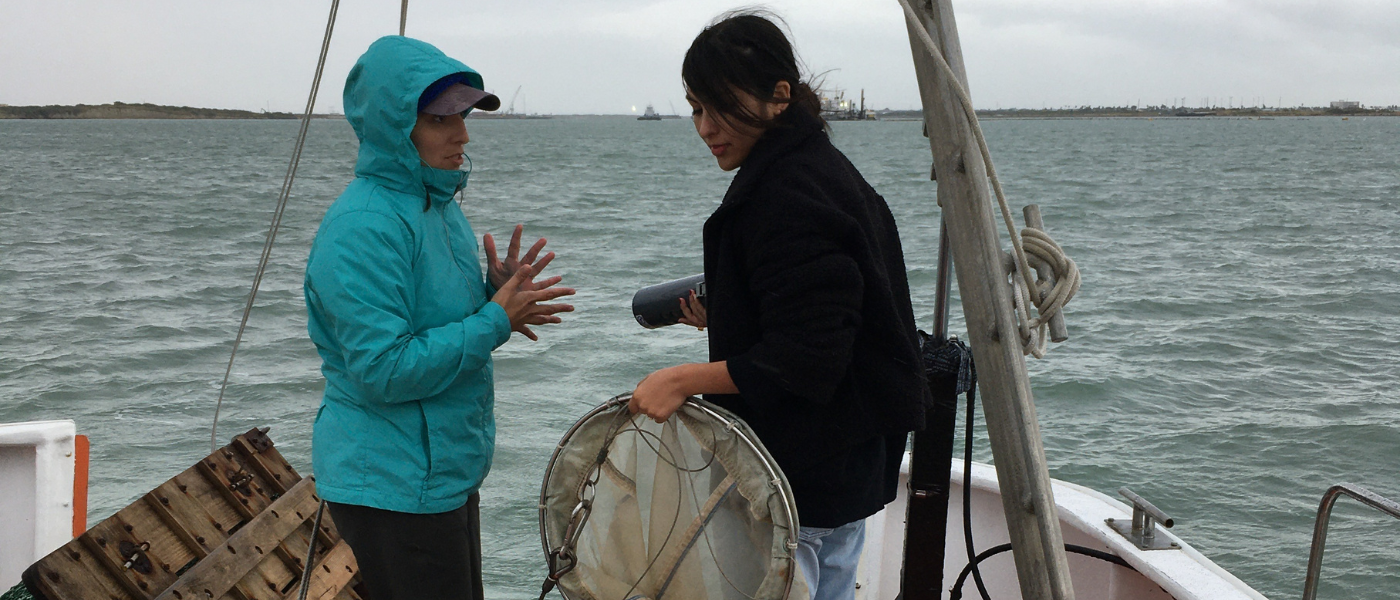 Why would you want to go out on a boat in the ocean in the middle of November? For one group of UIW students, the thrill of studying oceanography was enough to convince them to brave the cold and blustery conditions on the open sea. The Oceanography class, under the instruction of Assistant Professor of Environmental Science Dr. John Hooker, boarded the RV Katy, a research vessel operated by the University of Texas Marine Science Institute (UTMSI) in Port Aransas, on Nov. 18 for an educational excursion.
"There is always something new and interesting coming out about the ocean," said Nyssa Bentz, a junior Environmental Science major who attended the trip. "There is still so much to learn about it; I think that is why it is so appealing to me."
Bentz first became interested in oceanography a few years ago when she enrolled in UIW's Environmental Science program. She hopes to study water quality or the effects of human interactions on the environment in her future career. Although she is not taking Dr. John Hooker's Oceanography class, the assistant professor invited her to attend because of her passion for that field of study.
During the trip, UTMSI Program Administrator Adriana Reza showed students live-caught phytoplankton, brittle stars, catfish and other creatures that live deep in Corpus Christi Bay.
"We went out into the Gulf and learned what kind of tests and surveys they do while they are out on the water," shared Bentz. "We did trawls and studied the larger organisms that were caught, and we studied a part of the sea floor called the benthic layer. I loved learning about the jellyfish that we caught in the otter trawl."
Many people are familiar with the infamous "three-hour tour" of Gilligan's Island, a trip that fatefully lasted for many years. Students on the trip didn't have to worry about a similar fate, as safety was a key element of the day's learning experience. Bentz found the safety instruction of her first oceanography trip equally as enlightening as learning about ocean wildlife. Led by Reza, the students learned about the proper precautions and safety preparations that ultimately allowed for a successful day of marine wildlife study before arriving safely back in port just a few hours later.
"I learned that there is a lot of work that goes into running a boat and studying while on a boat," added Bentz. "There are also a lot of safety precautions put into place. I will use this trip as an example of what I could possibly do as an oceanographer or any other job that studies the ocean."